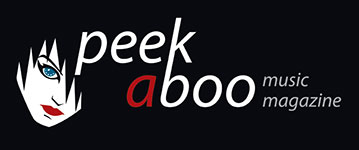 like this concert review
---
EINSTÜRZENDE NEUBAUTEN
Diksmuide, Belgium (08/11/14)
Concert
Avant-garde
•
Experimental
[90/100]

12/11/2014
---
The English-written version is made by Xavier Kruth, journalist from Dark entries. The Dutch version below is written by Peek-A-Boo journalist William Liénard. The entire photoshoot by Marquis(pi)X can be found here.
What an idea, to invite Einstürzende Neubauten for the commemoration of the fall of Diksmuide in the First World War... The province of West Flanders did it anyway, in the context of large-scale commemorations under the name Go West. ('To go west' was an old English expression for dying. It had a special dimension in the Great War because of the many casualties on the Western Front.) Germans celebrating the brutal victory and occupation in Diksmuide? Let that be something the organisers definitely do not want to hear. That Blixa Bargeld was not that wild about the idea perhaps also. But the result, though! For the Neubauten may have originally started this project because they were instructed to, they did quite a job with it. In Diksmuide, we got to see a unique performance that proves the depth and originality of the Neubauten once again.
'War does not break out, and it is never caught nor chained.' This statement opened the evening. While the Neubauten start making grinding noises, Blixa Bargeld raises signs that clear his views on the subject of war: war does not break out or end, in is always dormant. The First World War may have been an inevitable outbreak of violence, it was long underway, for instance in numerous colonial conflicts preceding it (the diverse music before the concert went from African and Indian pieces to German military marches, to emphasize how - through colonialism - the whole world was involved in the war).
And the war did not end in 1918. In Russia and Turkey, civil wars still raged for years. In Germany, violence by right-wing militias and leftist revolutionaries eventually resulted in the rise to power of Hitler, who has never made a secret of his belligerence. The subsequent war - actually a continuation of the first, dixit Bargeld - was followed by the Cold War, which led to many armed conflicts, including Korea, Hungary, Czechoslovakia, Vietnam and Afghanistan. And the Cold War was not done long before the war on terror began, which is still ongoing. There are no doubt many arguments to mention against this pessimistic way of thinking, but it is the premise of 'Lament', the performance that we hear today.
'Hymnen' is the first song based on another one's work, in this case the national anthem of the United Kingdom (God Save The King) and the German Empire (Heil dir im Siegerkranz). It was composed by Henry Carey in a time when the house Hannover - a German dynasty - ruled Britain. The song also became the anthem of the numerous colonies, such as Canada and Australia. Thus, the Neubauten show the many links that connected the various monarchies in Europe, an issue that is also the base of 'The Willy-Nicky Telegrams', a display of the telegrams that the German Kaizer Wilhelm and the Russian Tsar Nicholas - two cousins – sent to each other on the eve of the war. They remain friendly and affectionate as they try to put the responsibility for the war in each other's shoes. The texts are meddled - Alexander Hacke takes the role of the czar, Bargeld that of the Kaizer - suggesting that it is in fact a deaf men's dialogue.
During the lengthy outro of the song, employees take away the metal structures of the first song and replace it by a set of tubes. Then, Andrew Unruh strikes his harp of barbed wire. This instrument serves as a sober accompaniment to 'In de loopgraaf', a poem by the forgotten war poet Paul van den Broeck, a pacifist who - even when he was medically disapproved - still chose to fight in order to witness the horrors of his war. The Belgian paper De Standaard has since shown that van den Broeck is just an invention of Bargeld itself, largely based on the Flemish poet Paul Van Ostayen and on Bargeld's comprehensive knowledge of expressionist and Dadaist poets.
Then follows one of the most remarkable pieces of the evening. The tubular construction which now stands on the podium has each tube representing one of the belligerents in the war. Each beat means a day in the war. The song starts chronologically on July 28, 1914, when Austria-Hungary declares war on Serbia, and while his colleagues bang on the tubes, Bargeld lists the countries declaring war. Germany and Russia soon follow, as do the United Kingdom and Japan. The crippled Ottoman Empire was the last empire to join the war in 1914. Later came Italy, Bulgaria, Portugal and Romania. It is the entry of the United States in 1917 that turned the balance from a largely inconclusive war between equal forces in favor of the Allies. Greece will later jump on the train, hoping to win over territory on the Ottoman Empire after the war. Other voices sum up important battles. Bargeld also lists the countries that step out of the war, such as the newly established Soviet Union in 1918, where the Bolsheviks had decided to step out of the 'imperial' war once they came to power, or the armistices signed by Bulgaria and the Ottoman Empire, up to the actual end of the war on 11 November 1918. The song lasts a total of 13 minutes.
The second poem by Paul van den Broeke – 'Hinterland' - is also impressive. Andrew Unruh is giving the rhythm trembling with his feet, as a victim of shell shock. Hacke stumbles around on crutches that are both a percussion instrument and a string instrument, and Rudy Moser plays percussion on bomb shells. Follows a new version of 'Armenia', a song that originally dates from the fantastic 'Zeichnungen des Patient OT' from 1983. The text has been thoroughly revised. Bargeld whispers many words into the microphone, from which I understand 'Catastrophen' alongside phrases like 'Die Kinder spielen mit Knochen im Sand'. The song began softly but ends in an orgy of violence.
'On Patrol In No Man's Land' is the first song of the Harlem Hellfighters that Neubauten processed in their new work. (Never before were that many works of other writers and composers recorded by the Neubauten.) The Harlem Hellfighters were the music ensemble of the first black regiment that fought abroad for the United States. But the still racist and segregated country found it wiser to hand over the command of the regiment to the French. The regiment was feared and despised by their enemies. Bargeld steps in the background and leaves it to Alexander Hacke and Rudy Moser to perform the song.
Then comes the title song of the evening: 'Lament'. In this nearly twenty-minute piece, recordings are processed from German linguists studying the language and culture in conquered territory. The third part of the piece - 'Pater Peccavi' - consists of a motet by Clemens non Papa based on the parable of the prodigal son, which also happened to be the text the German linguists recorded from people who were not able to sing local songs or recite poems. During the motet, the group members hold the cylinders with the recordings in the front of micros, so we can hear the lyrics in different languages.
It is striking how serious and modest Blixa Bargeld remains all along the show, bearing a strange look in his eyes, as if he is afraid that something will not go according to his plan. Also notable is the mix of music we've heard so far, from soundscapes to noise, from minimal accompaniment to this very moving classical interlude. Strings also dominate in 'How Did I Die', which is a slot for this first part of the show. The song is written from the perspective of a soldier, with patches of English, German and French. And does the main character dies? No, because Bargeld lets him come back to sing a new song, to blow a new wind. He takes inspiration for this from the anti-war song 'Die rote Melodie' by Kurt Tucholsky, in which the dead from the war rise from their graves to torment General Ludendorff.
When the Neubauten climb back on stage, Bargeld wears a white cloak of wrapped paper, almost looking like an angel. He does this to sing 'Sag mir wo die Blumen sind', a song composed by the recently deceased folk singer Pete Seeger. The German version was made famous by Marlene Dietrich, and Seeger once admitted that the lyrics were even better in German than in English. The accompaniment on the song is kept to a few bass notes and minimal metal percussion. Everything is concentrated on Bargeld's vocals, that regularly change key. Bargeld may have put the bar a little too high here, because he often struggles to find the right tone. But it remains a wonderful peace song anyway.
Next up is 'Let's Do It A Dada', a song from the last full Neubauten CD from 2007: 'Alles wieder offen'. It's an obvious homage to Dadaism, a movement that is closely related to the First World War. The movement began in 1916 in the famous Cabaret Voltaire in Zurich, Switzerland. The song contains references to Lenin, who remained as a refugee in Zurich during most of the war, before he traveled to Russia with German assistance to preach the revolution and the immediate end of the war. Also mentioned is Marinetti, an Italian futurist who would become a staunch supporter of Italian fascism after the war.
'All Of No Man's Land Is Ours' is the second and best song that the Neubauten cover from the Harlem Hellfighters. In the song, the black regiment returns to find their loved ones after the victory. A captivating and hopeful song. In the second encores, Bargeld repeats a sketch from the German cabaret artist Joseph Plaut in which the animal kingdom becomes aware of the beginning of the war. It's an interesting find, but definitely not the most interesting of the set tonight. And when the time has come to go, the Neubauten perform 'Ich gehe jetzt', a song from 'Perpetuum Mobile' from 2004.
I think everyone can be extremely satisfied with the performance of 'Lament'. The Neubauten may not have started working on it wholeheartedly, they have taken it to their heart, and they put heart and soul into it. It is pleasant and varied music for sure, but it especially became a performance with a lot of depth. Blixa Bargeld hired two researchers to look for untapped material on the First World War, because he did not want to repeat what had been done a thousands of times before. And he comes up with something unique. In the swamp of commemorations that we are getting these days, it sticks out head and shoulders above the pool.
The original version of this article in Dutch can be read on Dark Entries.

12/11/2014
---
De Nederlandse tekst is geschreven door Peek-A-Boo medewerker William Liénard, de Engelstalige versie door Dark Entries-medewerker Xavier Kruth waarvan je de oorspronkelijke Nederlandse versie op hun site vindt. Een fotoreportage door Marquis(pi)X vind je hier.
Het aanbod van de provincie West-Vlaanderen aan de Berlijnse formatie Einstürzende Neubauten om in het kader van Gone West, de culturele herdenking van de Eerste Wereldoorlog, een avondvullend programma samen te stellen, moet frontman Blixa Bargeld als een godgeschenk hebben ervaren, want voor het eerst in vele jaren was er sprake van een zinvol project waarop de bandleden zich samen konden concentreren. Dat er al langer sprake was van bloedarmoede blijkt uit de soloprojecten waarmee Bargeld en Hacke zich de voorbije jaren onledig hielden, onderbroken voor verjaardagstournees die niet veel meer waren dan Greatest Hits-rondjes om de fans te plezieren en de kassa te laten rinkelen.
Lament, het WOI-project waarmee Einstürzende Neubauten op 8 november 2014 in Diksmuide aantrad, is een beetje een nieuw begin, want het materiaal is speciaal voor de gelegenheid geschreven of bewerkt en de band voegt een nieuwe dimensie aan z'n act toe, want dit is een totaalprogramma waarin naast muziek ook poëzie en zelfs comedy aan bod komt en waarbij de muzikale einder uitgebreid wordt met een vierkoppig strijkkwartet terwijl ingelaste geluidsfragmenten de luisteraars telkens opnieuw terugvoeren naar het uitgangpunt van de show: de Eerste Wereldoorlog.
Het publiek in Diksmuide reageerde heel erg enthousiast op de 14 fragmenten die Einstürzende Neubauten ten gehore bracht en dat is verrassend, want met twee gedichten van een (verzonnen) Vlaamse dichter (In de Loopgraaf & Achterland), begeleid door een prikkeldraadharp, het Bargeld-Hacke-duet The Willy-Nicky Telegrams (gebaseerd op de telegramcorrespondentie tussen de Pruisische keizer Wilhelm en de Russische tsaar Nicolas waarin ze elkaar om verzoenende taal smeken maar ondertussen op het terrein hun resp. legers in stelling brengen) met als achtergrond een monotone beat, en een lange drumsessie (Der 1. Weltkrieg) op een marimba van pvc-buizen om de intree van de strijdende partijen en de voortgang van het conflict te illustreren, lag de lat technisch én inhoudelijk vrij hoog. Wie het allemaal een beetje wilde volgen kreeg tekst en uitleg in het programmaboekje waarin ook een lang interview met Blixa Bargeld voor de Deense televisie is afgedrukt naast foto's van de band, de instrumenten en de leden van de zgn. Harlem Hell Fighters, een afdeling zwarte Amerikanen en Puertoricanen die onder Frans commando tegen de Duitsers ten strijd trokken (omdat dat wegens de Amerikaanse segregatiewetten in het Amerikaanse leger niet kon), en waarvan één nummer in de Lament-cyclus is opgenomen (On Patrol in No Man's Land). Het strijkkwartet kwam vooral in actie tijdens het eerste nummer van de voorstelling (Kriegsmachinerie) waarin de oorlogssfeer wordt opgeroepen met krijsende violen, metaalklanken en donker gitaarwerk. Tussendoor brengt vooral de cello kleur aan en is het kwartet opnieuw van de partij in Pater Peccavi, gebaseerd op het motet The Prodigal Son van de Nederlandse componist Clements non Papa die volgens een bron ui 1644 in Diksmuide zou zijn begraven. De geluidsfragmenten zijn originele opnamen uit het archief van de Humboldt-universiteit in Berlijn en zijn het resultaat van een geheim onderzoeksproject waarvoor krijgsgevangenen gevraagd werd om het verhaal van de verloren zoon in hun eigen taal te vertellen en/of volksliedjes te zingen (die op 1022 wasrollen zijn gestockeerd).
Enfin het zal u duidelijk zijn dat Blixa Bargeld voor dit project niet over één nacht ijs is gegaan en naar eigen zeggen heeft hij zelfs 2 historici ingeschakeld om het vooronderzoek tot een goed einde te brengen. Het resultaat mag gezien en gehoord worden en dat lieten 2000 fans in Diksmuide ook blijken. Waren ze niet onder de indruk van de inhoud van de liederencyclus, dan in elk geval wel van de muzikale vertaling die Einstürzende Neubauten aan het geheel heeft gegeven, want op dat vlak was dit concert tegelijk Neubauten pur sang, met een mengeling van traditionele en bizarre instrumenten die tijdens de show de hele tijd werden aan- en afgesleept door een perfect opererende technische crew. Want timing was in dit geval van het allergrootste belang met een scenario waarin akoestische en elektrische instrumenten, zang, voordracht, geluidsband én een strijkkwartet een zeer specifiek plaatsje behoorden te krijgen. Bargeld hield de voortgang overigens seconde per seconde in het oog en na de bisnummers haalde hij schijnbaar opgelucht adem, maar wie het allemaal nauwkeurig had gevolgd die wist ondertussen dat dit riskante en veelzijdige project quasi foutloos was uitgevoerd.
Met Pete Seegers Where Have all the Flowers Gone, voor de gelegenheid met de Duitse tekst die Max Colpet voor Marlene Dietrich schreef, sloot Bargeld de show af. Het glockenspiel, de elektrische basgitaar, de metalen plaat, de violen en de cello konden niet voorkomen dat Sag Mir wo die Blumen Sind als een zeer sobere kippenvelsong de grote De Lijn-hall werd ingestuurd. Voor de bisnummers putte de band uit recent werk en uit het repertoire van de Harlem Hell Fighters, een goeie zaak, want al die steengoede nummers van lang geleden hebben we tijdens hun voorbije tournees vaak genoeg gehoord.

12/11/2014
---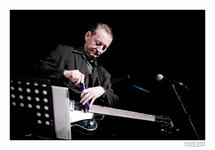 ---