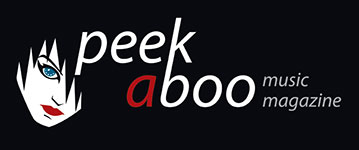 like this movie review
---
EITAN ARRUSI
Reverb
Movie
Horror
[50/100]

Filmfreaks
18/11/2013, Didier BECU
---
Music and the devil were always each other's best friends. From the early days of rock'n roll the sensual hip movements were commanded by Satan. And everyone surely will remember that he could hear a message by Lucifer himself when playing his Judas Priest-record backwards.
Alex (Leo Gregory) and Maddy (Eva Birthistle) are two musicians who also meet the devil. Those two are working in some call centre. In better days they were part of a band, but no one really wanted to listen to their indietunes. And then the unexpected comes when Alex is asked by some label to contribute with a solo track on a compilation album. Alex can convince Maddy (who's now his colleague) to help him with the recordings. As Alex still has some friends left in the music business, he's able to record this track in a studio for a cheap price. The only condition the befriended producer makes is that the recording has to be made during night, and what's more: once you enter the Iron Horse-studio you can only come out by the morning as all codes are blocked. As devoted musicians do everything for their art, the two agree. It soon turns out to be a night that they'll never forget. By coincidence Alex hears a track named Blood Room on the radio. He's so overwhelmed by the genius of this song that he immediately downloads the song. This action is the start of all evil as they soon discover some weird noises at the background which aren't part of the song. They discover on the net that the performer is one Mark Griffin. Blood Room was the last song he recorded before he committed suicide. The two discover that the killing took place in the same recording room they're sitting now.
All by all, you can say this story is quite nice. Just a shame that director Eitan Arrusi doesn't profit from this opportunity. This low budget thriller (you really can't say it's a horror movie) is the type of picture in where the beauty lies in its visual approach. Arussi tries to conquer the viewer's heart by coming up with some nice visual tricks that come close to Nicolas Winding Refn. The truth however is that with this alone you don't create a good movie, especially as the acting isn't overwhelming as well. Another disadvantage is that the story of Reverb is rather confusing. And while a recording studio looks like the ideal place to shoot a horror flick, it's kind of restricting Reverb.
Nah good, maybe we're quite to harsh as it was surely never Eitan Arrusi's goal to create art. Everything this guy wanted was to make with a minimum of costs making a horror picture. And devoted fans of this genre who like their stuff a bit more artier will probably like this movie.
Reverb is available on both DVD and Blu-ray through the Dutch label Filmfreaks.
Didier BECU
18/11/2013
---
Muziek heeft altijd wel iets met de duivel te maken gehad. Ooit werden de heupbewegingen van Elvis aan Satan toegeschreven en wie goed luisterde kon destijds zelfs Lucifers boodschap horen indien hij de laatste vinylgroeven van zijn Judas Priest-plaat achterstevoren draaide.
Ook Alex (Leo Gregory) en Maddy (Eva Birthistle) hebben daar in Reverb mee af te rekenen. De twee muzikanten werken ondertussen tegen hun zin in een callcenter omdat er geen mens naar de nummers van indiebandje wil luisteren. Maar op een avond is het dan eigenlijk zo ver. Een of ander label wil een solonummer van Alex op een compilatie-cd zetten. Gelukkig kan de gewezen muzikant zijn ex-lid (en nu dus zijn collega) Maddy ervan overtuigen om hem mee te helpen bij de opnames. Alex heeft nog genoeg vrienden in het vak en kan daarom via een bevriende technicus 's nachts voor een spotprijsje de studio gebruiken. De twee moeten er wel mee akkoord gaan dat eens ze in de Iron Horse binnen zijn er maar de volgende ochtend weer uit kunnen. Maar een muzikant doet alles voor zijn kunst en daarom stemmen de twee zonder veel nadenken in met de voorwaarde. Het wordt evenwel een nacht om nooit te vergeten. Per toeval hoort Alex het nummer Blood Room op de radio. Alex is zo onder de indruk van het liedje dat hij het meteen downloadt, waarmee meteen ook alle kwaad is geschied. Op de achtergrond horen de twee muzikanten een raar geluid dat niets met de song heeft te maken. Dankzij het internet komen Alex en Maddy erachter dat het nummer van ene Mark Griffin is. Blood Room is het laatste nummer dat de artiest heeft opgenomen vooraleer hij zichzelf van het leven beroofde. Griffin pleegde zelfmoord in de studio waar de twee nu zitten..
Een aardig verhaal dus, alleen doet regisseur Eitan Arrusi er maar bitter weinig mee. Deze lowbudgetthriller (want een echte horrorprent is het nu ook weer niet) moet het vooral van zijn visuele stijl hebben. Arrusi is dan ook het soort regisseur dat met allerlei leuke vondsten die wel iets weg hebben van Nicolas Winding Refns filmstijl de kijker wil paaien. Alleen maak je met louter visuele aantrekkelijke kiekjes nog geen goede film, zeker niet als het acteerwerk niet bepaald van het hoogste niveau is. Bovendien is het verhaal van Reverb vrij verwarrend. Op papier lijkt een opnamestudio als decor wel een ideale plek voor een bibberprent, in de handen van Arussi werkt zoiets eerder beperkend.
Nu goed, het zal wellicht nooit de bedoeling van Eitan Arrusi geweest zijn om ware kunst te scheppen, maar gewoon om met een minimum aan middelen zijn steentje bij te dragen aan de horrorwereld. Of hij daarin is geslaagd is blijft natuurlijk een heel paar ander mouwen.
Reverb is zowel op dvd als Blu-ray uitgebracht door het Nederlandse Filmfreaks-label. Voer voor horrorfanaten die het een beetje kunstzinnig willen dus.
Didier BECU
18/11/2013
---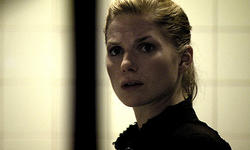 ---