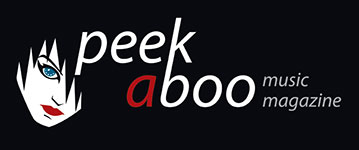 like this documentary review
---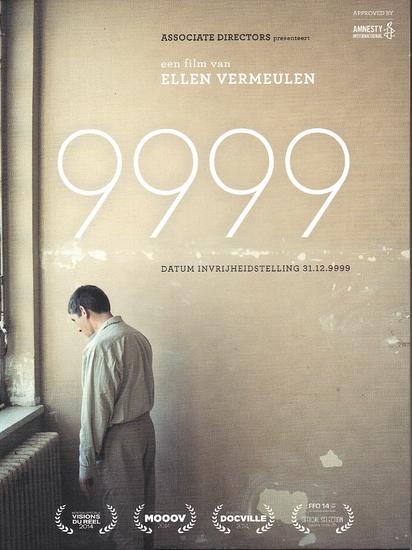 ELLEN VERMEULEN
9999
Movie
•
Documentary
Documentary
•
Special Interest
[85/100]

Dalton Distribution
24/11/2014, William LIÉNARD
---
There are some 1,000 psychiatric patients with a criminal past in Belgium. According to Belgian law they cannot be brought to court because they are at least partially unaccountable for their crimes. They should be kept in special institutions, but because there is no place or no money for special care, they are put in prison. Belgium has been convicted several times for that state of affairs, but the government pays the fines and leaves the situation unchanged. Criminal pyschiatric patients in Flanders are locked up in the penitentiary prison of Merksplas near the Dutch border. Their release date is 31/12/9999, which means that in many cases they stay in Merksplas for life, and due to the lack of care, it is unlikely that their mental condition improves enough so that one day they can return to normal life. Merksplas is the cesspool of Belgium, says one of the inmates, we are outlawed here and everyone can shoot at us or do to us whatever he wants and we must keep silent otherwise there is a time-out. 9999 is an intimate and candid, but also poignant portrait about people without a future, whose life is stationary in time.

Filmmaker Ellen Vermeulen allows the men in Merksplas to speak for themselves. Direct interviews is rare. Usually she shows Wilfried and his colleagues during the daily activity in their small cell (eating, watching TV, smoking, etc.) and she puts their voices on the material. Occasionally there is an immediate reaction in the direction of the camera, but those moments remain an exception. Usually, the scenes are longer than the commentary, but the camera keeps turning with only silence or faraway whispers in the background. In so doing, Vermeulen creates an atmosphere, dominated by emptiness and loneliness. With shots of barred windows, sometimes projected on the opposite wall, white facade of the complex or details in the cold interiors, the director completes her documentary once again suggesting boredom and general aimlessness.

For one youngster the stay in Merksplas ends well: he can go home. He was arrested after putting fire to his bike and appeared to be under the influence during the police check. There is no question of real criminal behaviour in his case and since he is free of drugs, there is no reason to keep him in prison. He is happy to be out again, but he has no illusions: most come back after a short time, he says with a minor voice, as if he is not quite sure of himself. But for most there simply is no return because they rarely if ever leave the so-called cesspool of Merksplas. They get drugs to function normally and occasionally they have a chat with a psychologist, but they are not treated in order to get cured. So, for the members of the committee who regularly assess their file, there is rarely a reason to plead for their release. Almost all of the inmates are aware of that situation and it has a great influence on their state of mind. I resist, says one of them, I will not be crushed by Merksplas, but he is wise enough to resist in words, because he knows only too well that physical resistance results in a time-out.

In 9999 director Ellen Vermeulen uses a highly stylized approach. That means that the viewer dependents on what the interviewees communicate in the documentary, because there is no commentary, there are no interviews with counselors, caregivers or psychologists to broaden the perspective. The tight visual approach is extended to the content. As a result 9999 formally seems more like a movie than a documentary, which is an excellent choice, because thanks to the omission of what is not strictly necessary, 9999 makes a much deeper impression than ordinary documentaries on tv, and the emotional impact of the whole is more intense. At the same time, because the information is not presented as bite-sized chunks, the viewer must pay much attention and occasionally draw conclusions for himself about the psychological, practical and purely human consequences of imprisonment without an end date.
Ellen Vermeulen made an intense, harrowing and yet poetic documentary about life in the prison of Merksplas, where criminal psychiatric prisoners are indefinitely detained. Her approach fits perfectly with the boredom and the quiet resistance of men in bare cells and corridors and with the infinite emptiness of the surroundings.
William LIÉNARD
24/11/2014
---
In ons land zijn er ruim 1000 psychiatrische patiënten met een crimineel verleden. Volgens de Belgische wet kunnen ze niet worden veroordeeld omdat ze minstens gedeeltelijk ontoerekenbaar zijn. Ze horen eigenlijk thuis in speciale inrichtingen, maar omdat er geen plaats en/of geen geld is voor de speciale zorg die ze nodig hebben, worden ze gewoon in de gevangenis opgesloten. België is al een paar keer veroordeeld voor die gang van zaken, maar gemakshalve betaalt onze overheid de boetes en laat de situatie ongewijzigd. In Vlaanderen worden criminele psychiatrische patiënten opgevangen in de penitentiaire gevangenis van Merksplas. Hun datum van vrijlating is 31/12/9999, wat betekent dat ze er in vele gevallen levenslang verblijven, want door het gebrek aan zorg is de kans klein dat hun geestelijke toestand voldoende verbetert opdat hun in vrijheidsstelling kan worden overwogen. Merksplas is de beerput van België, zegt één van de inmates tegen de camera, wij zijn hier vogelvrij en iedereen kan op ons schieten of met ons doen wat hij wil en wij moeten het lijdzaam ondergaan want anders is het time-out. 9999 is een intiem en openhartig, maar tegelijk ook schrijnend portret over mensen zonder toekomst wier leven stilstaat in de tijd.
Filmmaker Ellen Vermeulen laat de mannen in Merksplas zelf aan het woord. Van rechtstreekse interviews is zelden sprake. Meestal toont ze Wilfried en z'n collega's tijdens hun dagelijkse bezigheid in hun kleine cel (eten, tv-kijken, roken, etc.) en legt ze de stemmen over het materiaal. Heel af en toe is er sprake van een directe reactie in de richting van de camera, maar die momenten blijven een uitzondering. Meestal is de opnamen ook langer dan de commentaar die wordt geleverd en dan wendt Vermeulen haar camera niet af. Omdat er geen muziek in de documentaire wordt gebruikt, wordt op zo'n moment – met weinig of geen geluid in de achtergrond – een atmosfeer van leegte en zinloosheid opgeroepen en de tussenbeelden – strakke opnamen van getraliede ramen of projecties ervan op de tegenoverliggende muur, van de gevel van het complex of van details in het schrale interieur – ondersteunen het gevoel van leegheid, verveling en algemene doelloosheid.
Voor één jongere man loopt het verblijf in Merksplas goed af: hij mag naar huis. Hij werd opgepakt nadat hij z'n fiets in brand had gestoken en bij controle door de politie onder invloed bleek te zijn. Van echt crimineel gedrag is er in zijn geval dus geen sprake en sinds bij afgekickt is functioneert hij ook weer helemaal normaal. Hij is blij straks weer vrij te zijn, maar hij maakt zich geen illusies: de meesten komen na korte tijd weer terug, zegt hij in mineur alsof hij niet helemaal zeker is van zichzelf. Maar voor de meesten is er eenvoudigweg geen sprake van terugkomen, want zij komen zelden of nooit weg uit de zgn. beerput van Merksplas. Ze krijgen medicijnen om normaal te functioneren en af en toe is er een praatje met een psycholoog, maar echt behandeld worden ze in de instelling niet. Voor de commissie die regelmatig hun dossier beoordeelt is er dus ook zelden een aanleiding om voor hun vrijlating te pleiten. Bijna allemaal zijn de inmates zich daarvan bewust en dat drukt op hun gemoedstoestand. Ik verzet mij, zegt eentje van hen, ik laat mij door Merksplas niet platdrukken, maar hij is wijs genoeg om alleen met woorden weerstand te bieden, want hij beseft maar al te goed dat fysiek verzet alleen maar resulteert in time-out.
Ellen Vermeulen kiest in 9999 voor een zeer gestileerde aanpak. Dat heeft tot gevolg dat de kijker voor z'n informatie uitsluitend aangewezen is op wat de geïnterviewden in de documentaire vertellen, want van commentaar en interviews met begeleiders, verzorgers, psychologen is helemaal geen sprake. De strakke visuele aanpak is m.a.w. doorgetrokken tot op het niveau van de inhoud waardoor 9999 vormelijk veel meer op een film dan op een documentaire lijkt en dat is een uitstekende keuze, want dankzij het weglaten van wat niet strikt noodzakelijk is, maakt 9999 een veel diepere indruk dan z'n volgepropte en overdadig geïllustreerde broertjes die in de traditionele actualiteitsrubrieken op tv aan bod komen, en is de emotionele impact van het geheel ook intenser. Tegelijk ligt de lat een stuk hoger, want de informatie wordt niet als hapklare brokken aangereikt en de kijker moet er zijn hoofd bijhouden en af en toe zelf conclusies trekken over de psychologische, de praktische en puur menselijke consequenties van een opsluiting zonder einddatum.
Ellen Vermeulen heeft een intense, schrijnende en tegelijk poëtische documentaire gemaakt over het leven in de strafinrichting van Merksplas, waar criminele psychiatrische gevangenen voor onbepaalde tijd worden opgesloten. Haar aanpak past perfect bij de verveling en het stille verzet van de mannen, bij de kale cellen en gangen en bij de oneindige leegheid van de omgeving.

9999
Regisseur/Director : Ellen Vermeulen
Documentaire/Documentary
België/Belgium, 2014
71min. – 2.35:1 PAL – Nederlands/Dutch DD 2.0
Ondertitels/Subtitles: Nederlands/English/Français
Extra: -
Score: 85
William LIÉNARD
24/11/2014
---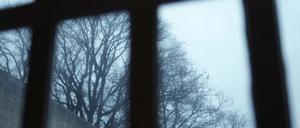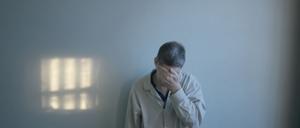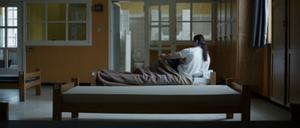 ---