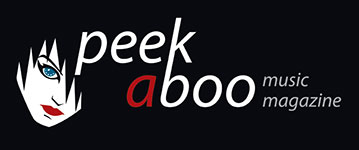 like this concert review
---
ELM, MONO ELECTRONIC DENSITY, LUMYIA
Les Vierges Morbides, Café Bobble, Lomme/Rijsel - 11 maart 2017
Concert
21/03/2017, Jurgen BRAECKEVELT
---
Dark Discharge again presented a night of electro in Lomme, Rijssel. The venue for all this goodness was Bobble Café, a game pub with an attractive concert space right at the back, featuring a blackbox parked in a corner as a stage.
Three acts on stage and Lumyia was the first. Exactly at 20.30 hours this mysterious lady of Italian descent, currently living in la douce France, entered the stage. Her slightly special appearance, masked and dressed in a groovy outfit, was fun on its own. But we came for the music. And that's a bit difficult to describe comprehensively when it comes to this lady. The overall term darkwave would be too narrow. Because the set of this frail apparition contains several electro styles. One song shows signs of sythwave, other songs have a whiff of EBM, sometimes IDM, to synthpop. And where this musical variation grabs your attention the vocals on the other hand are a bit lacking behind. Lumyia has a very childlike and fragile voice that sounds a bit too monotonous and flat after a while. But the way she performs on stage: respect!
Time for Belgian EBM an hour after kick-off: Mono Electronic Density. Two friends Bernard Fero (Combat Voice, Fuze Box Machine) and J.-M. Melot (Modern Cubism, PolynomiQ) bring EBM in the tradion we know as 'made in Belgium'. The two friends share pure intense passion for electronic music. And that passion was visible and tangible: fun, animation and experience throughout the entire set. The audience starting moving from the first notes onwards. And the set was varied: starting with a bit more oldschool EBM, interspersed with softer and more cuddly synthpop, though future pop to Front 242-like and extremely danceable tracks. They bring several different electro styles without ever being a copy of which band whatsoever. The fun on stage radiated onto the crowd during a great set, in which Going Nowhere was the most captivating song according to yours truly. The vocals were also up to scratch because Bernard's voice is more than okay. The double CD Human Inhuman will be released soon and that is really something to look forward too!
Headlining this evening is the Swedish one-man project Elm. These are not his first steps in EBM; with Restricted Area he already made a name for himself. In 2016 his first full CD Hardline was released on Alfa Matrix. And in February 2017 we got Kampftrinker, a next EP, that brings firing oldschool EBM just like Hardline.Both are gems and the expectations were high when Elm got on stage. The public was captivated from the first notes onwards. No wonder as the characteristic edgy beats and scorching oldschool EBM melodies thundered from the speakers without mercy. Resulting in an extatic audience, dancing like crazy and following the energy eminating from the stage by Peter's performance. Pearls like Hardline, using a cold and death defying rhythmsection to make your heart beat in your throat, the more quiet Oblivion, Hightime, Envahisseur, the great Wapenrustning... after over 45 minutes we got a message from the stage.... 'Now it's time for some EBM' gasped Elm, after a concatenation of passionate EBM songs that he had thrown at the audience from the deepest crypts of his heart. As if we were not out of breath enough yet the man relentlessly continued. Edge houses the core of that what is Elm: 'live, breathe, fuck, feel...'. We felt it. This is pure class, this is oldschool, lived through from the first second. Live it is like an indestructable building, you can feel the passion and the energy. Elm doesn't play EBM, doesn't perform EBM, he is and breaths EBM. This was just perfect and I sincerely hope and wish to see him perform on stage many more times.
And more than an hour into his set Elm started 'Strangers in the Night' as an intermezzo. And that is what we did after a great night....walk through Lomme as complete aliens and make our way home, musically fully satisfied.
Jurgen BRAECKEVELT
21/03/2017
---
Dark Discharge pakte weer uit met een avondje electro in Lomme, Rijssel. Plaats van afspraak voor al dat fraais was Bobble Café, een gamecafé met helemaal achteraan een vrij sfeervolle concertruimte, met een in een hoek geparkeerde blackbox als podium.
Drie acts op het podium en Lumyia mocht het spits afbijten. Stipt om 20.30 uur betrad deze mysterieuze dame, van Italiaanse komaf maar vertoevend in la douce France, het podium. Haar ietwat aparte verschijning, gemaskerd en in een te gek pakje, was op zich al leuk. Maar waarvoor we er waren: de muziek. En die is wat deze dame betreft moeilijk te vatten. De overall-term darkwave kan dienst doen, maar is te nauw. Want in de set van deze frêle verschijning zijn verschillende stijlen electro aanwezig. De ene song heeft een zweem van synthwave, op andere momenten is er een vleugje EBM, dan weer IDM, tot synthpop aan toe. Waar de muzikale variatie de aandacht pakt en blijft pakken, is het vocaal heel wat vlakker. Lumyia heeft een heel kinderlijke breekbare stem, die na verloop van tijd iets té eentonig en heel vlak klinkt. Maar wat en hoe ze het brengt op een podium: respect !
Een uur na de aftrap van de avond tijd voor Belgische EBM: Mono Electronic Density. De twee vrienden Bernard Fero (Combat Voice, Fuze Box Machine) en J.-M. Melot (Modern Cubism, PolynomiQ ) brengen EBM in de traditie zoals we die 'made in Belgium' kennen. Wat de twee lieden delen: pure intense passie voor electronische muziek. En dat was zichtbaar en voelbaar: plezier, bezieling en beleving de ganse set door. Vanaf de eerste tonen begon het publiek te bewegen. En de set was gevarieerd: startend bij iets meer oldschool EBM, afgewisseld met wat zachter klinkende en meer aaibare synthpop, via future pop tot Front242- klinkende en extreem dansbare tracks. Ze tappen dus eveneens uit verschillende electro-vaten maar zonder een kopie te zijn van welke band dan ook. Het plezier van op het podium straalde af op het publiek voor een geweldige set, waarin Going Nowhere voor uw dienaar de meest beklijvende song was. En vocaal klopte het ook, want Bernard's stemgeluid is méér dan ok. Binnenkort verschijnt de dubbel-CD Human Inhuman en daar kunnen we alleen maar naar uitkijken!
Headliner van deze concertavond is het Zweedse éénmansproject Elm. Hij is niet aan zijn eerste uitwassen in de EBM toe: met Restricted Area had hij zich al meer dan laten horen. In 2016 verscheen zijn de eerste full-CD Hardline op Alfa Matrix. En in februari 2017 kregen we Kampftrinker, een volgende EP die ook, net als Hardline, snoeiharde oldschool EBM brengt. Beiden waren pareltjes en de verwachting was dan ook hooggespannen toen Elm het podium innam. En vanaf de eerste tonen was het publiek mee. Ook niet verwonderlijk daar, bovenop hetgeen op CD al was verschenen, de karakteristieke hoekige beats en old school EBM-melodieën genadeloos en verschroeiend uit de boxen knalden. Resultaat was een uitzinnig dansend publiek dat meeging in de energie die Peter vanaf het podium opwekte. Pareltjes als Hardline, wat met een kille doodsverachtende ritmesectie je hart uit je keelgat doet slaan, het iets rustigere Oblivion, Hightime, Envahisseur, het geweldige Wapenrustning… Na dik drie kwartier kregen we een boodschap vanaf het podium.. 'Now it's time for some EBM', hijgde Elm, na een aaneenschakeling van passionele EBM-songs die hij vanuit de diepste krochten van zijn hart het publiek had ingeslingerd. Alsof we nog niet genoeg naar adem hapten, ging de man genadeloos door. In Edge zit de kern van wat Elm is: "live, breathe, fuck, feel…." We hebben het gevoeld: dit is klasse, dit is oldschool, doorleefd van de eerste seconde. Live staat het als een onverwoestbaar bouwwerk, je voelt de passie en de energie. Elm speelt geen EBM, performt geen EBM, hij is én ademt EBM. Dit was gewoon af en ik hoop en wens hem nog vele malen op podia te mogen zien.
Ergens goed voorbij het uur in zijn set, zette Elm als intermezzo ook nog 'Strangers in de Night' in. Wat we ook deden na een geweldige avond… als compleet vervreemden doorheen Lomme slenteren om muzikaal bevredigd de rit huiswaarts aan te vatten.
Jurgen BRAECKEVELT
21/03/2017
---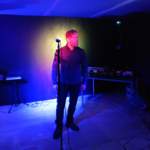 ---