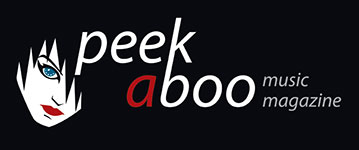 like this cult movies review
---
ENZO G. CASTELLARI
Escape From The Bronx
Movie
•
Cult movies
Action
•
Cult
[25/100]

Dutch FilmWorks
28/11/2014, Didier BECU
---
Cult enthusiasts embrace Italian filmmakers as masters. Although most of their films are irresistible, they were nevertheless made to earn money. That certainly applies to Enzo G. Castellari who copied lots of Hollywood pruductions. The Italian had his own Jaws (The Last Shark), a swashbuckler film (The Loves and Times of Scaramouche), a spaghetti western (Keoma with Franco Nero) and basically everything that costs nothing. One of his biggest successes was 1990: The Bronx Warriors, a copy of John Carpenter's Escape From New York. Because the film was a huge success, a sequel was inevitable. A year later,Escape From the Bronx was released, though most releases were called Bronx Warriors 2.
This movie has a lot of fans. So many, that throughout the world Bronx Warriors conventions are organized. The fame of Enzo G. Castellari was even greater when Quentin Tarantino turned out to be a big fan: his Inglorious Bastards is a remake of Castellari's The Inglorious Bastards (from 1978)
It remains difficult to understand why the films of Enzo G. Castellari are so popular, as they are cheap and bad action films, shot in the Cinecitta studios in Rome, say Cannon- movies without a budget! This story takes place in the near future. One wants to modernize New York, but the Bronx is an eyesore. Investors of ultramodern building complexes want to get the Bronx residents out of their ramshackle homes. Officially, they will have a better life in New Mexico, but rumours are circulating that they are killed in order to free New York of the scum. Outlaw Trash (Mark Gregory) organizes a rebellion.
Decent action in cult films is rare, but the bar is set even lower in Escape From The Bronx. So low, that the 80 minutes seem quite long. There is no real scenario, there is just violence (especially flame throwers are popular) and the dialogues are limited to meaningless words. Protagonist Max Gregory was frequently at odds with the director. He was obliged to walk around in a heavy coat, just because he had become too slim and was anything but an impressive rebel! In that type of movies you usually find an affordable American superstar, for Escape From The Bronx the choice fell on Henry Silva. A B-actor you probably already saw in some Burt Reynolds- vehicles, but also in movies with titles that speak for themselves, or what about Silence Of The Hams?
If you still want to have a look at this picture, you will be pleased to hear that this film is released in the Benelux by Dutch Filmworks. The English release is available through Shameless Entertainment.
Didier BECU
28/11/2014
---
Voor cultliefhebbers blijven de Italiaanse cineasten meesters. Alhoewel de meeste van hun films onweerstaanbaar zijn, zijn ze toch in de eerste plaats gemaakt om geld binnen te rijven. Dat geldt zeker voor Enzo G. Castellari die alle grote Hollywoodnamen schaamteloos kopieerde. Deze Italiaan had een eigen Jaws (The Last Shark), een mantel- en degenfilm (The Loves and Times of Scaramouche), een spaghettiwestern (Keoma met Franco Nero) en eigenlijk alles wat geen geld kostte. Een van zijn grootste successen was 1990: The Bronx Warriors, die, zeg maar, een kopie van John Carpenters Escape From New York is. Omdat de film heel wat geld opbracht, kon een vervolg niet uitblijven. Een jaar later verscheen Escape From The Bronx, ofschoon de meeste releases onder de titel Bronx Warriors 2 verschenen.
Het zal misschien eventjes slikken zijn voor de modale lezer, maar deze ondermaatse actiefilm heeft heel wat fans. Zo veel dat er over heel de wereld Bronx Warriors-conventies worden georganiseerd. De faam van Enzo G. Castellari werd nog groter toen ook Quentin Tarantino een grote fan bleek te zijn en Inglorious Bastards draaide (wat eigenlijk een remake van Castellaris The Inglorious Bastards uit 1978 is).
Het blijft moeilijk om te snappen waarom de films van Enzo G. Castellari zo geliefd zijn, want al bij al zijn het spotgoedkope en slechte actiefilms die in de Cinecitta-studios van Rome zijn gedraaid: zeg maar Cannon-films zonder budget! Dit verhaal speelt zich af in de nabije toekomst. Men wil New York grondig moderniseren, maar The Bronx is een doorn in het oog. De investeerders van hypermoderne bouwcomplexen geven de volmacht aan de burgemeester om de Bronx-inwoners met alle geweld uit hun krakkemikkige woningen te zetten. Officieel krijgen ze een beter bestaan in New Mexico, maar er circuleren geruchten dat ze gewoon worden afgemaakt zodat New York voorgoed van dit schorem is verlost. De outlaw Trash (Mark Gregory) organiseert samen met andere rebellen een opstand.
Het gebeurt zelden dat er in cultfilms degelijk wordt geacteerd, toch ligt de lat in Escape From The Bronx zeer laag. Zo laag dat de 80 minuten die deze film duurt wel tamelijk lang worden. Van een echt scenario is er geen sprake (er wordt 80 minuten geschoten, vooral vlammenwerpers zijn bijzonder in trek) en de dialogen blijven beperkt tot nietszeggende woorden. Hoofdrolspeler Max Gregory lag regelmatig in de clinch met de regisseur. Zo was hij verplicht om de hele film met een loodzware jas rond te lopen, gewoon omdat hij veel te mager was geworden en daardoor dus een allesbehalve imponerend hoofdpersonage was! In zulke prenten was het vaak normaal dat men een beroep deed op een betaalbare Amerikaanse vedette; voor Escape From The Bronx werd dat Henry Silva. Een karakterkop die je wellicht ooit in Burt Reynolds-vehikels zag, maar ook in films met titels die voor zich spreken, of wat dacht je van Silence Of The Hams?
Wie na deze harde woorden nog zin heeft om het alsnog eens te proberen, zal verheugd zijn te weten dat je deze film in de Benelux op Dutch FilmWorks vindt. De Engelse release is beschikbaar via Shameless Entertainment.
Didier BECU
28/11/2014
---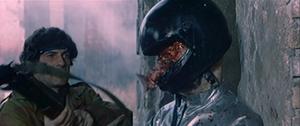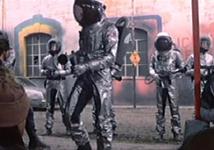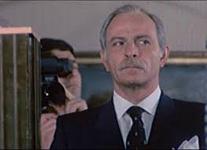 ---