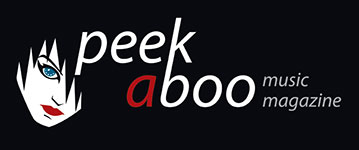 like this concert review
---
EUFORIC EXISTENCE, ZYNIK 14, WULF7, DELERITAS, CAUSENATION
EBM is still alive (part 1) - Club 52, Eernegem
Concert
31/12/2019, Jurgen BRAECKEVELT
---
The Eernegem (B) Club B52 dressed up for an EBM night on December 21st, 'EBM is still alive part 1'. Belgian EBM violence that does not fear the dB sound level meter at all. Established values ​​and younger talents (therefore not in age of the members but in number of years of existence) gave all they could!
Causenation opened this EBM party. The band that saw the daylight in 2015 and brings old school EBM in the tradition of the 80's. EBM whose foundations were laid in Belgium but without trying to be a copy of the primal groups such as Vomito Negro and Absolute Body Control. The Antwerp trio convincingly presented themselves in the B52 club. Angular, thumping beats, coupled with fine melodies and the dark voice of frontman Vain Sancrosant. The Belgian embodiment of Covenant frontman Eskil Simonsson, albeit sober, and with a voice that live stands out well on stage. The trio played a short but solid set that would delight many fans of this genre.
It is now time for some more contemporary electro-violence by Deleritas from Liège (B) with Onyx on keyboards and Sam on drums. Two brothers with a diverse background. Onyx was already active as a DJ before he switched to making his beloved music by himself: hard electro or Hellelectro. He also managed to drag into this project his brother Sam who was active in the metal hardcore scene. Their first collaboration was called Anamorphosis, however, this project was abandoned after some time. Still, they continued to work together and so their second child was born: Deleritas. A purely instrumental project. No vocals or lyrics, but the pure aggressive expression of their personal feelings what was clearly sensible. Their music balances on the edge of Hellelectro, Aggrotech with a touch of industrial. The energy they radiated was clearly transferred onto the audience. Their very aggressive music overwhelmed, was ominous, intense and very loud. Their face, half-covered in black make-up, soon became obscure paintings due to intense sweating. They managed to get the roof off the B52 without precedent.
Then Wülf7 - who was also responsible for organizing this great evening - was next on stage. In 2018, after a coincidently meeting of the two band members and under the guise of a surplus dose of heavy Belgian beer, Wülf7 was born. Their mutual love for EBM from the early days soon resulted in the first EP 'The Nights Of The Wolves'. A nice release with 5 great songs. After some technical problems with some microphones that did not really want to work, the duo easily won over the B52. An over a half an hour show, wrapped in stroboscope lights, and bulging with dark beats made it an intense experience. 'Euthanasia' was the highlight song for me. One unfortunate downside was that vocal work was done unjust by an over-gained distorting microphone sound. But did we really care, no! The Wolves did what they were expected to do: bite your throat firmly with their razor-sharp EBM.
Time for Zynik 14, they quickly made it clear that pure old school EBM also tends to affect some young people in Belgium. Both band members Fred (programming, mixing & arrangements) and Lanze (vocals, lyrics, arrangements) are from the German-speaking part of Belgium, more specifically from the city of Eupen. They were unknown to me until today (I should be ashamed, right?). What an energy! Pure old-school EBM, hard rhythm sections and the typical angular, thumping synths. Extremely minimal in terms of instruments. Their stage presence is a bit like of ideal sons-in-law (and maybe they are?). They seem to enjoy every second, modestly, but what they do exudes love. A glance around me made me realize that everyone present was dancing. Really everyone! They blew of the roof once again!. Even though they had to deal with some technical problems during the solid song 'Dumm Macht Populär'. Luckily audience simply took over and it became a sort of EBM unplugged experience. And the boys? They delighted the audience by simply resuming the song after a few cables were replaced. After more than 40 minutes, they were obliged to play an encore. With a big smile.
The closure band of the night should need no introduction. Euforic Existence is the project of Koen Van Dappernest (also known from KnK), assisted live by Bart Peeters. They have been around for almost 20 years now, but with a very long silence between 2003 and 2013. At that time Koen was then doing family things and making a career outside music business. But blood is thicker than water, put them back on a stage and the sparks fly off. The music can be categorized under EBM, but it is much more than only that. It is dark, dark electro, with an EBM foundation, far from cheerful in terms of content, but then wrapped in danceable musicality. And it works. Lots of energy on stage, but also just as much in the venue. Euforic Existence is back (well, were they ever gone?) and there is a secret desire, by yours truly, that they can perform much more in the near future. Like for instance at the end of March, when they will be accompanied by Spark, Jäger 90, Wülf7, Pantser Fabriek and others in Retie. We'll be there !
is EBM still alive? Yes, and not only alive, but alive and kicking! Let's just hope more people find their way (back) to this fine musical style that originated in Belgium and more beautiful things will await us.
Jurgen BRAECKEVELT
31/12/2019
---
De Eernegemse Club52 hulde zich op 21 december in een EBM-sfeer. EBM is still alive part 1. Belgisch EBM-geweld dat de geluidsmeter allerminst vreest. Gevestigde waarden en jonger talent (daarom niet in leeftijd maar in aantal jaren bestaan…) plooiden zich dubbel.
Causenation opende het EBM-feestje. De band die het levenslicht zag in 2015 brengt old school EBM in de traditie van de jaren '80. De EBM waarvan de fundamenten in Belgenland werden gelegd. Zonder een kopie te willen zijn van de oergroepen zoals Vomito Negro en Absolute Body Control. Het Antwerpse drietal zette dat ook overtuigend neer in de B52. Hoekige, dreunende beats, gekoppeld aan fijne melodieën en de donkere stem van frontman Vain Sancrosant. De Belgische belichaming van de frontman van Covenant Eskil Simonsson, zij het dan nuchter, niet onder invloed van verdovende troep en met een stem die live wél overeind blijft op het podium. Het drietal speelde een korte, stevige set en zal nog vele liefhebbers van het genre verblijden met stevige, oerdegelijke electro/EBM.
En dan tijd voor wat meer hedendaags electro-geweld. Het uit Luik afkomstige Deleritas, met Onyx aan de keyboards en Sam op drums. Twee broers met een diverse achtergrond. Onyx was al actief als DJ voor hij de overstap maakte naar zijn geliefde muziek: de harde electro, hellelectro. Hij sleurde zijn broer Sam mee, die actief was in de metal hardcore. Hun eerste samenwerking was Anamorphosis. Dit project strandde echter na enige tijd. Ze bleven wel samenwerken en zo werd hun tweede kind geboren: Deleritas. Een puur muzikaal project, zonder zang en teksten, met pure agressieve uiting van hun persoonlijke gevoelens. En dat was ook voelbaar. Hun muziek balanceert op de rand van hellelectro, aggrotech en een zweem industrial. De energie die ze uitstralen was intens voelbaar in het publiek. Hun heel agressieve muziek overdonderde, was onheilspellend, intens en heel erg hard. Hun half in zwarte schmink gehulde gelaten werden algauw door het intense zweten obscure schilderijen op hun gezicht. Ze slaagden er in om de B52 plat te krijgen zonder voorgaande.
Wülf7 – die ook instond voor de organisatie van deze fijne avond - was vervolgens aan zet. In 2018, na een toevallige ontmoeting tussen de twee bandleden, onder het gesternte van een overtollige dosis zwaar Belgisch gerstenat, ontstond Wülf7. Hun beider voorliefde voor de EBM uit the early days, resulteerde algauw in een eerste EP The Nights Of The Wolves. Een fijn werkje met 5 geweldige songs. Na wat technische probleempjes met microfoons die niet echt wilden meespelen, pakte het tweetal de B52 gemakkelijk in. Een dik halfuur durende show, gehuld in stroboscooplicht, en bulkend van donkere beats zorgde voor een intense beleving. Euthanasia was voor mij het hoogtepunt. Eén jammerlijk minpuntje was dat het vocale ietwat verdween in een iets te overstuurde microfoon.. maar daar liggen we niét wakker van! De Wolves deden wat van hen werd verwacht: je ferm in de strot bijten met vlijmscherpe EBM.
Dat pure oldschool EBM ook in België nog jonge mensen beroerd, maakte Zynik 14 snel duidelijk. De bandlieden Fred (programming, mixing, arrangementen) en Lanze (vocals, teksten, arrangementen) komen uit het Duitstalige landsgedeelte van België: Eupen. Mij waren ze tot op dit moment onbekend (ja, ik zou me moeten schamen zeker?). Maar wat een energie! Pure oldschool EBM, snoeiharde ritmesecties en de typisch hoekige, dreunende synths. Uitermate minimaal qua instrumenten. Ook hun présence is die van de ideale schoonzonen (en misschien zijn ze dat wel?). Ze genieten van elke seconde, zo bescheiden, maar wat ze doen ademt liefde uit. Een blik rondom mij leerde dat élke aanwezige aan het dansen was. Maar dan ook iédereen. Ze speelden de keet plat zonder voorgaande. Ook al hadden zij te kampen met wat technische strubbelingen tijdens het stevige Dumm macht populär. Het publiek nam dan gewoon over en het werd een met momenten unplugged EBM-beleving. En de boys? Zij deden het publiek plezier door, nadat een paar kabels toch weer alle signalen doorgaven, de song gewoon te hernemen. Ze konden na dik 40 minuten niet anders dan een BIS te spelen. Met een brede glimlach werd hieraan voldaan.
En de afsluiter behoeft geen introductie. Euforic Existence is het project van Koen Van Dappernest (ook bekend van KnK), live bijgestaan door Bart Peeters. Intussen bestaan ze al bijna 20 jaar, maar er was tussen 2003 en 2013 een heel lange stilte. Koen was toen bezig met gezin en carrière buiten de muziek. Maar het bloed kruipt waar het niet gaan kan: zet hem op een podium en de vonken vliegen er van af. De muziek is te categoriseren onder EBM, maar het is veel meer dan dat. Het is donker, dark electro, met een EBM-basis, verre van vrolijk qua inhoud, maar dan wel muzikaal dansbaar verpakt. En dat werkt. Op het podium heel veel energie, in de zaal ook. Euforic Existence is terug (enfin, waren ze ooit weg??) en er is de stille hoop bij uw dienaar dat ze op vele podia hun duivels los zouden laten. Eind maart zijn ze, vergezeld van het fijne gezelschap van o.a. Spark, Jäger 90, Wülf7, Pantser Fabriek e.a te zien in Retie. We zullen er zijn !
EBM is still alive? Jazeker, en niet alleen alive, maar ook kwalitatief alive. Als nu nog meer publiek de weg (terug) vindt naar deze fijne muzikale stijl die in België is ontstaan, dan staat ons nog heel veel moois te wachten.
Jurgen BRAECKEVELT
31/12/2019
---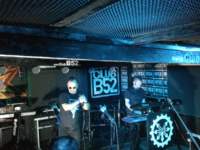 ---