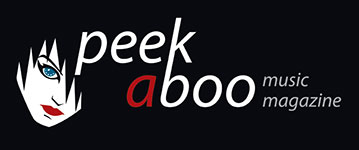 like this concert review
---
EVIL SUPERSTARS
Mechelen, Kerk Cultuurcentrum (04/06/2016)
Concert
Indie Rock
[95/100]

10/12/2016, Mark VAN MULLEM
---
In the night from saturday june 4th to sunday june 5th, some magic happened in Mechelen. That night the mighty Evil Superstars, in the nineties one of Belgium's finest if not the best indie rock bands ever came back to life. From midnight to one o' clock sharp, the Belgian legends put on a fantastic show: vomiting their unearthly merciless sounds and grooves, loud, louder, loudest and in our very faces! One hour, only one hour of pure genius, leaving the Mechelen-crowd behind, gasping for air. What a gig!

Mauro Pawlowski, who led the shortlived project (1992-1997), featuring Tim Van Hamel (Millionaire, Eagles of Death Metal), was the curator of the cultural season 2015-2016 at Cultuurcentrum Mechelen. Mauro performed several gigs during the year and for the last show of the season something special was promised. Who would have thought the singer-songwriter gitarist would bring the legendary Evil Superstars back to life!
Most Superstars-fans arrived around eleven o 'clock, but the event started at eight o'clock with cool sets by Mechelen's In Utero Dj's, two lovely young ladies who know their grooves, and the bands Onmens and Meteor Musik.

The duo Onmens delivered a nice electronic body music set, a blend of the best of Ministry, Mussolini Headkick, Revolting Cocks and The Neon Judgement, also a duo that combined electronics, voice and guitar, but that's where the comparison stops. TNJ is in another league, sorry boys. Onmens won't win the originality price, but the band played a groovy set. A garderobe-advice for the singer: get rid of that fluo ski jacket and go for black leather.

Keyboard trio Meteor Musik, dressed up as astronautes. It is often compared to Kraftwerk. I can see the point, but the influences I could hear on saturday were rather from the likes of Daft Punk, Air and even Jean-Michel Jarre. Although you clearly heard these influences, the boys managed to produce a very personal sound.

As soon as Meteror Musik finished the concert, the die hard Evil Superstars fans found their way to the front. It was not long now before the legends would hit the stage. I remember seeing them at the Pukkelpop festival, somewhere in the nineties. I' ve seen Mauro Pawlowski with different projects over the years, and although there were some earlier reunions, my last Superstars gigs date from the nineties. But I was there this time!

With Swiss punctuality, at midnight sharp, we heard those famous notes: Satan Is In My Ass. Yes! Then 1,000,000 Demons Can't Be Wrong! The party had started! Oh, my! Evil Superstars raged in a furious tempo through the set. They would only play one hour. Exactly one hour, so: no time to lose, ey? The sublime Superstars gems and anthems followed one after the other. And it was fantastic. A Few Screws (for the Teens), If Your Cry (I'll Go To Hell) and... B.A.B.Y., with the (in)famous line come down if you want to have smart sex with a winner.

Mauro welcomed his audience: Hello, goodevening. Everyone's doomed!. Mauro told us about the short time frame. So, time for more Evil Superstars with filthy, powerful, Zappa'esque and poppy noises! The audience was spoiled with Cosmic Dance, Hail The Rectangle (!), and of course with I Can't Seem To Fuck Things Up and Holy Spirit Come Home.

Also I'm On A High, the classic by Tim Van Hamel's band Millionaire, was featured.

Evil Superstars played very relaxed but also hyperkinetic and funky. Oh, and loud! The overall sound was perfect and those old songs from 92-98 still sounded fresh.

By the time Darkagedisco bursted through the speakers, we knew this gig was nearly over. Already! But the avant-garde evil fools came back for one more song and they gave us their ultimate pop song: Sad Sad Planet. Sing-along time!

Mauro pointed at his watch. It's exactly one o' clock, thank you!. Only, one hour of brilliant music is too short. But Mauro assured me after the gig: we never played longer than one hour, so tonight is not different. OK, then.

Please, evil guys, more of these one-off reunions! Rockers from Mechelen, or from nearby or farway: you missed something on Saturday night!

Setlist:
Satan Is In My Ass / 1,000,000 Demons Can't Be Wrong / A Few Screams (For Teens) / If You Cry (I'll Go To Hell) / B.A.B.Y / Cosmic Dance / Hail the Rectangle / I Can't Seem To Fuck Things Up / Holy Spirit Come Home / Laserblack / Good News For Women / I'm on A High (Millionaire) / Darkagedisco

Encore:
Sad Sad Planet

Pictures by © Kris Crooneberghs - www.clicksofconcerts.wordpress.com/
Mark VAN MULLEM
10/12/2016
---
Zaterdagnacht, 4 juni 2016, werd het seizoen 2015-2016 van het Cultuurcentrum Mechelen op een luide, luidere en luidste manier afgesloten met een fenomenaal concert, recht uit de diepste krochten van de hel én uit het rock 'n rollhart van Evil Superstars.
Kafka, Frank Zappa, de duivel zelf of toch zeker Mauro Pawlowksi, Tim Van Hamel en trawanten lieten Mechelen naar adem happen met hun verantwoord tegendraads muzikaal geweld. Ze hadden daar maar één vol uur voor nodig, kort, krachtig en absoluut memorabel.
Mauro Pawlowski was een jaar lang te gast in Cultuurcentrum Mechelen en zette mee de muzikale lijnen uit. Zelf was hij dan ook vaak aanwezig in verschillende gedaantes. Het slotweekend van het cultuurseizoen 2015-2016 lag al lang vast, of het 3 of 4 juni werd, was nog niet meteen zeker. Wát Mauro precies zou doen trouwens ook niet. Het uiteindelijke wapenfeit: Pawlowski die zijn geweldige Evil Superstars nog eens tot leven wekte en daarmee heel veel melomanen ongetwijfeld ongeloofelijk veel plezier heeft gedaan. Ondergetekende incluis!
De deuren van het Cultuurcentrum zwaaiden al open om 20 uur. Mauro en de zijnen zouden pas op het podium stappen om middernacht. Tot dan hadden de voortreffelijke In Utero Dj's en de veelbelovende bands Onmens en Meteor Musik de (on)dankbare taak om hun ding te doen.
De muziekjes van de In Utero Dj's waren apart, aanstekelijk en origineel. Goed gedaan, dames!
Omstreeks half tien mocht Onmens, omschreven als 's lands meest expliciete en wild om zich heen schoppende elektronicaband, zich bewijzen. Het duo bracht een aparte mix van het beste van Suicide, Ministry, Mussolini Headkick, Revolting Cocks en The Neon Judgement. En dat laatste is niet alleen omdat ze ook met z'n tweeën zijn en electronics, stem en gitaar combineren. Heel orgineel was het misschien niét, maar wel gewoon erg goed en behoorlijk groovy. Ik durf de zanger wel aan te raden die fluo ski-jas om te ruilen voor zwart leer of zo. Maar dit duo bracht aanstekelijke electronic body music 2.0. Een fijne kennismaking dus.
Het gezelschap Meteor Musik, gehuld in astronautenpak en -helm, wordt door Humo vergeleken met Kraftwerk. Ik hoorde toch vooral invloeden van Air, Daft Punk en Jean-Michel Jarre. Of zoals een van mijn concertkompanen het verwoordde: Daft Punk met veel Air en Jarre (heb je hem?). Alleszins, ze hadden de zaal mee en het was best te pruimen.

Na de set van Meteor Musik zaten we al voorbij de klok van elf. Menig Mauro-, Tim Van Hamel- en Evil Superstarsfan zocht zich een ideaal plaatsje uit in de voorste regionen. Ik mag wel hopen dat ook zij de oordopjes in hadden.
Het moet geleden zijn van één van de Pukkelpopedities in de jaren negentig dat ik Evil Superstars nog eens aan het werk zag. En ook al waren er de sporadische reunies, die ik dan nog miste ook (!), deze band nog eens aan het werk te zien en horen, en dan nog in mijn Mechelen, ik had er niet meer op gehoopt. En nu was de tijd dus dààr.
Stipt middernacht en dààr waren ze! Bekende noten, ja!!! Het feest was begonnen. Satan is In My Ass, meteen gevolgd door 1,000,000 Demons Can't Be Wrong. Slik. De Superstars raasden als bezeten in hels tempo door de set, ze zouden dan ook maar één compact uur spelen, geen tijd te verliezen dus. Meer ongenadige en sublieme salvo's volgden elkaar snel op; A Few Screws (for the teens), If You Cry (I'll Go To Hell) en B.A.B.Y met die geweldige frase "come down if you wanna have smart sex with a winner", wie brulde dat niét méé, collega-fans, eerlijk?
Dan pas sprak Mauro ons toe: Goedenavond, iedereen is verdoemd. Hij maakte ook gewag van het korte timeframe dat ze hadden. Dus 'cut the crap' en de Superstars lieten meteen meer van hun krachtige, vuile, poppy en zappa'esque verantwoorde teringherrie op het gewillige publiek los. En zo volgden ondermeer nog Cosmic Dance, Hail The Rectangle (!), natuurlijk ook I Can't Seem To Fuck Things Up en Holy Spirit Come Home. Tim Van Hamel mocht met de Millionaire-classic I'm on A High uitpakken, of wat had je gedacht?
Je kwam ogen en oren, al dan niet beschermd met oordopjes, te kort. De Superstars speelden vinnig, soepel, hard, hyperkinetisch en funky. De sound zat perfect en de tijd had geen vat op de composities. Evil Superstars stond geconcentreerd te spelen én te genieten tegen 100 km per uur.
Toen Darkagedisco door de zaal knalde, realiseerde het publiek zich dat het uurtje er al bijna op zat. Maar de avant-gardistische kwaadaardige zotten kwamen terug en schonken ons nog het uitermate poppy Sad Sad Planet.
Mauro keek op zijn horloge: het is exact één uur. Een uur Evil Superstars, een uur geniale gekheid. Natuurlijk is dat veel te kort. Maar zoals Mauro me vertelde toen ik hem kort sprak nà het optreden:"we speelden nooit langer dan één uur, dus ook nu niet. OK, dan.
Maar laat aub nog af en toe zo'n sporadische Evil Superstars-reunie plaatsvinden, Mauro, Tim en co!
Na de afspraak met de Limburgse absurdistische, hoekige, inlandse rockgeschiedenis, was het fijn nog even na te genieten en bij te praten met vrienden. Een stuk van de set van DJ Carlo hoorde ik nog vanop een afstand. Maar ik trok de nacht in, dankbaar voor dat geweldige 'kleine nachtmusik' van Evil Superstars die éven weer bestond. Nee, het was geen droom... Topavond, zo eentje om in te lijsten, met excuses voor dit huizenhoge cliché.
Rockers die er zaterdagnacht niet bij waren, hadden eigenlijk kilometers ongelijk, màg ik dat zeggen? OK, nu is het sowieso te laat...

Setlist:
Satan Is In My Ass / 1,000,000 Demons Can't Be Wrong / A Few Screams (For Teens) / If You Cry (I'll Go To Hell) / B.A.B.Y / Cosmic Dance / Hail the Rectangle / I Can't Seem To Fuck Things Up / Holy Spirit Come Home / Laserblack / Good News For Women / I'm on A High (Millionaire) / Darkagedisco

Encore: Sad Sad Planet
Foto's: © Kris Crooneberghs - www.clicksofconcerts.wordpress.com/
Mark VAN MULLEM
10/12/2016
---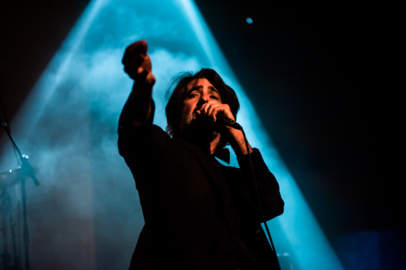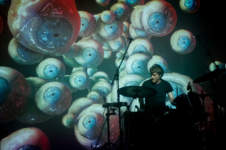 ---