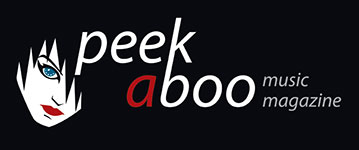 like this concert review
---
FORMS OF HANDS 14
Forms Of Hands Festival (26/04/2014)
Concert
Ambient
•
Analogue Synth
•
Dark Electro
•
Electronics
•
Industrial
[90/100]

Hands Productions
29/04/2014, Peter HESELMANS
---
April 26th, Bönen Germany, a very special venue, the 'Förderturm', a kind of old colliery tower in the centre of the grey Ruhr-area. And so, a perfect location for this industrial Forms Of Hands Festival
Opening with the French band 'Cacophoneuses', already saw them at last years Maschinenfest, and for me one of the highlights then. This techno noise band was formed in France in 2011 by Sandra and Josephine. With their heavy beats and distortions accompanied by melodic electronic sequences they impressed me another time. This set had lots of tracks from their brand new album 'The Myth Of Lorelei' (review will follow). Brillant opening act for Saturday FOH14.
Second band was 'Hezzel', an industrial alter-ego of the ambient project Macabro, formed in Riga, Latvia. This project was started in 2008 and features a mixture of various elements of hardcore electronics, and music between melodic passages to danceable beats. Although the set started with some technical problems, this act surprised me most. The brilliant heavy distorted beats brought on stage made the venue really shake. Lots of tracks on the setlist from his new album 'Exposure' (review will follow)
Third band was 'Libido Formandi', which means the desire to create new forms. This 'Hands' band is known for a sound that is dominated by remarkably versatile rhythms, alluring shuffle beats in the lower BPM range that are consequently broken up and twisted, sometimes even distorted into digital abstraction. The result is an atmospheric and electronic sound that keeps you entertained. The Greek band members Manos Chrisoergis and Panayiotis Kouretas did their best to create a special atmosphere. - Rating : 75%
Cervello Electronico was next, this band was formed in 2001 in Los Angeles. Brainchild is producer David Christian. His sophisticated and intelligent electro minimalism is really a revelation on scene for every industrial lover. Great performance
Then the power electronics from Ambassador21, already founded in 2001 in Minsk by Natasha A Twentyone and Alexey Protasov, both on vocals and electronics. They brought some rough digital hardcore with powerful lyrics in both English and Russian. The hardest act of the evening, and with some attention for the new album 'Riot Generation'. Every time I see a gig from this duo, I think that it is impossible to get more 'noise' out of a drum machine then this. You love it or you leave after a few minutes, and most of us really liked this performance (I did). Also the first act of the evening with real vocals and where actually something happened on stage.
Already midnight and now some time to dance with the Belgian Monolith, this is a solo project of electro music producer Eric Van Wonterghem (Sonar, ABC, Insekt..), and well known for his electronic music arrangements witch speak to both body and mind. Monolith brought us beats, repetitive loops, and danceable electro through the industrial landscapes, using vocal samples and even some exotic elements. This was a completely new set, based on his new album 'Crashed' (review will follow). Eric was even called back for a 'zugabe', and with Disco Buddha, the roof almost came of the building.
Headliner of this great evening full of beats, loops, digital harcore tunes, ambient stuff, and much more industrial techniques was 'Proyecto Mirage'. Difficult to come after Monolith, most people danced the whole set and after 2 days of festival, I had the impression that everyone became somewhat tired. But Proyecto Mirage played a great set. This band was already founded in 1990 in Madrid, with band members Alicia H. Willen and Francesco Planellas. And probably one of the most well know bands from the 'Hands' Label. So the festival finished with again some hard electronic beats, even sampled now with some drum ' n bass, techno influences.
This festival is a must for every industrial lover, and as can be expected very well organized. So hope to see you all back at FOH15. Maybe some more visuals can be added on stage and then it would be perfect.
Click here for Monolith.
Click here to see Ambassador 21.
Here you can see Cacophoneuses.
And finally here you can see some Proyecto Mirage.
Peter HESELMANS
29/04/2014
---
---