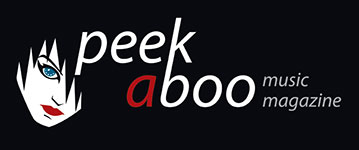 like this concert review
---
FORMS OF HANDS 15 FESTIVAL
Bönen, Germany (25/04/2016)
Concert
Electronics
•
Industrial
•
Rhythmic Industrial
[90/100]

Hands Productions
28/04/2015, Peter HESELMANS
---
April 25th Bönen,Germany, already the 15th edition of the famous 'Form Of Hands' Festival. Together with 'Maschinenfest' the place to be for every die hard industrial lover. This festival has become firmly established over the last years, assuring to showcase its labels progressive electronic music, even sometimes with a major party element. The line up consist of 14 international acts on 2 days, which of course all found their home on the Dortmunder Hands label.
The location the 'Föderturm' is perfect for these rhythm n' noise beats, a kind of old colliery tower in the center of the grey Ruhr-area and a true historical industrial jewel of the twenties, that puts you right in a industrial/romantic atmosphere.
Opening the second day festival was the French based YURA YURA. Gregory Mouselle played in cold wave and punk bands before he created this band Yura Yura in 2009. The name is actually a Japanese onomatopoeia meaning "swaying vibration", swaying from side to side, swaying, swinging, meandering like smoke, he acts in the field of rhythm n noise and gave a danceable performance., Also some nice 80s style electro beats could be heard. This opening act had ingredients of classic industrial - noise, distortion, samples,and dark atmospheres. The result was really great, although Gregory wasn't very energetic; somtimes there were long moments he just stood behind his laptop without any interaction. (rating : 80/100)
Then time for the minimalistic sounds of the Paris based artist Julien Sylvgheist with his project Sylvgheist Maelström. With a musical background from Einstürzende Neubauten or Orphys, lots of influences of these bands can be found in his tracks. Most songs are atmospheric soundscapes, enriched with heavy percussions, although some IDM rhythms and throbbing bass sounds made us move. It was the only act that had really put some effort in visuals. Julien even brought his own video engineer. His sound and visuals created a very special interaction and his gig was one of my personal highlights of this festival (rating : 95/100)
For the next show I ( and many others ) was very curious , it was the new side-project of Natasha and Alexey's Ambassador21. The couple from Belarus gave us some extra hard industrial music, with no compromises. The rhythmic impact of it on the audience was a blast: hard sweeping drum 'n' bass tunes and brutal breakcore elements, combined with even more aggressive rhythm n noise tunes. The 'underground' dancefloor at this festival was almost on fire. Each time I see a Ambasador21 gig, I think by myself if it is possible to get more noise out of drum machines like they do, and the answer is yes, Illegal Trade does, there is a constant rush of breaks, beats, noise and distortion. And there is really something going on on stage, sometimes this kind of electronic festivals can be very static, but maybe for some this is to much to handle for a whole concert. (rating : 90/100)
Then time for the more techno-industrial project from 13th Monkey. Already formed in 2006 by Adreas Thedens and Harm Bremer. All tracks of these guys are constructed using hardware instruments programmed in real time without the use of overdubbing, which make a fantastic and energetic live act. Hard bass driven and pounding tech-industrial beats with distorted and screaming acid like sounds. These guys brought us the most danceable gig of the evening. The crowd loved it, and so did I (rating : 95/100)
S.K.E.T. was the next band on stage, this rhythm 'n' noise project already started in 1994 in Rostock, Germany. They've worked on different projects in a wide range of musical styles, including EBM, Electro and Noise. The band members, Kai Hahnewald and Andreas Jäckel, did a nice job. With there heavy beats and distortions accompanied by melodic electronic sequences, they impressed the crowd, although they had serious electronic problems to get started. Maybe next time some nice visuals could realy lift this gig up to a higher level (rating : 80/100)
Already midnight and time for New York based Frank Mokros with his Rhythmic noise project Synth-etik. His. sophisticated and intelligent electro minimalism is really a revelation on scene for every industrial lover. A truly great performance that had it all, power, beats and a huge rhythm noise sound, even with technoid grooves. Next month his new album 'Function' will be released, and after listening to this gig, it will be a blast! (rating : 85/100)
Headliner of this great evening full of beats, loops, digital hardcore tunes, ambient stuff, and much more industrial techniques was Ah cama- sotz. For more than twenty years the Antwerp (Belgium) based artist Herman Klapholz has been making tribal, industrial and dark ambient music, and finally this guy gets some credit headlining this fantastic event. The brilliant set had it all, from cold minimalistic sounds over dark ambient soundscapes and even some pounding techno floor fillers. A perfect finish for a fantastic festival (rating : 90/100)
This festival is a must for every industrial lover, and as can be expected it is very well organized. So hope to see you all back at FOH16. Maybe some more visuals can be added on stage and then it will be perfect.
Vids from all artists on my youtube channel , numanoid65. A small compilation can be found below of this review
Peter HESELMANS
28/04/2015
---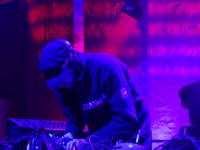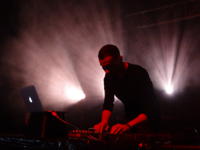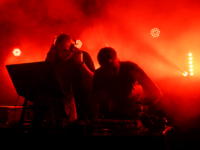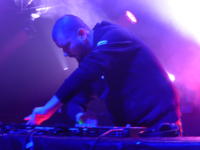 ---