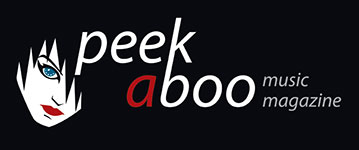 like this concert review
---
FORMS OF HANDS 16
Bönen Germany, Festival (23/04/2016)
Concert
Dark Electro
•
Electronics
•
Industrial
•
Noise
[95/100]

Hands Productions
09/12/2016, Peter HESELMANS
---
On the 22nd and 23rd of April, lovers of the industrial genre were spoiled as the 16th edition of the Forms Of Hands Festival was organized. Along with festivals like Electroanschlag and Maschinenfest, this festival belongs to the top of the dark alternative electronic genre. This festival grows year after year and it is a perfect showcase for the Hands-label to present its progressive projects, sometimes with a high feast and dance content. The line-up consists of 14 bands which are spread over two days and which all have their musical base at the Dortmund's label.

Also the location of the festival remains special: Förderturm, a historic coal tower in the center of the gray Ruhr area leads us directly into the perfect industrial atmosphere.

Opener of the 2nd night were the French ladies of CACOPHONEUSES. This duo has now been around for 5 years and got a boost because of the performances at Fondation Sonore and Maschinenfest in 2013. With a spectacular appearance and a debut album, they made even more fans in this world. The mysterious soundscapes are combined with a mix of rhythm'n noise and techno, which brought us directly into a party mood. Sandra and Josephine were a fantastic opener: the subtle and repetitive beats, and at times even the monotonous drone, gave this performance the necessary electronic punch for the industrial dancefloor. The accompanying visuals provided an extra boost of energy, and already from the beginning of this festival a wonderful animated atmosphere was created.

The second act of the evening was LE MODERNISTE. This Belgian project exists since 2006 and can be considered as power noise. Laurent Delogne takes inspiration from older bands like SPK or Esplendor Geometrico. It is like a tsunami of aggressive beats to hypnotic sounds, sometimes with tribal influences. The music of this artist is influenced by the by-products of our modern world: depravity and aggressiveness. Laurent played numerous tracks from his new CD Desistre Mortem Timere.

Even more power noise came from 16PAD NOISE TERRORIST. The music goes straight through your head and limbs. For some these crazy sounds will be a bit too much, but those who want to climb this massive mountain of sound, are rewarded with a hypnotic and euphoric feeling. The experimental sounds and the fast-paced rhythms created a tremendous atmosphere on the dance floor. Combined with the hidden melodies and sometimes ingenious musical bridges, it resulted in a very interesting gig of which we needed to recover.
One of the reasons of my visit to this festival was TALVEKOIDIK. Its masterful album Spitzbergen was the discovery of 2015 for me. "Hands says noise" is the motto of this label, but there are exceptions, as this dark ambient project of Christian Hahewald is a gem of electronic/acoustic beauty. His musical trip to the Arctic Ocean is associated with emotional melodies in a cinematic atmosphere, complemented with cool electronics and sinister sounds: up-tempo passages which are combined with subdued synths resulted in sublime electronic art. This gem could have been better with visuals, but for me this was already a phenomenal performance that caused some spiritual peace and goosebumps.

After the calm moments of Talvekoidik, we returned to the real business. The German MS GENTUR was forced to cancel the gig for family reasons, and was replaced by HYSTERESIS from Flanders. Even though they were not prepared, they made the best of it and played a very solid set, and actually offered everything that a fan of the genre can ask for: the tribal samples and beats, sometimes with a generous portion of techno, sometimes with quite disturbed rhythms, created a party on the dance floor. Most tracks were taken from the new album Hegemonia Cultural, which is a gem (review soon on Peek- A-Boo).

END USER, the project of the American Lynn Standafer who lives in Brussels, gave us a sample of his famed breakcore. Again an avalanche of sounds, yet nicely restrained. Beats and bass formed a beautiful industrial entity that was appreciated by the fans of the genre. The brand new setlist consisted mainly of material from his upcoming album Enter To Exit and was popular by the public. He played the longest set of the night. The repetitive sounds get you in a trance and produce so many adrenaline in your body that the dance moves come automatically. Party on the dance floor and nothing but satisfied Hands fans.
The headliner of this two-day festival was MONO NO AWARE. This veteran has been around since 2000 and is a guarantee for rhythm 'n noise with elements of Japanese culture. And noise we got, indestructible beats with a dash of melody. The strongest and most energetic set of the night and a worthy headliner. By the end, the set became more and more chaotic, and after two days of beats, the audience almost reached its limit, just like me.
This festival is a must for fans of the genre, and once again organized with German precision. Some acts would be better and stronger with visuals, but everyone was more than happy. We are already dreaming of the next edition.
Peter HESELMANS
09/12/2016
---
22 en 23 april waren weer hoogdagen voor de liefhebbers van het industriële genre. Het Forms Of Hands Festival was al aan zijn 16e editie toe. Samen met festivals als Electroanschlag en Maschinenfest behoord FOH tot de top van het donkere alternatieve electronische genre
Dit festival groeit jaar na jaar en is een perfect uithangbord voor de progressieve projecten van het Hands Label, soms met een hoog feest- en dansgehalte. De line up bestaat uit 14 bands over 2 dagen, die natuurlijk allemaal hun muzikale basis hebben bij dit Dortmunds label.
Ook de locatie van dit festival blijft speciaal; de 'Förderturm', een historische kolentoren in het centrum van het grijze Ruhrgebied breng ons direct in de perfecte industriële sfeer
Opener van de 2e avond waren de Franse dames van CACOPHONEUSES. Dit duo is ondertussen al 5 jaar actief en kreeg in 2013 een flinke boost door optredens op Fondation Sonore en Maschinenfest. Met hun spectaculaire verschijning en hun debuutalbum maakten ze nog meer fans in dit wereldje. Hun geheimzinnige soundcapes in combinatie met een mix van rhythm'n noise en techno brachten ons direct in een feeststemming. Sandra en Josephine waren een fantastische opener, de subtiele en repetitieve beats en bijwijlen zelfs de monotone dreunen gaven dit optreden genoeg elektronische punch voor de industriële dansvloer. De bijhorende visuals gaven deze set zelfs een extra energiestoot zodat er al van bij het begin van dit festival een prachtige geanimeerde sfeer ontstond.
Tweede act van de avond was LE MODERNISTE. Dit Belgisch project bestaat in zijn huidige vorm als sinds 2006 en kan beschouwd worden als powernoise. Laurent Delogne haalt veel inspiratie bij oudere acts zoals SPK of Esplendor Geometrico. De veelzijdigheid druipt van dit project af, een tsunami van agressieve beats tot hypnotiserende geluiden komt je tegemoet, soms zelfs met tribal-invloeden. De muziek van deze artiest is beïnvloed door bijproducten van onze moderne wereld: verdorvenheid en agressiviteit. Laurent stelde hier een groot aantal tracks voor van zijn nieuwe cd Desistre Mortem Timere.
Nog meer powernoise door 16PAD NOISE TERRORIST. Zijn muziek boort zich rechtstreeks in je hoofd en ledematen. Voor sommigen zullen deze waanzinnige geluiden te veel van het goede zijn,maar wie deze massieve berg van geluid wil beklimmen, wordt beloond met een euforisch en hypnotisch gevoel. De experimentele klanken en razendsnelle ritmes brachten een enorme sfeer op de dansvloer. Dit alles in combinatie met de verkapte melodieën en de soms geniale muzikale bruggetjes van dit interessant optreden, waarvan we toch even moesten bekomen.
Een van de redenen van mijn bezoek aan dit festival was TALVEKOIDIK. Zijn magistrale album Spitzbergen was voor mij de ontdekking van 2015. 'Hands says noise' is het motto van dit platenlabel, maar uitzonderingen bevestigen de regel en dit darkambientproject van Christian Hahewald was een pareltje van elektronisch–akoestische schoonheid. Zijn muzikale trip naar de Noordelijke IJszee gaat gepaard met emotionele melodieën in een filmische sfeer vol koele electronica en sinistere geluiden. De set was een van ongekende schoonheid, up-tempo passages gecombineerd met ingetogen synths brachten ons een subliem stukje electronische kunst. Dit pareltje voor geest en oren was nog beter geweest indien er met de nodige visuals zou zijn gewerkt, maar voor mij was dit een fenomenale prestatie die zorgde voor de nodige geestelijke rust en bijhorende kippevelmomenten.
Na het rustpunt van Talvekoidik terug naar de gewone gang van zaken. Het Duitse MS GENTUR moest jammerlijk genoeg afzeggen om familiale redenen en was vervangen door de Vlamingen van HYSTERESIS. Ondanks dat ze zonder enige voorbereiding op het podium stonden, maakten de bandleden er het beste van en leverden ze een zeer degelijke set af, die eigenlijk alles had wat een liefhebber van het genre verlangt : de tribale samples en beats, soms met een flinke portie techno, dan weer met flink gestoorde ritmes, maakten er een feestje van op de dansvloer. De meeste tracks kwamen van de nieuwe cd 'Hegemonia Cultural', en dat is een pareltje (review binnenkort hier op Peek-A-Boo). Aan het optreden moet nog een beetje geschaafd worden, maar dit is een project met een grote toekomst.
END USER, de Amerikaanse Brusselaar Lynn Standafer, gaf ons een staaltje van zijn befaamde breakcore. Wederom een lawine van geluid, maar toch keurig in bedwang gehouden. De beats en bassen vormden samen een mooi industrieel geheel wat de liefhebbers van het genre zeker konden appreciëren. De spiksplinternieuwe setlist bestaat voornamelijk uit zijn nog te verschijnen album Enter To Exit en viel duidelijk in de smaak bij het publiek, zodanig zelfs dat hij de langste set van de avond afleverde. De repetitieve klanken brengen je in een soort trance en maken zoveel adrenaline vrij in je lijf dat de danspasjes automatisch komen. Feestje op de dansvloer dus en niks dan tevreden Hands-liefhebbers gezien.
Op naar de headliner van dit tweedaagse label festival MONO NO AWARE. Deze veteraan loopt al mee vanaf het jaar 2000 en staat garant voor onvervalst rhythm 'n noise met elementen uit de Japanse cultuur. En noise kregen we, onverwoestbare beats werden vakkundig in de blender gestopt met een vleugje melodie en uitgestrooid op de dansvloer. De krachtigste en meest energieke set van de avond en een waardige headliner. Tegen het einde werd de set chaotischer en chaotischer en na twee dagen beats was het publiek stilaan verzadigd. Ook mijn limiet aan beats was bereikt voor deze avond.
Dit festival is echt een must voor de liefhebbers van het genre, en het is opnieuw met perfecte Duitse precisie georganiseerd. Sommige acts zouden nog beter en krachtiger overkomen met de nodige visuals achter het podium, maar iedereen ging meer dan tevreden naar huis, al dromend van de volgende editie.
Peter HESELMANS
09/12/2016
---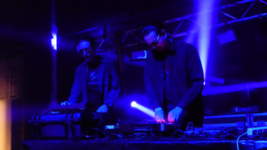 ---