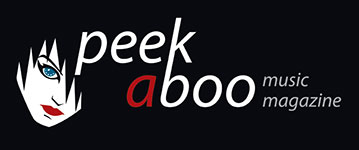 like this cinema review
---
FRANCIS LAWRENCE
The Hunger Games: Mockingjay - Part 1
Movie
•
Cinema
Adventure
Belga Films
21/11/2014, Didier BECU
---
Two months ago the disappointing The Maze Runner was shown in the cinema: with this new franchise 20th Century Fox hopes to take profit of the ever-growing young adult trend. Meanwhile, this vehicle is already forgotten and here is the real thing: the Hunger Games!, because Jennifer Lawrence already has shown that she's more than just Katniss Everdeen. The makers play on safe and split the final chapter into two parts. Officially because viewers get a migraine from such long movies, but everyone knows that it's just the logic that says that one plus one is still two!
In its opening weekend The Hunger Games Mockingjay - Part 1 smashed all year records. Whether the audience will be happy is another question, because when leaving the dark cinema theatre you know you just saw a long-stretched starter.
Just as Harry Potter, The Hunger Games has become darker. Seeing the previous part Catching Fire is almost mandatory if you all want to follow. Katniss has ended up in District 13: the part of Panem that has rebelled against the tyrannical President Snow (Donald Sutherland). Plutarch Heavensbee (Philip Seymour Hoffman) sees Katniss as the ideal showcase for the revolution. President Alma Coin (Julianne Moore) agrees and along with a video crew Katniss shows the people what a cruel villain Snow is. And what happened to her sweetheart Peeta (Josh Hutcherson)? Well, this brave boy is left in the Capitol and is used by Snow (well, actually misused) to convince Katniss that she is wrong.
It seems strange, but we actually have written down the essence of the story, there are even no spoilers told. However, we weren't bored and we didn't pick up the phone once to see what time it is. There is of course that beautiful Jennifer Lawrence, but the whole cast does a splendid job, at least if you delete Liam Hemsworth from the list. With the death of Philip Seymour Hoffman director Francis Lawrence loses one of his strengths, but the ending shows that the final part of Mockingjay will be one of the best blockbusters of 2015. We hope we're soon a year older!
Didier BECU
21/11/2014
---
Twee maanden geleden kwam de ontgoochelende The Maze Runner in de bioscoopzaal: de nieuwe franchise van 20th Century Fox waarmee de studio hoopt om ook een graantje mee te kunnen pikken van de alsmaar groeiende youngadult-trend. Ondertussen zijn we dit vehikel al lang vergeten, want hier is de enige echte Hunger Games. Omdat Jennifer Lawrence ondertussen al lang heeft bewezen dat ze tot meer in staat is dan het eeuwig vertolken van Katniss Everdeen, hebben de makers op veilig gespeeld en het laatste luik in twee delen opgesplitst. Officieel doen ze dat om de kijker geen migraine te bezorgen, maar iedereen weet dat het gewoon de logica is dat één plus één nog altijd twee is!

En reken maar, dat dat het geval zal zijn! In zijn openingsweekend verpulverde The Hunger Games: Mockingjay - Part 1 alle jaarrecords. Of het publiek tevreden is blijft een andere vraag, want als je na twee uur de donkere bioscoop verlaat, weet je dat je eigenlijk gewoon naar een lang uitgerekt voorgerecht hebt gekeken.

Net zoals Harry Potter is ook The Hunger Games donkerder geworden. Wie het vorige deel Catching Fire zag (bijna verplicht als je het allemaal wil volgen) weet dat het eigenlijk niet meer om de hongerspelen gaat. Katniss is immers in District 13 terechtgekomen: het deel van Panem dat in opstand is gekomen tegen de tirannieke president Snow (Donald Sutherland). Plutarch Heavensbee (Philip Seymour Hoffman) beschouwt Katniss als het ideale uithangbord van de revolutie. President Alma Coin (Julianne Moore) stemt toe en samen met een videoploeg gaat Katniss op pad om de bevolking te tonen wat voor een wreedaard die Snow wel is. En wat is er met haar liefje Peeta (Josh Hutcherson) gebeurd? Wel, deze brave jongen is in het Kapitool achtergebleven en wordt door Snow gebruikt (nou ja, misbruikt) om Katniss ervan te overtuigen dat ze fout bezig is.

Het klinkt vreemd, maar eigenlijk hebben we hiermee de essentie van het verhaal neergepend. Er zijn zelfs geen spoilers weggegeven, want op het slot na, dat je wellicht nooit zal vergeten, gebeurt er niks. Toch hebben we geen enkele keer het mobieltje bovengehaald om te kijken hoe laat het is. Er is natuurlijk die prachtige Jennifer Lawrence, maar ondanks de leegte hebben we ons geen seconde verveeld en dat komt natuurlijk hoofdzakelijk door de ijzersterke vertolkingen, ten minste als je Liam Hemsworth uit het lijstje schrapt. Door het overlijden van Philip Seymour Hoffman verliest regisseur Francis Lawrence (neen, niet de papa van) één van zijn troeven, maar de finale opent wel de weg naar wat waarschijnlijk één van de beste blockbusters uit 2015 wordt. Dat we maar rap een jaartje ouder worden, want nu hebben ze ons gewoon maar nieuwsgierig gemaakt!
Didier BECU
21/11/2014
---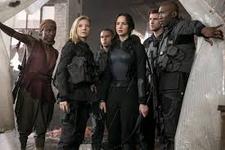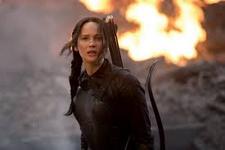 ---