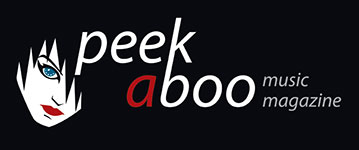 like this cult movies review
---
FRED WALTON
April Fool's Day
Movie
•
Cult movies
Horror
[69/100]

Universal Pictures
04/08/2014, Didier BECU
---
In our fine (yeah, even if we say it ourselves) series that feature horror movies that no one remembers we digged up April Fool's Day from 1986. Mind you, the movie is not a masterpiece, but certainly deserves its place next to those other famous slasher movies from the 80's. The movie was an idea from Paramount Pictures. In those days A Nightmare on Elm Street was the ultimate horror hit and it really looked like if the public didn't care about all those sequels from Friday The 13th. Producer Frank Mancuso Jr understood this as he was after all the man who pumped money in the disaster that Friday the 13th Part V: A New Beginning was. Scriptwriter Danilo Bach (the man who came up with the Beverly Hills Cop–films) had a brilliant idea: a whodunnit-movie that looked like a horror satire!


Agreed, something like this looks ridiculous on paper, but due to the enthusiastic cast and decent directing from Fred Walton (who already hade made the horrorhit When a Stranger Calls with Charles Durning and an episode from Miami Vice) April Fool's Day turned out to be a (now kind of forgotten) horror classic that deserves to be (re)discovered by every fan.


It's a bit of a shame that the title reveals the plot, but apart from that, Walton succeeds in fooling the viewer. The effects are standard, but decent though. The girls are absolutely gorgeous (especially Deborah Foreman and Deborah Goodrich) and the dialogues very funny. Among the boys you'll notice Griffin O'Neal (the son from superstar Ryan) who ended up a year later in jail because he was responsible for an accident on a sailing boat that caused the death of Gian-Carlo Coppola (indeed, also the son from). Strange enough a similar accident was included in this movie….


Ten years later Frank Mancuso Jr thought it was necessary to produce a remake, but we keep it to the first one. Originals always do taste better, not?
Didier BECU
04/08/2014
---
In de reeks "horrorfilms die geen kat meer kent" halen we graag nog eens April Fool's Day uit 1986 vanonder het stof. De film is zeker geen meesterwerk, maar mag gerust naast het bekendere slasherwerk uit de jaren 80 pronken. De film is een bedenksel van de Paramount Pictures. A Nightmare on Elm Street was ondertussen de horrorhit van het moment geworden en producer Frank Mancuso Jr had het al lang door dat het bioscooppubliek niet meer naar de sequels van Friday The 13th kwam kijken. En hij kon het als geen ander weten, want hij was de man die een jaartje eerder geld in het fiasco Friday the 13th Part V: A New Beginning had gestoken. Het was scenarioschrijver Danilo Bach (bedenker van de Beverly Hills Cop–films) die met een nieuw idee op de proppen kwam. Een whodunnit-film die er als een horrorsatire uitzag!
Op papier klopt zoiets natuurlijk voor geen meter, maar dankzij de enthousiaste cast en de onderhoudende regie van Fred Walton (die daarvoor al de horrorhit When a Stranger Calls met veteraan Charles Durning en zelfs een aflevering uit Miami Vice had gedraaid) is April Fool's Day een vergeten horrorklassieker geworden die iedere griezelfanaat moet hebben gezien.
Jammer genoeg verraadt de titel tevens de plot, maar dat neemt toch niet weg dat Walton erin slaagt om de kijker een uur in het ooitje te nemen. De schrikeffecten zijn standaard, maar van een zeer degelijk niveau. De meiden zijn superknap (vooral Deborah Foreman en Deborah Goodrich) en de dialogen meer dan onderhoudend. Tussen de jongens herken je ook Griffin O'Neal (zoon van superster Ryan) die een jaar later in de nor belandde omdat hij verantwoordelijk was voor een zeilbootongeluk waarbij Gian-Carlo Coppola (zoon van!) om het leven kwam. En vreemd genoeg gebeurt er in deze film iets gelijkaardigs…
Meer dan tien jaar later vond Frank Mancuso Jr het nodig om ook de remake te produceren, maar wij houden het op het origineel. Dat smaakt altijd beter, niet?
Didier BECU
04/08/2014
---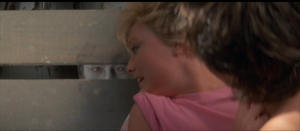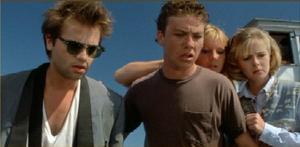 ---