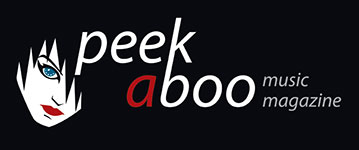 like this concert review
---
FRONT242 + RADICAL G
live at Vooruit, Ghent, Belgium, 24/5/2014
Concert
Cold EBM
•
EBM
•
Electro
[99/100]

25/05/2014, Filip VAN MUYLEM
---
I hope you all know the great venue where one of our all-time heroes performed one of their best sets so far! I love De Vooruit, a great place, with great sound and nicely renovated! This one smells great musical history!
Warm up was served by a guy who did it a lot in the past (at least the gigs I saw). This time I could see him from really close and noticed his funny ears (very pointy, as if he's an elf, together with his very sharp and long nose). I'm sorry, I have just seen the first season of Grimm and am still under influence of the episode where a rat monster was playing the killer DJ... It reminded me of that! Well, the guy launched his beats, slowly building up the tension. You can call his music cold EBM on rave! What else did I see: a laptop, some kind of live synth and a microphone that he used to fire up the audience and launch some vocals now and then. The end came somehow too fast, the audience was awake and getting along very well with his music. For me it could have lasted a bit more and that is always a good thing! Now up to the long awaited gig!
The Vooruit was getting properly filled (sadly unsure if it was finally sold out or not). The first thing I notice is that they start with another sound (not the typical 'Happiness') and with new visuals! From the start I'm getting sucked up by the music, losing myself in their beats, movements, dancing, jumping, running, firing up the audience... It was all powered up, maxed up! These guys are in better shape than me (and I'm actually younger)! 'Moldavia' is a great opener, but it is strange that they didn't play that one. 'Body to Body' knocked us all out and it only started! It was for sure 'A Lovely Day'! The next 2 songs are not so well known, but it's good that they take some risks! 'Headhunter' was a real headshot! The audience loved it and reacted as totally in ecstasy! Next big hits are 'U-Men' and 'Funkhadafi' all in a new version! It's great that they keep on reinventing themselves after all those years, instead of simply playing the same stuff over and over! This is what makes the difference with all the other clones of theirs! They prove once more why they are our all-time favorites in this genre! We all dance, jump and shadow fight all along! People started screaming for 'Welcome to Paradise', but had to wait until just after another master hit 'Im Rhythmus Bleiben'! This was our passage in EBM heaven! This was also the end of the regular set, no doubt that the people wanted more and they made it very clear!
I must say that the live version from Underviewer is a more dramatic version, but this one is not bad either. 'Punish Your Machine' was another highlight!
Still the audience wanted more, the band doubted, the sound of the microphones was even already cut out, but the right vibe was there! Richard23 fooled a bit around and joked. He fired up the fans and everybody got the ultimate Front242 track! 'No Shuffle' is an evergreen, no matter in what kind of version they bring it! It was a bomb and the crowd shouted a long until the song was done and the band decided to leave the stage for good! Even outside I still heard the people singing the song! It was for sure a great night! Thank you Filip Delens and Happy Birthday!
Filip VAN MUYLEM
25/05/2014
---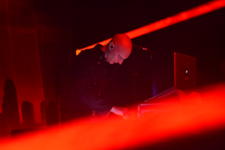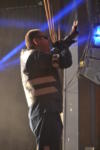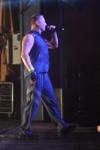 ---