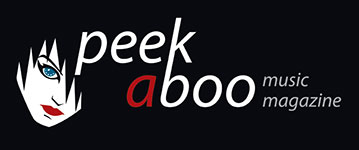 like this concert review
---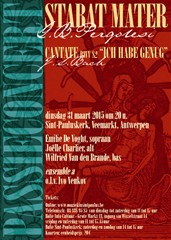 G.B. PERGOLESI/J.S. BACH
Stabat Mater/Ich Habe Genug BWV 82 (Antwerpen, Sint-Pauluskerk, 31/3/2015)
Concert
Classical
[90/100]

01/04/2015, William LIÉNARD
---
It's Easter, the perfect time to perform the Stabat Mater by G.B. Pergolesi, because this musical work is about the weeping Mary with the crucified Christ. The text was probably written in France or Italy by the Franciscan monk John Fidenza (1221-1274). Originally, the Stabat Mater was sung on 15th of September (Feast of the Seven Sorrows of Mary), but the Council of Trent (1543-1563) decided to remove it from the liturgy because of the polyphonic music and the non-biblical text. Pope Benedict XIII allowed the Stabat Mater again in 1727. G.B. Pergolesi wrote the Stabat Mater at the request of the Cavalieri della Virgine dei Dolori in Naples. The knights had a longstanding tradition with the Stabat Mater by Alessandro, but apparently they felt that the time was ripe for a new version. Pergolesi wrote the composition in the monastery of Pozzuoli (near Naples) and died soon after (March 1736). He was barely 26, but he gave the world one of the most beautiful Baroque compositions. And J.S. Bach clearly agreed, because he used the musical score by Pergolesi for his own Tilge, Höchster, Meine Sünden, BWV 1083.
The Bach cantata "Ich habe genug", BWV 82 is of the same heavenly beauty. It was first performed on the 2nd of February, 1727, as a mystical contemplation of death, in which the Old Simeon likes to surrender himself, because he has seen his Savior. Despite the sometimes dark content, it is an eloquent and very melodic composition with a cheerful tone, because he who has reconciled himself with the inevitable and knows his destination, need not worry. The aria 'Schlummert ein" is the eye catcher of the cantata, a stunning composition, and the great Bach scholar Albert Schweitzer called it rightly a lullaby for eternal sleep. The final aria "Ich freue mich auf meine Tod" sounds upbeat and almost festive and it contrasts very much with the way we look at death in our own time, but even stripped of its religious character, this aria sounds like a grateful ending to a fruitful and fascinating life.
Wilfried Van den Brande is a regular guest in the St. Paul's Church, and he did a fine version of JS Bach's cantata "Ich habe genug". He has a nice deep bass voice that easily conforms to the melody and convinces in the recitatives. The difficult oboe-party in the cantata was played by Katarzyna Sokołowska, and the Ensemble a gave her the proper space to rise above the sound of the strings. Again a successful performance.
William LIÉNARD
01/04/2015
---
Het is weer paastijd en dan is het gebruikelijk om o.a. het Stabat Mater van G.B. Pergolesi op het repertoire te nemen, want dat muziekwerk gaat over de wenende Maria bij de gekruisigde Christus. De tekst is naar alle waarschijnlijkheid van de hand van de franciskaner monnik Johannes Fidenza (1221-1274) en geschreven in Frankrijk of Italië. Oorspronkelijk werd het Stabat Mater gezongen op 15 september (Feest van de Zeven Smarten van Maria), maar op het Concilie van Trente (1543-1563) werd besloten om het Mater uit de liturgie te verwijderen wegens de meerstemmige muziek en de niet-Bijbelse teksten. Pas in 1727 maakte paus Benedictus XIII dat verbod ongedaan en werd het Stabat Mater in ere hersteld. In de loop van de volgend eeuwen ontstond de gewoonte om het Stabat Mater (ook) tijdens de zgn. lijdensweek voor Pasen op te voeren.
G.B. Pergolesi schreef het Stabat Mater op verzoek van de Cavalieri della Virgine dei Dolori in Napels. De ridders lieten al sinds lange tijd het Stabat Mater van Alessandro in hun kerk uitvoeren en schijnbaar vonden ze dat de tijd rijp was voor een nieuwe versie. Pergolesi schreef de compositie in het klooster van Pozzuoli (in de buurt van Napels) in een mum van tijd en overleed niet lang nadien aan tuberculose (maart 1736). Hij was nauwelijks 26, maar hij schonk de wereld één van de mooiste Barok-composities. Daar was J.S. Bach het duidelijk mee eens, want hij gebruikte de muziekscore van Pergolesi voor zijn eigen Tilge, Höchster, Meine Sünden, BWV 1083.
De Bach-cantate "Ich habe genug", BWV 82 is van dezelfde hemelse schoonheid. Ze werd voor het eerst uitgevoerd op 2 februari 1727 (Maria Lichtmis) als een mystieke contemplatie over de dood, waaraan de Oude Simeon zich graag overgeeft omdat hij zijn Heiland heeft gezien. Ondanks de wat donkere inhoud, gaat het net zoals in het Stabat Mater om een welluidende en zeer melodische compositie met een vaak opgewekte toon, want wie zich met het onafwendbare heeft verzoend en z'n bestemming kent, die hoeft niet bang te zijn. De aria 'Schlummert ein" is de eyecatcher uit de cantate, bloedmooi, en de grote Bach-kenner Albert Schweitzer noemde ze terecht een wiegelied voor het eeuwige slapen gaan. De afsluitende aria "Ich freue mich auf meine Tod" klinkt vrolijk en haast feestelijk en ze contrasteert fel met de manier waarop wij in onze eigen tijd tegen de dood aankijken, maar zelfs ontdaan van haar religieuze karakter, klinkt ze als het dankbare sluitstuk van een vruchtbaar en boeiend leven.
Het Ensemble a (violen, celli, contrabas en continuo), onder leiding van dirigent Ivo Venkov, kweet zich uitstekend van z'n taak. Misschien klonken de altviolen nog een beetje aarzelend in de eerste seconden – wat overigens een subjectieve waarneming kan zijn, want in een hoog kerkgebouw is het toch altijd even wennen aan de klank en hoe die zich in de ruimte verspreidt – maar voor de rest was er sprake van een uitvoering waarop weinig aan te merken is. De violen en altviolen klonken goed en waren duidelijk van elkaar te onderscheiden, terwijl de celli en de contrabas een prachtige donkere ondertoon garandeerden. Tijdens de laatste aria 'Face me cruce' ging één van de violen lichtjes uit de bocht wegens een ontstemde snaar, maar dat euvel werd op een acceptabele manier gerepareerd – en bovendien is het moeilijk te vermijden op een koude en regenachtige lentedag waarop de fijn afgestelde vioolsnaren onder invloed van warme vingers gaan uitzetten, en vooral als die al gedurende bijna 40 minuten intens zijn aangeraakt.
De zangpartijen waren toevertrouwd aan Emilie De Voght (sopraan) en Joëlle Charlier (alt). Wie het Stabat Mater van G.B. Pergolesi kent van de talrijke cd-opnamen met grote en bekende namen, zal net zoals ondergetekende tot de conclusie komen dat beide dames voor een uitstekend resulktaat zorgden. Je kan altijd hier of daar een kanttekening maken, maar dan ga je er van uit dat een dergelijke compositie maar op één manier kan worden uitgevoerd, terwijl muziek net boeiend wordt als ze het resultaat is van de spanning tussen de partituur en de persoonlijkheid van de uitvoerder. Emilie De Voght is een krachtige sopraan met een prachtig vibrato en ze bewoog zich op een soepele en veelzijdige manier door de niet altijd even gemakkelijke partituur, terwijl een al even toonvaste Joëlle Charlier met en iets zachtere en zijïgere stem de compositie op een uitstekende manier in evenwicht wist te houden. Het heikele punt in het Stabat Mater is de samenklank tussen de beide stemmen en die was niet minder dan uitstekend. Om kippenvel van te krijgen.
Wilfried Van den Brande, ook geen onbekende in de Sint-Pauluskerk, nam het "Ich habe genug" van J.S. Bach voor zijn rekening en dat deed bij op een voorbeeldige manier. Hij heeft een mooie diepe basstem die zich makkelijk naar de melodie voegt en die ook in de niet altijd even evidente recitatieven overtuigt. De moeilijke hobo-partij in de cantate werd op een indrukwekkende manier door Katarzyna Sokolowska gespeeld en het Ensemble a gaf haar precies de juiste ruimte opdat het soms fragiele geluid opviel in het geheel. Opnieuw een geslaagde uitvoering.
William LIÉNARD
01/04/2015
---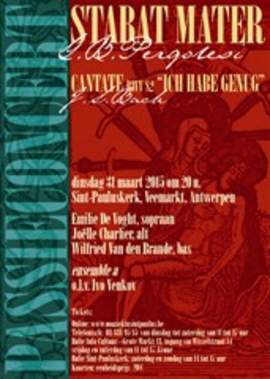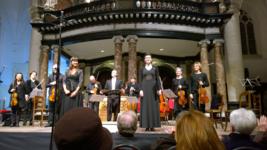 ---