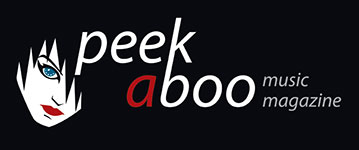 like this movie review
---
GARETH EDWARDS
Godzilla
Movie
Action
•
Science Fiction
[81/100]

Warner Home Video
08/09/2014, Didier BECU
---
Anyone who wants to impress the audience with a blockbuster these days has to make it a gigantic one! A statement that is perfectly understood by Warner. Some months after Pacific Rim the dream factory strikes back with a new version from Godzilla that destroys all its predecessors, even if the respect for them never fades away.
Gareth Edwards had a budget from 160 million dollar. An enormous amount and a very high risk, as this director previously only made the fine (but very cheap) Monsters. According to him it was his love for the Japanese monster that convinced the producers. Whatever the truth might be, Godzilla has become the blockbuster of the year that can charm both the popcorn audience and the cinephiles.
The king of monsters that made his entrance in 1954 already has been featured in an American blockbuster before. Even if many fans were disillusioned with Roland Emmerich's version from 1998 I still like it, but this reboot is something different (and certainly better!)
The story begins fifteen years ago in a Japanese nuclear plant. An earthquake (ha!) not only causes a huge fiasco for humankind, also scientist Joe Brody (Bryan Cranston) has to pay a high toll. He lost his wife (Juliette Binoche who appears only 5 minutes on screen). The poor sod refuses to accept the fact that everything is an accident. After intense researches, he discovers fifteen years later that a secret organisation is keeping MUTO's (Massive Unidentified Terrestrial Organisms). Nerds might know that MUTO's are creatures that are fed by radiations from nuclear energy. Joe calls the help from his son Ford (Aaron Taylor-Johnson) to convince him that he's not a lunatic as some say he is. When two MUTO's are escaping from the camp, the world is in immediate danger. The only creature that can prevent the planet from an entire destruction is Godzilla!
Indeed, you get three monsters for the price of one! Apart from that, Edwards took an enormous risk by waiting one hour before showing the viewer the huge monster. Once it happens, you're witnessing the fact that not all CG-effects have to look ridiculous. You read it before, but it's the truth: Godzilla is a visual feast that blows everybody away! The story itself is a bit thin, but no worries though as you haven't seen gigantic fights between monsters like these before! Another very positive point is that this is not the typical disaster movie like we know it (yes, Emmerich we mean you!) Edwards was so clever to add a very dark touch to this Godzilla that gives it all a bit of a Christopher Nolan-touch. Combine this with decent performances (Elizabeth Olsen is simply one of the best Hollywood-actresses from this moment) and you know that this one blockbuster is an absolute must see!
The movie is out on both DVD and Blu-ray. On the last one you'll find a bonus section from more than an hour long. Now out on Warner.
Didier BECU
08/09/2014
---
Wie tegenwoordig in Hollywood zijn mannetje tussen de blockbusters wil staan, pakt het maar beter groots aan. Een statement dat ze bij Warner maar al te goed hebben begrepen, want na de gigantische monsters uit Pacific Rim komt vandaag de droomfabriek met een Godzilla op de proppen die al zijn voorgangers (ook al heeft men het respect er voor niet verloren) murw slaat.
Gareth Edwards mocht voor deze superproductie 160 miljoen dollar uitgeven. Een gigantisch bedrag en een enorm risico: zeker als je weet dat deze filmmaker alleen maar de geslaagde (maar spotgoedkope) Monsters op zijn film-CV heeft staan. Naar eigen zeggen was het de liefde voor het Japanse monster dat de doorslag gaf. Maar wat er ook van waar is, Godzilla is zonder twijfel de blockbuster van dit jaar geworden die zowel de popcornvreter als de cinefiel kan bekoren.
De koning der monsters die 54 jaar geleden zijn entree maakte mocht al eens eerder in een Amerikaanse superproductie schitteren. De film uit 1998 van Roland Emmerich mag dan wel (net zoals al zijn films!) zijn verguisd, toch heb ik steeds een boontje gehad voor deze remake. Maar deze reboot is toch wel betere (en andere) koek!
Het verhaal begint vijftien jaar geleden in een Japanse kerncentrale die door een aardbeving (ha!) met de grond gelijk wordt gemaakt. De tol is niet alleen voor de mensheid hoog, ook voor Joe Brody (Bryan Cranston) die zijn vrouw (Juliette Binoche die amper vijf minuten in beeld is) verliest. De wetenschapper weigert zich bij het fabeltje neer te leggen dat stelt dat alles een toevallig ongeluk is. Na intens onderzoekswerk trommelt hij zijn ondertussen volwassen zoon Ford (Aaron Taylor-Johnson) op, want in Japan zijn er in een MUTO's (Massive Unidentified Terrestrial Organisms) aanwezig. Iedere nerd weet dat dit vreemde prehistorische creaturen zijn die zich met de stralingen die vrijkomen uit kernenergie voeden. Wanneer twee van deze gigantische monsters ontsnappen lijkt de aarde ten dode opgeschreven. De enige die soelaas kan brengen is soortgenoot Godzilla, en natuurlijk ook een beetje marinier Ford!
Je krijgt dus inderdaad drie monsters voor de prijs van één, en dat loont! Desalniettemin heeft Edwards een enorm risico genomen om meer dan een uur te wachten vooraleer de kijker Godzilla te laten zien. Eens dat gebeurt, wordt hij getrakteerd op creaties die tonen dat CG-effecten nog steeds aangenaam kunnen verrassen. Want het hoeft niet te worden herhaald: Godzilla is en visueel spektakel van de bovenste plank! Er valt misschien wel weinig verhaal te rapen, dat wordt gelukkig ruimschoots gecompenseerd door gigantische gevechten met kwaadaardige gedrochten die Amerika van de kaart willen vegen. Wat niet wil zeggen dat Godzilla wederom zo'n rampenfilm is geworden waar de clichés vanaf druipen. Integendeel. Edwards was zo slim om zijn blockbuster een zeer donker kantje te bezorgen waardoor Godzilla een morbide karakter in bijna Christopher Nolan-stijl krijgt. Voeg daar nog eens degelijke vertolkingen aan toe (Elizabeth Olsen is zonder twijfel één van de betere Hollywoodactrices van dit moment!) en je hebt meteen door dat deze prent een absolute must-see is.
De film is beschikbaar op DVD en Blu-ray. Op het blauwe schijfje vind je meer dan een uur extra materiaal terug. Godzilla is nu uit op Warner.
Didier BECU
08/09/2014
---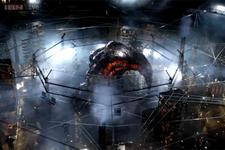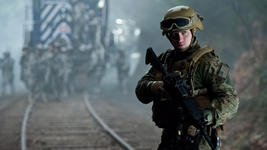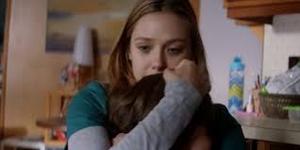 ---