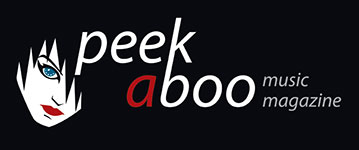 like this concert review
---
GARY NUMAN
Manchester, Academy (24/10/2015)
Concert
Electro Rock
[100/100]

27/10/2015, Peter HESELMANS
---
On October, 24th ,we made a trip from Belgium to the grey and rainy Manchester to see the godfather of electro rock. The days before, Numan performed his 3 classic albums: Replicas ( with Tubeway Army in 1979), The Pleasure Principle (also 1979) and Telekon from 1980. Gary promised to do a compilation from these concerts, and even some tracks from the early Tubeway Army days.
The venue was completely sold out, and hours before the gig started, hundreds of numanoids were waiting to get in. For the mainstream music fan, the name Gary Numan is a synonym for Cars: the electronic N°1 hit that steered pop music away from rock and disco into a new wave of music, and with a huge, innovative influence.
So 37 years after his first record, Gary Numan presented his best of the classics. He opened with the theme of Replicas. The atmosphere in the sold out Manchester Academy was fantastic, I am not really a fan of nostalgia, but when I saw the 57 year old Numan performing these old songs, I felt proud to be a Numanoid. Gary moved on stage like a madman, played guitar, synthesizer and even danced. He had more live presence than ever before, and these days, he is no longer the cold android that he was in the beginning of his career.
Gary's vivid metallic vocals are still as strong as they were in the late 70s and early 80s. Some tracks evolved over the years, Metal becomes Metal on steroids and a place where the thought of destruction is more satisfying than the promise of a soothing synth line. It all became a little heavier and more powerful, some subtle instrumental embellishments were added, but you always could hear and feel the original glory.
It was very nice to hear the 1978 tracks like Do You Need The Service and My Shadow In Vain, the punky guitar riffs combined with some early raw synths made me realize how it all started, and the electronics of I Dream Of Wires and Complex still stand today. The nostalgia, the crowd and the fantastic lightshow gave me goosebumps. Of course, the venue went crazy with Cars and Are Friends Electric?, and Gary once again proved that he is the real godfather of electro rock. It was all celebratory and surprisingly timeless.
The encores started with one of my all time favorites: Every Day I Die, the brilliant synth lines combined with the special cold lyrics, is one of the reasons this guy changed forever my musical life. Of course the ending song was Jo The Waiter.
This man still understands how to make electronic music in an unforgettable way. So, dear youngsters, take notes, this man was a genius and although I think the average age of the crowd was around 50, there is still magic in our elders.
Below you can find a compilation video I made.
Setlist:
Replicas / Metal / Remind Me To Smile / Me I Disconnect From You / Films / This Wreckage / We Are So Fragile / M.E. / I Dreal Of Wires / Down In The Park / Tracks / I m An Agent / Do You Need The Service / Compex / We Are Glass / Are Friends Electric / Cars / I Die : You Die / Every Day I Die / My Shadow In Vain / Jo The Waiter
Peter HESELMANS
27/10/2015
---
Op 24 oktober trokken we van België naar het grijze en regenachtige Manchester om de peetvader van de electro aan het werk te zien. De voorbije dagen had Numan reeds 3 klassieke albums op het podium gebracht: Replicas (met Tubeway Army uit 1979), The Pleasure Principle (ook uit 1979) en Telekon uit 1980. Gary had beloofd om een ​​compilatie te maken van deze concerten, en als bonus zelfs een paar nummers uit de vroege Tubeway Army-dagen aan de set toe te voegen.

De zaal was volledig uitverkocht en uren voordat het optreden begon, stonden honderden numanoids te wachten om binnen te geraken. Voor de modale muziekliefhebber blijft zijn naam synoniem met Cars: de elektronische nummer 1-hit die de popmuziek weghaalde van de rock en disco en voor een nieuwe golf in de muziek zorgde, en een grote invloed had op andere artiesten.

37 jaar na zijn eerste plaat, bracht Gary Numan het beste uit zijn klassiekers. Hij opende de set met het thema van Replicas. De sfeer in de uitverkochte Manchester Academy was fantastisch, ik ben geen fan van nostalgie, maar toen ik zag hoe de 57-jarige Numan deze oude nummers bracht, voelde ik me trots om een ​​Numanoid te zijn. Gary bewoog op het podium als een gek, hij speelde gitaar, synthesizer en danste zelfs. Hij was meer op het podium aanwezig dan ooit te voren, en deze dagen is hij al lang niet meer de ijskoude androïde die hij in het begin van zijn carrière was.

Gary's metaalachtige stem is nog steeds zo sterk als in de late jaren 70 en de vroege jaren 80. Sommige nummers zijn in de loop der jaren wel veranderd (zoals bijv. Metal), maar je kon nog altijd de oorspronkelijke glorie ervan horen.

Het was erg leuk om een track als Do You Need The Service uit 1978 of My Shadow In Vain te horen, de punky gitaarriffs die gecombineerd werden met de rauwe synths deden me beseffen hoe het allemaal begon, en de elektronica van I Dream Of Wires en vooral Complex staat vandaag nog steeds als een huis. De nostalgie, het publiek en de fantastische lichtshow gaven me kippenvel. Natuurlijk werd de zaal helemaal gek toen Cars en Are Friends Electric? begon, en Gary bewees nog maar eens dat hij de enige echte peetvader van electrorock is.

De bisronde begon met een van mijn favoriete nummers aller tijden: Every Day I Die, de briljante synthlijnen in combinatie met de koude teksten, zijn nog altijd een van de redenen waarom deze man voor altijd mijn muzikale leven veranderde. Natuurlijk eindigde de set met Jo The Waiter. Deze muzikant begrijpt nog steeds hoe je elektronische muziek op een onvergetelijke manier dient te maken. Zo beste jongeren, hou daar rekening mee, deze man is een genie en hoewel de gemiddelde leeftijd van het publiek ongeveer 50 was, was er nog volop sprake van magie

Hieronder kun je een compilatievideo bekijken die ik tijdens het optreden heb gemaakt.

Setlist:
Replicas / Metal / Remind Me To Smile / Me I Disconnect From You / Films / This Wreckage / We Are So Fragile / M.E. / I Dreal Of Wires / Down In The Park / Tracks / I m An Agent / Do You Need The Service / Compex / We Are Glass / Are Friends Electric / Cars / I Die : You Die / Every Day I Die / My Shadow In Vain / Jo The Waiter
Peter HESELMANS
27/10/2015
---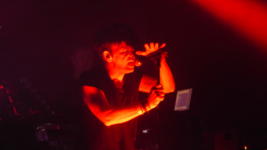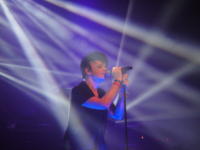 ---