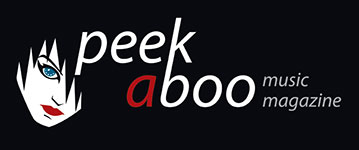 like this movie review
---
GEOFFREY ENTHOVEN
Halfweg
Movie
Dark Comedy
[59/100]

SONY SPHE
16/10/2014, Didier BECU
---
The circumstances couldn't be any worse for Geoffrey Enthoven when he presented his newest film: Halfweg (Half Way). During the week of its premiere the whole Flemish media was focused on one thing only: will The Broken Circle Breakdown by Felix Van Groeningen win an Oscar or not? So, the picture missed the needed media attention and disappeared in short time out of the theatres. The question arises if you really can blame Van Groeningen for this, because Halfweg is funny, but with that, everything's been said. A shame if you know that it is the same crew who made Hasta La Vista: a movie that even had a successful foreign release as Come As You Are.
Halfweg lasts two hours and is set in a gigantic house. Architect Stef (Koen De Graeve) found this place for a cheap price, but in no time it seems like a poisoned gift. In the bathroom the former owner Theo (Jurgen Delnaet) committed suicide. He decides to chase Stef out of his new house as a ghost!
Yeah, there might be a ghost in their house, but anyone who has expected this to be a Flemish version from The Conjuring will be disappointed. We'll probably see that later this year with Welp by Jonas Govaerts. No, Halfweg is meant to be a dark comedy, but the makers forgot to add jokes.
The first hour is a boring power play between Koen De Graeve and Jurgen Delnaet. Both top actors do their best, but the stupid dialogues destroy all their efforts. We haven't even mentioned the finale that is as silly as the one from Het Varken Van Madonna (another Flemish crap movie). The only light we notice in this very dark tunnel is the performance from Veerle Baetens who is always good. But nah, her short performance can't save the day!
Despite many raving articles in the Flemish press that our cinema is in good health, we can only conclude that Halfweg is another proof that Flemish commercial cinema is simply in a very deep crisis. Those who have talent seem to move to Hollywood, even if it also seems that they better should have stayed at home!
Halfweg is on out DVD on Sony SPHE.
Didier BECU
16/10/2014
---
De omstandigheden konden niet slechter toen de opvolger van het bejubelde Hasta La Vista in de zalen kwam. De volledige aandacht ging immers uit naar de Oscar-kansen van The Broken Circle Breakdown waardoor de nieuwe film van Antwerpenaar Geoffrey Enthoven nauwelijks in de Vlaamse media kwam. Eens je de film hebt bekeken vraag je je wel af Felix Van Groeningen daar voor iets tussen zit, want Halfweg is wel leuk, maar daarmee is dan ook alles gezegd.
De film speelt zich ruim twee uur in een royaal huis ergens in Ronse af. Architect Stef (Koen De Graeve) heeft het landgoed voor een prikje op de kop kunnen tikken, maar er schuilt wel een ader onder het gras. De vorige eigenaar Theo (Jurgen Delnaet, en jawel, dat is Johnny Camione uit Aanrijding in Moscou) is uit het leven gestapt en komt in zijn vroegere huis spoken met de bedoeling de nieuwe eigenaar eruit te jagen.
Neen hoor, dit is niet de Vlaamse versie van The Conjuring (dat krijg je wellicht later dit jaar met Welp van Jonas Govaerts), wel een tragikomedie waarmee maar weinig lachen te valt. In het begin van de film ontstaat er een onevenwichtig machtspel tussen Koen De Graeve en Jurgen Delnaet, maar beide (top)acteurs krijgen dialogen in de mond gegooid waarin ze nauwelijks zelf geloven. Het verhaal gaat van kwaad naar erger, met op het einde een idiote finale die alleen maar in Het Varken Van Madonna (nog zo'n Vlaams onding) kan. Het enige lichtpuntje uit deze film is de altijd fantastische Veerle Baetens, maar de tien minuten dat zij in beeld komt kunnen deze prent niet redden.
Het is jammer om het te zeggen, maar Halfweg is het zoveelste bewijs dat de huidige Vlaamse cinema ondanks de torenhoge hype mank loopt. Er zijn uitzonderingen, maar blijkbaar verhuizen die allemaal naar Hollywood om daar in geen tijd te verzuipen.
Halfweg is uit op dvd, via Sony SPHE.
Didier BECU
16/10/2014
---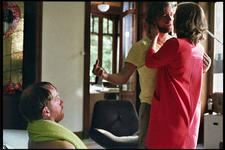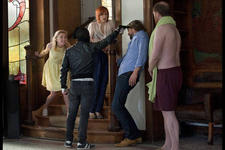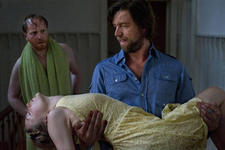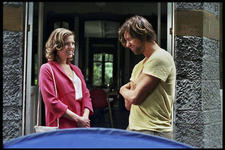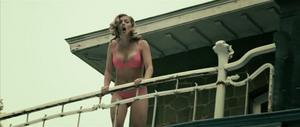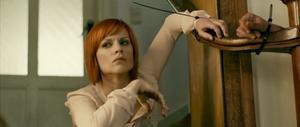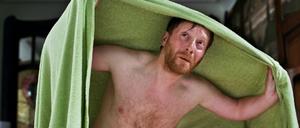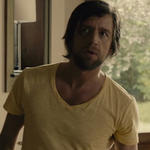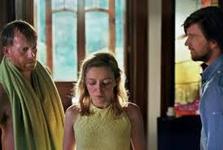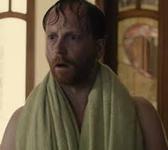 ---