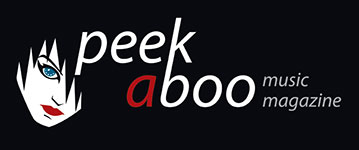 like this article review
---
GIUSEPPE TAIBI (EUROPEAN GHOST)
Ten Albums That Changed My Life
Article
10/12/2016, Didier BECU
---
The Italian dark wave band European Ghost surprised us with the fine album Pale and Sick. We asked singer Giuseppe to tell us about the ten albums that changed his life...
1. DEAD CAN DANCE - Within The Realm Of A Dying Sun
It reminds me of a period in my life that was a bit scruffy. I lived in Modena and every time I listened to this album on my walkman, time seemed to stop, and I was carried away by its sounds. Fine album, misty, mysterious, extraordinary arrangements. Song after song this album flows in perfect harmony while the voice of Brendan Perry caresses the soul.

2. DEPECHE MODE - Violator
I love it. I was a teenager and I was struck by these synthetic sounds and aesthetics. Wonderful synth orchestras create modern settings. Every time I listen to this album I see lights and colorful signs of an elegant metropolis.
3. SWANS - The Children God
A friend once told me to listen to this album as I definitely would liked it. At first it was like a piece of marble, the more I listened to it, the more wonderful it sounded. From that moment I realized that the music was not only an image, but something more undefined. A masterpiece of avant-garde rock, perfectly balanced between industrial sounds and apocalyptic settings. Everything revolves between low sounding monolithic whirlings, while guitars and synths frame the desperate sound of Michael Gira and Jarboe.
4. JOY DIVISION - Closer
I was over 18 years old. A friend made a cassette and said: this is your band. The first time I heard this album, it was like a bucket of cold water thrown in the face. Closer is the closure, but at the same time it opens a musical world that still inspires many bands. An album that I keep listening to, I never get tired of it. Manchester and its grey and isolated suburbs, where the fumes from factories reign.
5. NINE INCH NAILS - The Downward Spiral
It was the period of MTV, I saw the video of March of the Pigs, I was struck by that captivating music. Immediately I bought the album and I realized that I was holding a pearl in my hand. It is the ultra maniacal work of Reznor: samplers as a perfect wedge between robotic rhythms. One word: perfect!
6. SKINNY PUPPY - Too Dark Park
I bought the vinyl in a shop at Agrigento and I was immediately struck by its cover. As soon as I heard the first track, I realized that they were not conventional. It was digital terrorism.
7. MASSIVE ATTACK - 100th Window
Every time I listen to this album, it takes me back in time, the first time that I came to live in Bologna. In the night I drove the car without destination, and every time I had the feeling of being kidnapped and taken to distant places. Ultra futuristic.

8. THE CURE - Faith
I listened to this album when I was 16. The sounds and the voice comforted me as real caresses. Drums and bass fit together like the cogs of a fine watch. The keyboards and organs, and Roberth Smith... Every time I play this record, it reminds me of those moments of adolescent thrill.
9. NICK CAVE AND THE BAD SEEDS - Your Funeral... My Trial
I was with my best friends, they made me listen to it. The first track The Carry lifted me up. I think it's one of the most interesting, hallucinating and decadent albums Nick Cave ever made.
10. EINSTURZENDE NEUBAUTEN - Kollaps
I was in Catania in a community center, I bought the tape and immediately fell in love because of the original approach. It was screened in Berlin and it was experimental and catastrophic. Blixa's voice sounds visceral on this album, while the sounds are so sharp that it feels like he's breaking down the walls.
Didier BECU
10/12/2016
---
---