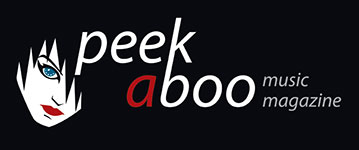 like this concert review
---
GODSPEED YOU! BLACK EMPEROR
Antwerpen, Trix (30/10/2015)
Concert
Post Rock
01/11/2015, William LIÉNARD
---
Sold Out, was the warning on the site of Trix in Antwerp. It probably doesn't surprise you, because this Canadian band is highly valued in our region. It was scheduled for 9:15 pm, but by the time we walked into the main room (exactly at 8:00 pm), the lights were dimmed and support act Tashi Dorji stood (or rather sat) on stage. He is born in Buthan and lives in Asheville (NC) since 2000. He plays electric guitars and he uses pedals to create loops and distortion. As a result, his concert sometimes sounded as if a whole band was playing. We listened to a few randomly selected tracks of Tashi Dorji on YouTube (see bottom of the English version of this review), but in Trix he sounded differently, and what we heard was a lot louder, noisier and much more aggressive, with a loss of nuance as a consequence. Perhaps he is aware of the fact that his fragile studio recordings are not really suitable for a packed hall and for concertgoers who have bought a ticket for a huge chunk of loud post rock, but it is doubtful whether his alternative approach had the intended result.
His performance was supposed to last for 45 minutes, but after about thirty minutes Tashi Dorji saluted the crowd and left the stage. Disappointed with the reactions of the audience? We doubt it, because for one brief interruption, he played the set in one go, making it difficult to gauge the response. Let's be honest: what he does with an electric guitar is exceptional and we have rarely heard it before, and that does him credit. However, unlike the music on his albums, the concert sounded rarely like music. That is no objection, because it applies to many bands in the alternative circuit, but it sounded rather rudderless, with the emphasis on effects. We heard synths, a deep bass sound, a xylophone, segmented guitar noise, occasionally even gentle guitar strumming, blaring trumpets and what sounded like a gong, but especially a lot of industrial and mechanical sounds and noise, with Tashi Dorji emphatically hammering away at his guitar.
About twenty minutes earlier than expected (to be exact at 8:54 pm), the lights were dimmed again, and from the barely lit stage, a monotonous drone resounded, completed with elongated violin tones, growling percussion and finally an electric guitar for a busy and dark soundscape, noisy, loud, but still quite harmonious. Meanwhile, the visuals were added. Where the first track ended and the next began, it was difficult to determine, but after about 20 minutes, a new melody was started with a quiet guitar, complemented with bells and violins: repetitive and after a while accelerating, and then again with an atmospheric guitar and wide patches of violin sound. After more than half an hour, we were already treated to a nice portion of post rock: compositions that start quietly and then go crescendo, repetitive as an infinite loop, and then with all instruments at maximum. It was great fun, but very uniform.
Afterwards, I was wondering whether Sigur Ros sounded like this, and the next morning I played some old albums of the Icelanders. The conclusion was clear: Godspeed You! hardly comes close. The problem is related to the structure of the songs. Repetitive melodies have to be short, but the compositions of Godspeed You! often contain elaborated rows of notes. Maurice Ravel had no problems with the principle in his magnificent composition Bolero (1928), but he had a very strong basic melody at hand, which was not always the case in Trixn and after a period of time, that inevitably leads to a feeling as if the same basic structure is used over and over again, albeit with other notes. It is a feeling you never have while listening to the music of Sigur Ros. And if those long rows of notes are not always exciting (once, we heard a theme that suspiciously resembled Amazing Grace), then it quickly becomes boring. It all sounded very nice in Antwerp, but after a while, the thrill was gone.
But never mind, because around half past nine - after the first applause - the best track of the evening was played: with a crash of drums and voices, slow and dark synth-like guitars and an obvious theme, a nice atmospheric composition was built up, beautifully fanning out until only the solo guitar could be heard, and then up again, with a Pink Floyd-like guitar and attractive patches of violin in between, and finally a deep bass and a growling guitar for the final. Without doubt the highlight of the evening. The subsequent piece of music also was strong with big drum punches and whistling violin sounds. After a composition with a rather faint musical theme and a (still) quite enthusiastic applause, it was time for some quieter songs (with cello accompaniment). The result was a melodic and more relaxed atmosphere, and we did not have the impression that the public lost its attention or interest. On the contrary, here and there we saw small groups of concertgoers softly swaying to the melodies. But after 85 minutes, the concert lost power and cohesion, but Godspeed You! Black Emperor continued at the same pace for another hour before the band members left the stage in Kraftwerk-style.
Tashi Dorji:
https://www.youtube.com/watch?v=xuVDWQoaFcM
https://www.youtube.com/watch?v=gS54o6icpG0
https://www.youtube.com/watch?v=EMwNRdCH1sQ
William LIÉNARD
01/11/2015
---
Sold Out stond er op de website van Trix in Antwerpen. Het verbaast u wellicht niet, want deze Canadese Band kan op heel wat bijval rekenen in onze contreien. De band stond aangekondigd voor 21.15 uur en tegen de tijd dat wij de grote zaal binnenwandelden (om exact 20.00 uur), was het licht al gedoofd en stond (of beter zat) Tashi Dorji al op het podium. Hij is van Buthaanse afkomst en woont sinds 2000 in Asheville, N.C. Hij speelt elektrische gitaar, waarbij hij gebruik maakt van pedalen om loops en distortion te creëren, waardoor het vaak lijkt of er een hele band op het podium staat. We hebben naar een paar willekeurig gekozen tracks van Tashi Dorji op YouTube geluisterd (zie onderaan de Engelse versie van deze recensie), maar zo klonk hij in Trix niet of slechts bij uitzondering, want wat wij hoorden was een stuk luider, lawaaieriger en agressiever, waarbij van nuances nog maar nauwelijks sprake was. Misschien is hij er zich van bewust dat zijn fragiele studio-opnamen het moeilijk krijgen in een bomvolle zaal die voor een flinke portie luide postrock is op komen dagen, maar het is twijfelachtig of zijn alternatieve aanpak het beoogde resultaat had.
Z'n optreden was becijferd op 45 minuten, maar na een kleine dertig minuten hield hij het voor bekeken, wat beslist niets met de reacties van het publiek te maken had, want op één enkele korte onderbreking na, speelde hij de set in een ruk uit, waardoor de respons sowieso moeilijk te peilen is. Laten we eerlijk zijn: wat hij met een elektrische gitaar doet hebben we zelden eerder gehoord en dat pleit in z'n voordeel. Dat het zelden als muziek klonk, is overigens ook geen bezwaar, want dat geldt voor heel veel acts in het alternatieve circuit, maar het klonk vooral stuurloos, waarbij de jacht op effecten voorrang kreeg. We hoorden synths, diepe bastonen, een xylofoon, gesegmenteerde gitaarnoise, af en toe wat rustig gitaargetokkel, schetterende trompetten en iets wat op een gong leek, maar vooral heel veel industriële en machinale geluiden en noise waarvoor Tashi Dorji flink op z'n gitaar hamerde.
Ruim twintig minuten eerder dan voorzien (om precies te zijn om 20.54 uur) doofden de lichten opnieuw en weerklonk vanaf het nauwelijks verlichte podium monotoon dronegeluid, een paar minuten later aangevuld met langgerekte viooltonen, grommend slagwerk en uiteindelijk een elektrische gitaar voor een druk en donker soundscape, noisy, luid en toch enigszins harmonisch. Ondertussen waren uiteraard ook de visuals toegevoegd. Waar de eerste track eindigde en de volgende begon, het was niet meteen duidelijk, maar na zo'n 20 minuten veranderde de melodie, die werd ingezet met een rustige gitaar, aangevuld met bellen en violen: repetitief en na verloop van tijd versnellend en dan weer atmosferisch met brede flarden gitaar- en vioolgeluid. Na ruim een halfuur hadden we er al flink wat postrock opzitten, je weet wel, composities die rustig beginnen en dan crescendo gaan, repetitief als een oneindige loop met alle instrumenten op maximum. Het was leuk, maar wel erg uniform.
Achteraf vroeg ik mij af of Sigur Ros destijds ook zo klonk en ter verificatie heb ik de ochtend nadien een paar oude albums van de IJslanders opgelegd. De conclusie was meteen duidelijk: GodSpeed You! komt nauwelijks in de buurt en dat komt door de vaak lange notenschema's die ze gebruiken om hun repetitieve structuur op te bouwen. Die moeten nl. kort zijn om het gewenste effect te bereiken, maar bij Godspeed You! was dat zelden het geval. Na verloop van tijd lijdt dat onvermijdelijk tot een gevoel alsof steeds dezelfde grondstructuur wordt gebruikt met weliswaar steeds andere noten, een gevoel dat je bij Sigur Ros nooit hebt. Als die lange notenrijen dan bovendien niet echt spannend zijn (één keer hoorden we een thema dat verdacht veel op Amazing Grace leek), dan slaat de verveling gauw toe. Het blijft allemaal leuk klinken, maar de spanning is weg.
Maar niet getreurd, want zo rond halftien – na het eerste applaus - werd de beste track van de avond gespeeld: met roffelende drums en stemmen, trage en donkere synthachtige gitaren en een niet voor de hand liggend thema werd een prachtige atmosferische compositie opgebouwd, mooi uitwaaierend tot alleen de sologitaar overbleef, en dan weer omhoog met een Pink Floyd-achtige gitaar en aantrekkelijk flarden viool tussendoor, en tot slot een diepe bas en grommend gitaargeluid voor de finale. Zonder meer het hoogtepunt van de avond. En ook het daaropvolgend muziekstuk was sterk met flinke drumstoten en fluitend vioolgeluid. Na nog een compositie met een eerder flauw muzikaal thema en een (toch) vrij enthousiast applaus, kwamen na tien uur rustigere nummer aan bod, waarvoor zelfs een cello tevoorschijn werd getoverd. Het resultaat was een melodischere en meer ontspannen sfeer, waarbij we niet de indruk hadden dat het publiek z'n aandacht verloor. We zagen hier een daar zelfs groepjes concertbezoekers zachtjes met de melodieën mee wiegen. Maar het was ondertussen wel duidelijk dat het concert over z'n hoogtepunt heen was en dat we het na 85 minuten eigenlijk allemaal zo een beetje gezien en gehoord hadden. Godspeed You! Black Emperor ging evenwel nog bijna een heel uur op hetzelfde tempo door vooraleer de bandleden in Kraftwerk-stijl het podium verlieten.
William LIÉNARD
01/11/2015
---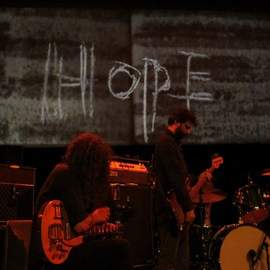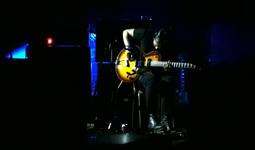 ---