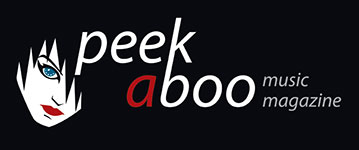 like this concert review
---
GOLDEN EARRING + THE KIDS
Live at Zulzeekse Feesten, Kluisbergen - Belgium - 28.07.2018
Concert
10/08/2018, Kris TIECK
---
Musical Experience Decisive In Cycling Village.
It was eighty years ago that the earth trembled in Zulzeke. Maybe that's why the organisation thought of The Kids and to a lesser degree of Golden Earring for shaking up their Summerfest because from The Kids you can expect rattling music while Golden Earring brings a more subtle rock sound. Three thousand spectators was maybe a bit too optimistic for the gigs on Saturday but the concerts brought life into a village normally only moved by cycling events.

The Kids, one of the longest running Belgian bands, celebrated in 2016 their fortieth anniversary with local talents Black Tolex opening up for them back then. That's an honour for the troups of Ludo Mariman of course because who says punkrock in Belgium and Flanders can not go past this Antwerp band. Moreover, you know what you are gonna get when you put the Belgian Ramones on your bill. Already early in the set we got to hear that 'There Will Be No Next Time' and that the authorities are 'Fascist Cops' (but luckily they were at the entrance then). And 'If The Kids Are United' that the rich may fear for a 'White Riot'. "That's My Life Until I Die", the ultimate ode to rock'n roll. Respect!
With Golden Earring you bring in experience, performing pleasure, feeling and class to your festival. The four Dutchmen are, at seventy years (ssst!), still one by one top musicians and so is their show. In their homecountry they haven't been equalled until now and their gig simply brings enjoyment, for their sound fitted perfectly and didn't automatically require loudness. The folky 'Another 45 Miles' was the perfect example of that. A song that rang in the Seventies and has since always been strongly appreciated. 'When The Lady Smiles' was instantly recognised but 'Going To The Run' - a bikers' ode - and 'Johnny Make Believe' - with bass player Gerritsen at the organ - were the sing-a-longs that enchanted the audience. And the living proof that this band also had succesful singles in the Eighties and Nineties. The guys from The Hague even brought with them saxophone player Bertus Borgers who looked after that typical late Seventies and Eighties touch. Those that know the Golden Earring shows are aware of the space they allow the solo improvisations during the intervals of their greatest hit 'Radar Love'. At first it was Rinus Gerritsen making his self-made double bass sound like a sax whereafter he relaxedly unleashed a bursting solo on exotic lively vibes. Then it was time for drummer Cesar Zuiderwijk to show why he's got a double drum mounted behind his head. Show and drumsticks juggling but also intruiging worldly sounds: these are ingredients of a band that's got something extra to offer. Summarized, a masterclass in music on a hot Summer night that for many went even into higher gear during the afterparty. Golden Earring did not await for a hangover on Sunday, but instead played at their second Summerfest of a Belgian weekend at Aalter!

Setlist: Just Like Vince Taylor/ Identical/ 45 Miles/ Twilight Zone/ The Devil Made Me Do It/ Going To The Run/ When The Lady Smiles/ Long Blond Animal/ Johnny Make Believe/ Radar Love
Bis: She Flies On Strange Wings/ Holy Holy Life
Kris TIECK
10/08/2018
---
Muzikale Ervaring Doorslaggevend In Wielerdorp.

Het was tachtig jaar geleden dat de aarde gebeefd heeft in Zulzeke. Misschien daarom dat de organisatoren van de Zulzeekse Feesten aan The Kids en in mindere mate aan Golden Earring gedacht hebben voor hun zomerfeest. Van The Kids moet je daverende muziek verwachten, de Nederlanders daarentegen brengen live een iets subtielere rocksound. Drieduizend toeschouwers leek ons wat te optimistisch voor de optredens van zaterdag maar de concerten brachten niettemin animo in een doorgaans alleen door wielerevenementen opgeschud dorp.
The Kids, één van de langstlopende Belgische bands, vierde in 2016 nog zijn veertigjarig jubileum, toen gegangmaakt door de lokale beloften van Black Tolex. Dat siert natuurlijk de troepen van Ludo Mariman, want wie punkrock zegt in Vlaanderen en België kan niet om de Antwerpenaars heen. Bovendien weet je wat je krijgt als je de Belgische Ramones op het programma zet. Al vroeg in de set kregen we immers te horen dat er 'No Next Time' kwam en dat de gezagsdragers 'Fascist Cops' zijn (maar die zaten gelukkig aan de ingang). En als 'The Kids United' zijn dat de rijken dan mogen vrezen voor een 'White Riot'. "That's my life until I die", de ultieme ode aan stevige rock'n roll dus. Respect!

Met Golden Earring haal je ervaring, speelplezier, gevoel en klasse binnen op je affiche. De vier Nederlanders zijn op hun zeventigste (ssst!) nog steeds stuk voor stuk topmuzikanten en brengen een dito show. In eigen land zijn ze nog altijd ongeëvenaard en hun optreden is dan ook vooral genieten. De klank paste perfect en dat hoeft voor hen niet te luid. Het folky 'Another 45 Miles' zette op dat vlak al snel de toon. Een song die de seventies inluidde en felgewaardeerd is gebleven. 'When The Lady Smiles' genoot instant herkenning maar 'Going To The Run' - een bikersode - en 'Johnny Make Believe' - met bassist Gerritsen aan het orgel - waren de meezingers die het publiek in vervoering brachten - en het levende bewijs dat deze band singlegewijs ook succesvol was in de eighties en nineties. De Hagenaars hadden verder ook saxofonist Bertus Borgers meegenomen. Die zorgde voor die unieke late seventies en eighties' toets. Wie Golden Earring shows kent, weet dat ze ook ruimte laten voor solo-invullingen tijdens de tussenstukken van 'Radar Love', hun grootste hit. Zo haalt Rinus Gerritsen zijn zelfgemaakte dubbele bass boven die hij eerst als een saxofoon laat klinken vooraleer hij het instrument relaxed laat scheuren op exotische, levendige vibes. Drummer Cesar Zuiderwijk toont daarna waarom hij een dubbele trom achter zich heeft laten monteren. Show en drumstokjes goochelen, maar ook intrigerende wereldse klanken - het zijn vaste ingrediënten van een band die iets extra's te bieden heeft. Kortom, een masterclass muziek tijdens een perfecte zwoele avond die bij velen daarna nog in de hoogste versnelling ging. Golden Earring wachtte op zondag geen kater maar wel nog een ander zomerfeest, dat van Aalter, voor een op en top Belgisch weekend!
Setlist: Just Like Vince Taylor/ Identical/ 45 Miles/ Twilight Zone/ The Devil Made Me Do It/ Going To The Run/ When The Lady Smiles/ Long Blond Animal/ Johnny Make Believe/ Radar Love
Bis: She Flies On Strange Wings/ Holy Holy Life
Kris TIECK
10/08/2018
---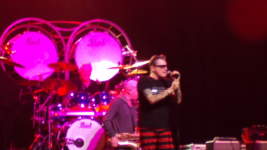 ---