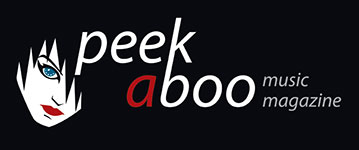 like this cd review
---
GREGG ARAKI
White Bird In A Blizzard
Music
•
CD
Drama
LumiŤre
26/03/2015, Didier BECU
---
A reviewer better not reveals his heroes, I know. But a reviewer is also a fan and I just can't get enough of people who influenced my life. My list of heroes is extremely long (Truffaut, Rohmer, Refn, Zulawski, De Palma, Scorsese, Schrader or Michael Mann), and Gregg Araki also belongs to it. Indeed, the enfant terrible of Los Angeles, who always manages to cast big Hollywood names for his controversial productions.
Araki has some quirky soundtrack. He was the man who made a crime film with shoegaze music (The Doom Generation) and his other films also show a good taste in music. White Bird In A Blizzard made it worldwide in the tabloids because teen star Shailene Woodley of The Fault in Our Stars and Divergent did something pecial. Click on Google and you know what we mean! But our interest goes beyond Woodley's boobs, mind you!. No, a film that begins with Cocteau Twins, in which the main character wears a T-shirt of This Mortal Coil, and a protagonist dances on Dazzle by Siouxsie & The Banshees, that can only be a picture by Gregg Araki!
Cat (Shailene Woodley so) is an eighteen year old girl who has not a good relationship with her parents. Her father is a whiner and her mother Eve (Eva Green) is hopeless addicted to pills. She does not worry, because she goes to parties and knows everything better. One day her mother disappears without a trace. Has she just walked away, did she commit suicide or is she, like the neighbours claim, killed by her husband?
As in his other films, Araki doesn't opt for a ready-made script. The scenario is based on the novel by Laura Kasischke and contains thriller elements, but nihilism prevails and it can easily be compared with the work of that other prodigy, Sofia Coppola. Araki also opts for an unusual directing style, although it is never difficult to follow the story. The performances are more than okay, especially the almost genius Eva Green who looks like she's coming out of a Pedro Almodóvar film. And then there is, as I said, the music that makes it an unforgettable trip. The soundtrack was composed by Robin Guthrie and Harold Budd. Furthermore, you can also hear The Cure, Psychedelic Furs, This Mortal Coil, Depeche Mode and many other great tunes of the wave scene. This pearl is now out on DVD at Lumière.
Didier BECU
26/03/2015
---
Bij het bespreken van een film mag een recensent het misschien niet al te luidop zeggen, maar ook hij heeft helden. Filmmakers van wie hij maar geen genoeg kan krijgen, mensen die zijn leven hebben beïnvloed. Mijn lijstje is ellenlang (Truffaut, Rohmer, Refn, Zulawski, De Palma, Scorsese, Schrader of Michael Mann), maar ook Gregg Araki hoort daarbij. Het enfant terrible uit Los Angeles, dat er steeds maar in slaagt om met zeer controversiële producties grote Hollywoodnamen te strikken, heeft namelijk iets met eigenzinnige soundtracks. Hij was de man die een misdaadfilm maakte met shoegazetracks (The Doom Generation) en ook zijn andere films getuigen van goede smaak. Zo ook White Bird In A Blizzard,dat wereldwijd de roddelpers haalde omdat tienerster Shailene Woodley uit The Fault In Our Stars en Divergent op een nogal ophefmakkende wijze de hoofdrol speelt. Klik op Google en je weet meteen waarom! Maar onze interesse reikt verder dan Woodleys balkon. Neen, een film die begint met een nummer van de Cocteau Twins, waarin de hoofdrolspeelster een T-shirt van This Mortal Coil draagt en men op de tonen van Dazzle van Siouxsie & The Banshees danst: dat kan inderdaad alleen maar een prent van Gregg Araki zijn!
Kat (Shailene Woodley dus) is een achttienjarig meisje dat geen al te beste relatie heeft met haar ouders. Vader is een zeurpiet en moeder Eve (Eva Green) zit hopeloos aan de pillen. Geen nood, want met haar hippe vriendjes trekt zij naar fuiven en weet alles beter. Op een dag verdwijnt haar moeder spoorloos. Is ze er gewoon vandoor gegaan, heeft ze zelfmoord gepleegd of is ze zoals de buren beweren door haar echtgenoot omgebracht?
Zoals in zijn andere films opteert Araki ook deze keer niet voor een kant-en-klaar script. Het scenario, dat is gebaseerd op de roman van Laura Kasischke, bevat thrillerelementen, maar vooral het nihilisme zegeviert en kan gemakkelijk met het werk van dat andere wonderkind, Sofia Coppola, worden vergeleken. Araki kiest ook voor een wat ongewone regiestijl, toch is het nooit moeilijk om te volgen. De acteerprestaties zijn meer dan verdienstelijk, met vooral een bijna geniale Eva Green, die zo uit een Pedro Almodóvar-film lijkt te stappen. En dan is er zoals gezegd de muziek die van White Bird In A Blizzard een onvergetelijke trip maakt. De soundtrack werd gecomponeerd door Robin Guthrie en Harold Budd. Voorts hoor je ook The Cure, Psychedelic Furs, This Mortal Coil, Depeche Mode en tal van andere grootheden uit de wavescene. Deze parel is vanaf nu uit bij Lumière op dvd.
Didier BECU
26/03/2015
---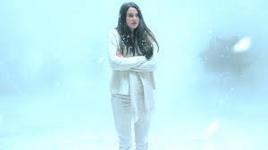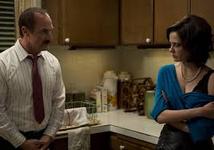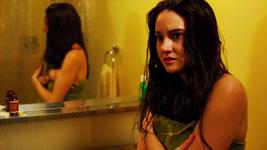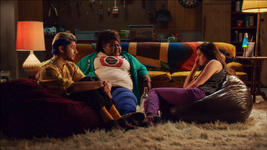 ---