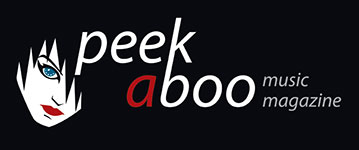 like this concert review
---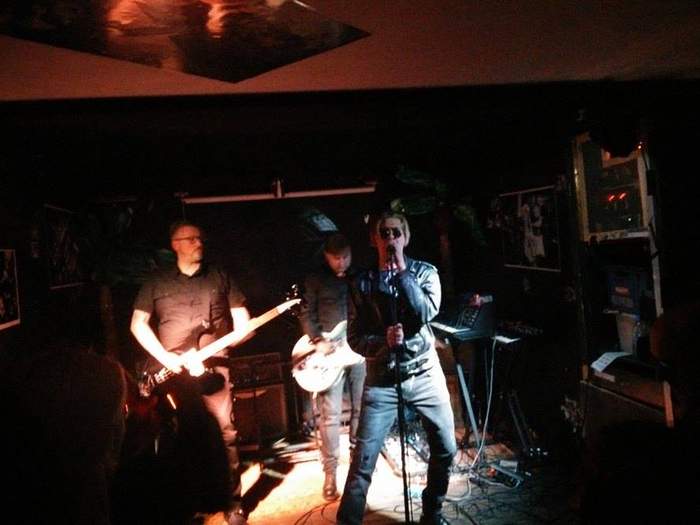 GROUND NERO - CHARNIER
Kinky Star - 9 december
Concert
12/12/2016, Jurgen BRAECKEVELT
---
Friday, December 9, the sweet club Kinky Star was the place to be for the Dark Entries Night with two Belgian bands on stage: Ground Nero and Charnier.
Ground Nero opened the evening, a cold wave band that redefines 80's post-punk and cold wave sound, making use of state-of-the-art sound tech, but keeping cold wave roots and culture, re-staging it with a multi-layered "wall-of-sound" arrangements. And it rocked all the way. The heavy guitars, with typical 80's effects such as delay, chorus, flanger, combined with a deep bass-sound and digital drums, sounded great. And above all with the deep voice of Guido Wampers, AKA Gwijde the First. The set opened with Run From Your Relatives, which got the public moving. The voice of Gwijde goes deep, you can almost feel the suffering. The guitars kept on howling in The Ban. Nice riff, some solo guitars, groovy bass. In Dark Descent, the band opted for in a slower pace, grinding guitars and a lovely melodic synth sound. The set ended with Closing Time... But the evening was still young, so no closing time for the audience...
The gothic rock was smooth, wilth uptempo rock songs, alternated with 'ballad' songs. It was really awesome and the public liked it.
After the rocking sound of Ground Nero, the Brussels band Charnier got on stage. The youngsters take all of us back to good old cold wave. However, they put some nice electronic sounds in the mix. We heard influences and sounds we here from The Cure, the Neon Jugdement, and in some we recognize Joy Division. But Charnier is not copying anything. It has a very personal sound. And the way the instruments find each other is awesome. The electronic sound, combined with subtile guitars and a growling bass guitar, works well. Vocally, the melancholic voice blends in nicely. Charnier is a great band, playing from the heart, chaotic but so deep and dark.
Another fine night, which proved that we still have great Belgian bands.
Setlist Ground Nero:
Run From Your Relatives
Heaven Sent
Arctic
The Trouble Beyond
Karoshi
The Ban
Dark Descent
Closing Time
Setlist Charnier
Voodoo Gospel
Almost a Silence
Gloomy Sunday
Extra Feelings
Hunter
Wakened Cries
Bodies Flap Out
Jurgen BRAECKEVELT
12/12/2016
---
Vrijdag 9 december was de fijne club Kinky Star de place to be voor de Dark Entries Night met twee Belgische bands op het podium: Ground Nero en Charnier.
Ground Nero opende de avond, een coldwaveband die eightiespostpunk en de typische coldwavesound herdefinieert, door gebruik te maken van state-of-the-art geluidstechniek, maar evenzeer door trouw te blijven aan de coldwaveroots en –cultuur, maar dan met een wall of sound van uit meerdere lagen bestaande arrangementen. En het rockte helemaal. De zware gitaren, met typische jarentachtigeffecten zoals delay, chorus, flanger, gecombineerd met een diep bassgeluid en digitale drums, klonken geweldig, met boven dit alles de diepe stem van Guido Wampers, AKA Gwijde de Eerste. De gothicrock werd heel erg op prijs gesteld. De set was ook mooi opgebouwd, met een afwisseling van meer uptempo rocksongs, afgewisseld met wat meer rustigere 'ballad'-songs.

De set opende met Run From Your Relatives, dat meteen zorgde voor een meedeinend publiek. De stem van Gwijde krijgt klink diep, je voelt als het ware het lijden. De gitaren bleven huilen in The Ban. Mooie riff, ruimte voor wat solowerk van de gitaar en een groovy bas. In Dark Descent, met een trager tempo, krijsten de gitaren, ondersteund door een melodische synth-sectie. De set werd afgesloten met Closing Time... Maar de avond was nog jong, nog verre van sluitingstijd voor het goed opgewarmde publiek... Dat kon appreciëren wat Ground Nero bracht: stevige, maar weliswaar gitzwarte gothrock die niet onder moet doen voor de 'grote namen' in het genre! We zagen een geweldig optreden, dat staat buiten kijf.

Na de rockende sound van Ground Nero, mocht het in Brussel opgerichte gezelschap Charnier het podium en intussen goed opgewarmde zaal innemen. En de jonge lieden kweten zich met bravoure van hun taak. Ze hebben een aparte sound, die weliswaar terug te brengen is tot de goede oude coldwave. Echter mengen ze daar een arsenaal van fijne elektro doorheen. We hoorden invloeden en geluiden die we herkennen van The Cure, Neon Jugdement, en in sommige nummers Joy Division. Maar Charnier doet meer en heeft een zeer persoonlijk geluid. En de manier waarop de instrumenten elkaar vinden is geweldig. De elektronische sound, gecombineerd met subtiele gitaren, die wel af en toe kreunen van de pijn, en een grommende basgitaar werkt perfect. Ook vocaal, met een heel diepe melancholische stem, klopt het helemaal. Charnier is een geweldige band, je voelt de beleving van de bandleden, het is doorleefd, komt van diep en vooral: het is donker.
We kunnen niet anders dan concluderen dat dit een heel fijne concertavond was, die nog eens bewijst dat in België nog steeds geweldig goede wave, gothic en postpunk wordt gemaakt.
Setlist Ground Nero:
Run From Your Relatives
Heaven Sent
Arctic
The Trouble Beyond
Karoshi
The Ban
Dark Descent
Closing Time
Setlist Charnier
Voodoo Gospel
Almost a Silence
Gloomy Sunday
Extra Feelings
Hunter
Wakened Cries
Bodies Flap Out
Jurgen BRAECKEVELT
12/12/2016
---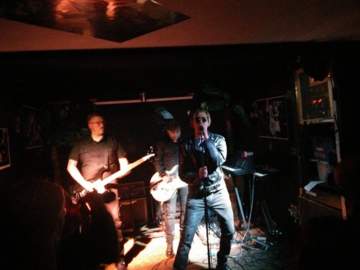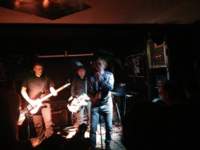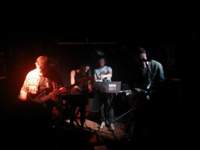 ---