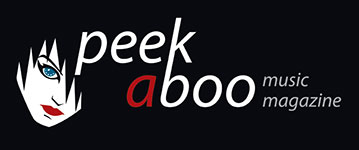 like this movie review
---
HARALD ZWART
The Mortal Instruments: City Of Bones
Movie
Adventure
•
Fantasy
[35/100]

E1
25/02/2014, Didier BECU
---
We don't like the idea, but Hollywood is only founded because they want our money. The dream factory makes our life more beautiful, but daily you'll find businessmen who are only thinking about which franchise is most popular these days. Today it's the young adult fiction that scores best, or in other words: fantasy for teenage girls. It's clear that the makers are just dreaming of coming up with the next Twilight. So far we had pictures like Warm Bodies or Beautiful Creatures, but none of them were big hits. New is The Mortal Instruments: City of Bones that is based on the popular books by Cassandra Clare. At first it was the intention to bomb humanity with six episodes, but as this first chapter wasn't exactly a massive hit, those changes have become rather small. And yeah, let's thank God for that as this movie isn't good at all. Some will let you believe this is as good as The Hunger Games, but it makes us wonder which idiot ever said this!


The story is set in New York. The fifteen-year old Clary (Lily Collins) discovers that she's not like the others as she sees things others don't. In a nightclub she meets Jace (Jamie Campbell Bower) who tells her that she's a mundane, someone who is not from this world. Jace has to learn Clary how to become a shadow huntress. This training is needed more than ever when Clary's mother is kidnapped by evil demons. It looks like everyone is after the mortal cup, he who owns this has the ultimate power.


We did our best to write down this simple story that's been overwhelmed by unnecessary plots and personages from whom you'll never know why they're invented. The problem is that the makers have focused themselves too much on the silly love story, but that's of course to please the Twilight-audience, or better said: to win their heart. It's not that we want to uplift the adventures from Bella Swan to art, but at least Kristen Stewart can act. Something you can't say from Lily Collins and the rest from the cast. It's a real wonder why someone like Jonathan Rhys Meyers wanted to participate.


Anyway, for those who want to give it a try (you're warned though): The Mortal Instruments: City of Bones is released on Entertainment One, on both DVD and Blu-ray.
Didier BECU
25/02/2014
---
Als fervent filmliefhebber blijft het nog altijd een pijnlijke vaststelling, maar Hollywood is niet opgericht om ons dagelijks met mooie beelden te overstelpen. Neen, de droomfabriek is een dictatoriale instelling waar poen koning is. Achter de coulissen van de glamwereld zitten dagelijks rijke directeurs over de vraag te vergaderen met welke franchise er tonnen geld valt te verdienen. Tegenwoordig is dat de young adult-fictie: zeg maar fantasy voor bakvissen. In het kielzog van de ene gigantische hit Twilight, hadden we al eerder prenten zoals Warm Bodies of Beautiful Creatures. Misschien dat Kristen Stewart er voor iets tussen zit, maar tot op heden heeft geen van deze producties de hooggespannen verwachtingen ingelost. Nieuw in het rijtje is The Mortal Instruments: City of Bones, dat is gebaseerd op de succesvolle boeken van Cassandra Clare. Op het moment dat je dit leest zullen wellicht al enkele banen in Tinseltown zijn gesneuveld, want alles ziet er naar uit dat er op deze film geen vervolg zal komen. Misschien kunnen we daar alleen maar vrolijk om zijn, want het was immers bij aanvang de bedoeling om de mensheid met zes delen te overdonderen en na het eerste deel hebben we daar maar weinig zin in.


Op de cover schreeuwen de makers het wel van de daken dat deze franchise beter dan The Hunger Games is, maar we vragen ons af welke idioot dat ooit heeft gedacht. Allereerst is er het magere verhaal dat met haken en ogen aan elkaar hangt en zich in New York afspeelt. Tiener Clary (Lily Collins) ontdekt dat zij niet zoals haar leeftijdsgenoten is, zij ziet immers dingen die anderen niet zien. In een nachtclub vertelt Jace (Jamie Campbell Bower) haar dat ze niet tot deze wereld behoort. Jace moet de knappe tiener opleiden tot schaduwjaagster. Een opdracht die met de nodige snelheid wordt volbracht wanneer Clarys moeder door kwaadaardige geesten wordt ontvoerd. De inzet van de strijd lijkt rond de mortal cup te draaien, want wie die beker op zijn schouw heeft staan, heeft alle macht in handen.


We hebben ons best gedaan om dit ingewikkeld verhaal dat vol onlogische plots en onnodige personages zit zo simpel mogelijk weer te geven. Neen, aan ons ligt het niet, wel aan de makers die voorrang gaven aan de liefdesperikelen, kwestie om er voor te zorgen dat het Twilight-publiek voldoende aan zijn trekken komt. Trouwens, ondanks de vergelijkingen scoort Twilight heel wat beter. Niet dat de lotgevallen van Bella Swan kunst is, maar Kristen Stewart kan ten minste acteren en dat is iets wat je van Lily Collins en de rest van de cast niet kan zeggen. Het blijft dan ook een raadsel waarom Jonathan Rhys Meyers bereid was om hieraan mee te werken. De personages lopen er wel in uitbundige gothickledij bij, maar alles is veel te afgelikt. Neen, we hebben weinig of geen goede punten aan deze film gezien en het is een geluk dat ook het grote publiek dat niet heeft gedaan.


Voor wie het toch eens wil proberen: The Mortal Instruments: City of Bones is vanaf nu uit op Entertainment One, zowel op dvd als Blu-ray.
Didier BECU
25/02/2014
---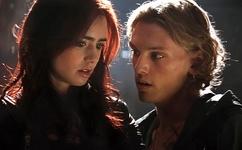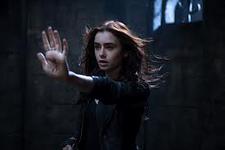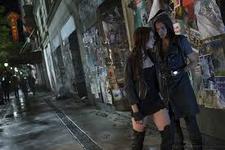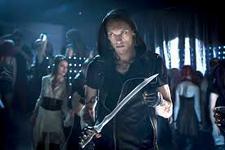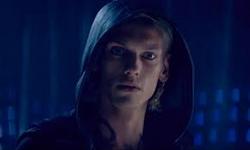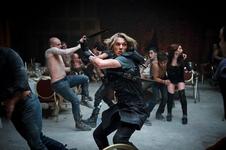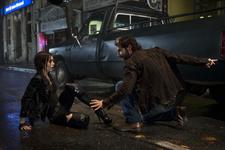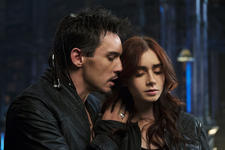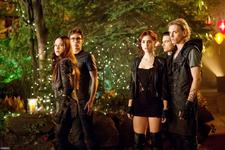 ---