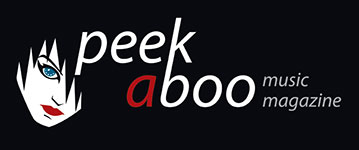 like this movie classics review
---
HARMONY KORINE
Spring Breakers
Movie
•
Movie classics
Coming Of Age
•
Crime
[95/100]

Belga Films
11/09/2014, Didier BECU
---
If you're not an American changes might be high that you don't know what a spring break is. Well, it's a term for students. Somewhere in the middle of the year some take a break and party like a pig. The best place for that is of course the sunny beach from Florida. Everyone who once found the courage to watch 30 minutes of the dreadful MTV-product Jersey Shore knows what we're talking about: brains at zero, drinking yourself in a coma and grab every woman you can!
In all honesty, the cover from Spring Breakers looks rather like a product you better avoid at all costs: four breathtaking babes in a daring bikini-pose. But beneath them is the name of Harmony Korine written: the man who since he wrote the script from Kids introduced us to a different kind of American youth. The same can be said about Spring Breakers: a movie that paralyses the viewer from the first to the very last second.
Four teenage girls (Selena Gomez, Vanessa Hudgens, Ashley Benson and Rachel Korine) are dreaming of the spring break of their life. The only thing they need is some cash. No worries though as they rob a local hamburger restaurant with a water pistol (!). Everything seems to go quite easy, but once they arrive in Florida things are getting morbid. The parties are extremely cool, but they cross the path of the criminal gangsta rapper Alien (James Franco): his room has more guns than a police station and he plays Scarface by De Palma on repeat! Once this macho has the four youngsters in his power, everything is lost. Only the deep catholic Faith can escape, the other three are doomed…
By using very hard techno Korine creates a dark atmosphere that nervously balances between brutal violence and decadent destruction. The performances are just genius. The director has chosen for the female roles stars who were previously seen in Disney-productions, so in a way their innocence bursts twice. Franco is once again impressive and proves that he belongs along with Matthew McConaughey to the top of his generation. Korine is a master in wrapping things up. The glittering neon lights reminds us of Michael Mann's Miami Vice op, while the (lovely) Britney Spears-ballads give it an irresistible kitsch touch.
I have noticed that this year I already have watched this movie 5 times. This might say something about the way I'm spending my time, but also about the quality from this not to be missed masterpiece!
Didier BECU
11/09/2014
---
De springbreak kun je het best vergelijken met wat wij als "de honderd dagen" kennen. Ergens middenin het schooljaar grijpen studenten de kans schoon om zonder pardon het varken uit te hangen. Deze springbreak zoals Amerikanen dat noemen vier je het best aan de zonovergoten stranden van Florida. Wie ooit de moed heeft gevonden om eens een halfuurtje naar het MTV-vehikel Jersey Shore te kijken weet wat we hiermee bedoelen. Het verstand op nul, zuipen en met iedere beschikbare babe lekker de koffer induiken.
Eerlijkheidshalve ziet de hoes van Spring Breakers er ook zo uit: vier bloedstollende meiden in een uitdagende bikinipose. Alleen staat daar ook de naam van ene Harmony Korine onder: de man die sinds hij het script voor Kids schreef als geen ander de Amerikaanse jeugd op de korrel neemt. Dat is in Spring Breakers niet anders, een film die je van de eerste tot de laatste seconde murw slaat.
Vier meisjes (Selena Gomez, Vanessa Hudgens, Ashley Benson en Rachel Korine) willen dat ook allemaal wel eens meemaken, alleen de poen ontbreekt. Niets kan hun evenwel stoppen en op een hondsbrutale wijze overvallen ze met een waterpistool (!) een lokale hamburgertent. Eens in Florida aangekomen loopt het aardig mis. De feestjes zijn wel ongaaf vet, maar de vier tieners stuiten ook op crimineel Alien (James Franco): een gangsterrapper die in zijn woonkamer Scarface van De Palma op repeat heeft staan! Eens de macho de vier jonge meiden in zijn macht heeft zijn ze verloren. Alleen de diepgelovige Faith weet de dans te ontspringen, voor de andere drie is het te laat.
Door middel van loeiharde techno creëert Korine een duistere sfeer die nerveus tussen meedogenloos geweld en decadente destructiedrift balanceert. De vertolkingen zijn ronduit fenomenaal. De regisseur heeft doelbewust voor tienersterretjes die voorheen alleen maar in bijv. Disney-producties te zien waren gekozen: hun onschuld wordt daarmee dubbel aan diggelen geslagen. Franco imponeert en toont dat hij samen met Matthew McConaughey tot de top van zijn generatie behoort. Korine is ook een meester in het verpakken. De neonlichten roepen herinneringen aan Michael Mann's Miami Vice op, terwijl de ballades van Britney Spears de film een onweerstaanbare kitscherige dimensie geven.
Ik heb me er zelf op betrapt dat deze film dit jaar ondertussen al vijf keer in mijn lader is beland. Het zegt misschien iets over mijn tijd, maar vooral over de kwaliteit ervan. Spring Breakers moet je beleven!
Didier BECU
11/09/2014
---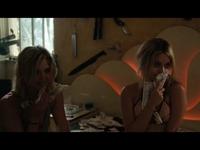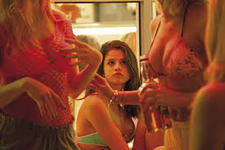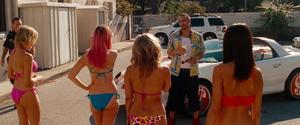 ---