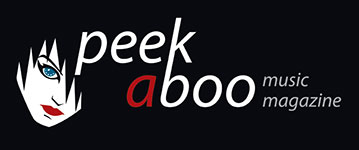 like this movie review
---
HAYAO MIYAZAKI
The Wind Rises
Movie
Animation
[72/100]

Lumičre
19/11/2014, Didier BECU
---
Perhaps you've never heard of Jiro Horikoshi, who is the Japanese designer of the infamous Mitsubishi A6M Zero: the famous fighter that caused a lot of death and destruction in the Second World War. The fans of anime master Hayao Miyazaki didn't understand why he choose Jiros biography (albeit a fictional version) as his farewell. With renowned titles such as Spirited Away and Princess Mononoke Miyazaki was known as the eternal child who is undoubtedly the godfather of anime.
It is not such a strange decision, however. Miyazaki had throughout his whole life a fascination with aircraft, his father worked at an airline company, and his art studio was named after an Italian fighter plane from World War II that was designed by Giovanni Battista Caproni: the Ghibli. If you know that this aircraft designer plays a role in this modern fairytale, it must be clear that Miyzaki looks back on his own life through the eyes of Jiro Horikoshi.
From childhood Jiro was fascinated by airplanes. Because he has bad eyes, he never could be a pilot, so he decided to design them. Jiro has original ideas that can be useful for aviation. But he has a dilemma: Japan is on the brink of a world war and he knows that his inventions will be used to kill people. In a dream Caproni appears saying that it is not the inventor who kills people.
The Wind Rises (a title from a poem by Paul Valery) is perhaps not a typical Ghibli film, but surely a very nice one. Each drawing is made with love and even though the story seems a bit strange for an animated film, it works. Perhaps because of its specific subject this title is not suitable for little children, nevertheless this cartoon is a relief in today's animation world, that is too much dominated by beasts that are created by a computer!
The Wind Rises is now available on DVD and Blu-ray via Lumière.
Didier BECU
19/11/2014
---
Wellicht heb je nog nooit van Jiro Horikoshi gehoord, toch is deze Japanner de ontwerper van de beruchte Mitsubishi A6M Zero: het beroemde jachtvliegtuig dat in de Tweede Wereldoorlog bij de geallieerden voor heel wat dood en vernieling zorgde. De fans van anime-grootmeester Hayao Miyazaki begrepen dan ook niet waarom hij Jiros biografie (weliswaar een fictieve versie ervan) als zijn afscheid koos. Met gerenommeerde titels als Spirited Away of Princess Mononoke stond Miyazaki bekend als het eeuwige kind dat zonder twijfel de vaandeldrager van de anime mag worden genoemd.
Zo'n vreemde beslissing is dat evenwel niet. Miyazaki had heel zijn leven een fascinatie voor vliegtuigen, zo werkte niet alleen zijn vader bij een vliegtuigmaatschappij, ook werd zijn tekenstudio vgenoemd naar een Italiaans jachtvliegtuig uit de Tweede Wereldoorlog dat is ontworpen door Giovanni Battista Caproni: de Ghibli dus. Als blijkt dat deze vliegtuigontwerper ook een rol speelt in dit eigentijds sprookje, weet je eigenlijk dat Miyzaki in zijn afscheidsfilm zijn eigen leven door de ogen van Jiro Horikoshi bekijkt.
Van kindsbeen af was Jiro gefascineerd door vliegtuigen. Omdat hij een afwijking heeft aan zijn ogen kon hij nooit piloot worden, daarom ontwerpt hij ze maar. Jiro merkt dat hij over originele ideeën beschikt die het vliegwezen best kan gebruiken. Wel zit hij met een dilemma: Japan staat aan de vooravond van een wereldoorlog en hij weet dat zijn uitvindingen zullen worden gebruikt om mensen te doden. In een droom verschijnt Caproni die deze morele kwestie van tafel veegt, het is uiteindelijk niet de uitvinder die mensen doodt.
The Wind Rises (een titel uit een gedicht van Paul Valery) is misschien geen typische Ghibli-film, wel een zeer mooie. Iedere tekening is met volle liefde gemaakt en ook al lijkt het verhaal een beetje vreemd, voor een animatiefilm werkt het wel. Wellicht is The Wind Rises wegens zijn specifieke onderwerp niet meteen voer voor de allerkleinste kijkers, desalniettemin is deze tekenfilm een verademing in de animatiewereld die tegenwoordig net iets te veel wordt gedomineerd door beesten die door een computer zijn gemaakt!
The Wind Rises is nu verkrijgbaar op dvd en Blu-ray via Lumière.
Didier BECU
19/11/2014
---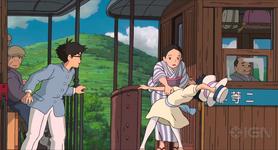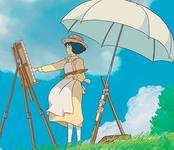 ---