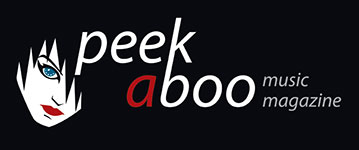 like this concert review
---
HEARTACHE CIRCUS
Aalst, De Werf (04/03/2016)
Concert
09/12/2016, Manu L DASH
---
When you type the words Heartache Circus on your computer, you will find little information about this new band. However, that can be different in the future, especially if they continue to show the same commitment that we saw during their performance at CC De Werf in hometown Aalst (Belgium).
This electro-rock band uses a lot of metal and was formed in 2012. Four like-minded musicians who played in different bands decided to join forces and created a new group. The previous bands had names like Crime 7, Doncker, Fezz and certainly Lords Of Indifference, and they often had very good reviews, but they were not as successful as they hoped to be. Meanwhile, these guys have tons of experience and this results in a a feast for the ears, and also for the eyes.
I stated "feast for the eyes", as this band not only wants its music to be excellent, the visual appearance in also important. So far, the budget of Heartache Circus is relatively limited, but you see a show that is extremely pleasing for all the senses, and every detail is perfect.

The promo box is a gem and stands out: a matte black box, which gives you the feeling of entering a horror circus when you open it. You are welcomed as a VIP and you get a golden ticket in the form of an USB stick that includes some of the songs. The logo of Heartache Circus is the professional work of Gogo Melone, a Greek art designer/metal head and singer of Luna Obscura. That logo is not only shown in the beautiful banner on the back of the stage, but also in the wristband of the bassist. You know, having an eye for details...

Perhaps the biggest gimmick is how these guys are dressed up for their live performances as they look like a clown/presenter of a horror circus. I was thinking of the clown of It, but also Slipknot or Marilyn Manson.

The band does everything to enjoy the large audience and the fans. The music is electro rock, impregnated in metal with some industrial sounds. Everyone interprets the songs differently, but Heartache Circus reminds me of NIN, the recent work of Gary Numan, some Faith No More (Trapeze) and even Marilyn Manson. But it's always done in their own way and with some metal.

After a very interesting intro that fitted perfectly with the circus theme, For The Rest Of Your Life, was launched and included some excellent new wave synths. This is one of the songs that has the potential to become popular. A more varied set was played, including many heavy and exciting song, but always in a pleasant way, and interspersed with calmer songs that gave the audience goosebumps at times.

Some of the tracks have commercial influences, and surely commercial potential, especially Guilt Trip Deluxe and the very beautiful Hoarder or Memories, that was again backed by great synths. Completely unexpected, they played Big Love by Fleetwood Mac. However done in a very personal way, it was more than just a cover and it fitted in the set.

Through their experience in previous bands, the band members know the drill and each other. Cliff shows fine guitar work and during the solos you see that he uses his instrument as a true master. Jo does fine work with his six-string bass as well; his bass lines could have been made by Peter Hook, I think, although in a metal mood. The sharp and diverse drums by Steven made it all complete.

The vocal performance was excellent too. The sympathetic singer Serge knows his job, the stage is his playground and he has a very suitable voice for this genre. He doesn't stand still for one minute and he tries to reach his audience. His voice reminds me at times of Andrew Eldritch, and that is meant as a compliment.

Was this a perfect concert? Almost, but not quite... For me there was one thing which could be done better. The interaction of the singer with the audience was really top notch. Serge made every effort to minimize the distance between himself and the audience, and he obviously had fun in what he did. The musicians knew their craft, everyone was able to hear and see that. But sometimes they were too busy doing their own thing, which limited the interaction with the singer, and especially with the public.

Serge, Jo, Cliff and Steven didn't play a lot of gigs so far (one tryout + one concert at Bellerock). Serge wants to show Heartache Circus in the best possible conditions, and that puts quality over quantity. If you like this genre, then this band really gives you the feeling that you experienced something special.
Manu L DASH
09/12/2016
---
Als je de tijd neemt om de woorden Heartache Circus op je computer in te tikken, zal je momenteel nog maar weinig info vinden over deze beginnende band. De kans dat daar in de toekomst verandering in komt, is echter groot, zeker als de bandleden met dezelfde inzet bezig blijven als tijdens hun optreden in CC De Werf in thuisstad Aalst.
Deze electrorockband is doorspekt met een lading metal en werd opgericht in 2012. Een viertal gelijkgezinde muzikanten die eerder al in een wisselende samenstelling in verschillende bands samenspeelden en beslisten om de krachten te bundelen en zo een nieuwe groep op te richten. Hun eerdere bands met namen als Crime 7, Doncker, Fezz en zeker Lords Of Indifference, kregen vaak goede tot zeer goede kritieken, helaas niet het verhoopte succes bij de grote massa. Intussen hadden deze jongens wel tonnen ervaring opgedaan, wat duidelijk wordt weerspiegeld in wie ze nu zijn: een lust voor het oor, maar tegelijkertijd ook voor het oog.
Ik vermeld duidelijk "lust voor het oog", want deze band wil niet alleen auditieve kwaliteit, ook het visuele element is belangrijk. Natuurlijk is het budget van Heartache Circus nog relatief beperkt, hoewel je toch een show krijgt die uitzonderlijk aangenaam is voor alle zintuigen, en die telkens gedetailleerd is afgewerkt!
Ook de promobox is een juweeltje dat opvalt: het is een mat zwart doosje met de groepsnaam in reliëf. Als je het opent, krijg je het gevoel alsof je in een soort van horrorcircus binnenstapt. Je wordt als een vip ontvangen en je krijgt een gouden toegangsticket: een USB-stick met daarop elnkele songs. Het logo van Heartache Circus is trouwens het professionele kunstwerk van Gogo Melone, een Griekse art designer/metalhead en zangeres van Luna Obscura. Dat logo is trouwens niet alleen in de prachtige banner terug te vinden, ook op de achtergrond van het podium zie je het, alsook in het polsbandje van de bassist. Kwestie van oog voor detail te hebben…
Hun grootste gimmick is misschien wel hoe deze jongens zich kleden voor hun liveperformances. Via een professionele grimage transformeren ze zich tot een clown/presentator uit één of ander horrorcircus. Ik dacht aan de clown van It, maar ook Slipknot of Marilyn Manson zitten in mijn hoofd.
Ook op het auditieve vlak doet deze band erg zijn best om het talrijk opgedaagde publiek en de fans te plezieren. De muziek die ze brengen is electrorock, geïmpregneerd in metal, met hier en daar wat industrialklanken. Iedereen interpreteert de songs waarschijnlijk op zijn manier, mij doet Heartache Circus vaak denken aan NIN, het recente werk van Gary Numan, een beetje Faith No More (bijv. Trapeze) en zelfs een snuifje Marilyn Manson. Maar het wordt steeds op hun eigen manier gebracht en is overgoten met een dikke, maar aangename metalsaus.
Na een zeer doordachte intro (die nota bene erg past in het circusthema) werd afgetrapt met For The Rest Of Your Life, inclusief knappe newwavesynths. Dit is één van de tracks die écht wel potentieel heeft om bij een breder publiek bekend te worden. Daarna volgde een zeer gevarieerde set. Vele songs zijn heavy en opzwepend, maar ze worden op een aangename manier afgewisseld met af en toe iets meer ingetogen en kalmere liedjes die je bij momenten kippenvel bezorgen.
Sommige van de tracks hebben zelfs commerciële invloeden en op zich ook commercieel potentieel. Ik denk vooral aan Guilt Trip Deluxe en het erg mooie Hoarder of Memories, dat alweer werd ondersteund door knappe synths. Geheel onverwacht werd Big Love van Fleetwood Mac gespeeld, evenwel op een wel zeer eigen manier zodat het niet louter bij een cover bleef maar helemaal in de set paste.
Door hun ervaring in eerdere bands, en vaak ook door met elkaar te spelen, zijn de bandleden goed op elkaar ingespeeld. Cliff brengt erg knap gitaarwerk en is in de solo's zijn instrument heel goed meester. Jo doet het goed met zijn six-stringbas en diens baslijnen zouden naar mijn gevoel bijna bedacht kunnen zijn door Peter Hook, maar dan in een metal mood. En de scherpe en diverse drums van Steven maken het muzikaal helemaal compleet.
Ook vocaal was het optreden uitstekend. De sympathieke zanger Serge kent zijn job en hij is een showbeest dat voor dit genre een erg geschikte stem heeft. Hij staat geen minuut stil en doet erg veel moeite om zijn publiek te bereiken. Zijn stem doet me bij momenten aan Andrew Eldritch denken en dat is als een compliment bedoeld.
Was dit concert dan alleen maar goed nieuws? Bijna, maar niet helemaal… Voor mij was er één iets dat nog beter kon. De interactie van de zanger met het publiek was werkelijk top. Serge deed alle moeite om de afstand tot het publiek zo klein mogelijk te houden en hij had duidelijk plezier in wat hij deed. Ook de muzikanten kenden hun job en ze weten duidelijk waarmee ze bezig zijn, dat kon iedereen zien én horen. Maar, ze waren soms iets te veel bezig met hun eigen ding en dat beperkte voor een stuk de interactie met de zanger, maar vooral met het publiek. Het optreden was nog leuker geweest als ze de volledige ruimte van het podium wat meer hadden benut.
In deze constellatie hebben Serge, Jo, Cliff en Steven voorlopig nog niet erg veel opgetreden (één try-out en één concert op Bellerock). Serge wil Heartache Circus in de best mogelijke omstandigheden voorstellen en daarbij primeert kwaliteit op kwantiteit. Als je voor dit genre van muziek te vinden bent, dan geeft deze band je na afloop echt wel het gevoel dat je iets speciaals hebt meegemaakt.
Deze review verscheen tevens op Luminous Dash.
Manu L DASH
09/12/2016
---
---