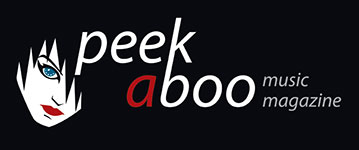 like this movie review
---
HENRY ALEX RUBIN
Disconnect
Movie
Drama
[75/100]

Lumičre
31/10/2013, Didier BECU
---
Disconnected was a bit of a letdown in the movie theatres. A quite bizarre fact when you know that this contemporary drama has been directed by someone who's quite respected. Disconnected is indeed the film debut by Henry Alex Rubin, but at the same time he's also the maker of the highly acclaimed documentary Murderball which was dominated for an Oscar. Anyway, it's indeed true that this movie has surely its merits, but at the end of the day everyone can notice that this director has to learn a lot of things.
Rubin chooses the concept of an old fashioned ensemble film. You know, different stories that at first sight has nothing to do with each other, but at the end all pieces become one. The subject from Disconnected is the digital world we live in and especially how this can destroy the quality of our daily life. Rubin tells three stories which are all quite shocking. First there's the one from a teenage boy who locks himself up in his Facebookworld by trying to get his dreamgirl. He succeeds in finding her, but the poor sod hasn't the slightest idea that it's just a fake identity which is set up by the bully of his class. Another intense story is how a young family got victimized by some cyber terror from which they lose everything they have. Finally there's a minor boy who prostitutes himself on the webcam. A female journalist convinces him to tell his tragic story, but that's just the beginning of all misery.
With such stunning stories and an excellent cast (Jason Bateman , Frank Grillo, Hope Davis , Alexander Skarsgård and Andrea Riseborough) you should expect everything will go ahead, but Disconnected has lots of minor points as well. The script is interesting, but Rubin makes it all far too mellow. The result is that by times Disconnected rather feels like a television movie you just saw too often. To top it all, it's evident to see that Rubin has based himself on earlier examples like 21 Grams or Crash (the finale is quite similar).
Agreed, we're might be a bit too hard and who knows, our negative words even a bit exaggerated. So yes, all by all Disconnected is nice, but you just feel that there was much more in this concept and it stays a pity that it's unexplored.
Didier BECU
31/10/2013
---
In de bioscoopzalen liep Disconnected wat verloren. Toch een beetje vreemd, want de maker van dit eigentijdse drama is niet meteen de eerste de beste. Disconnected is dan wel de eerste speelfilm van Henry Alex Rubin, tegelijkertijd is hij ook de maker van de documentaire Murderball die voor een Oscar werd genomineerd. Maar goed, de waarheid is desalniettemin dat Rubins filmdebuut wel zijn verdiensten heeft, maar dat het op het einde van deze bijna twee uur durende prent ook duidelijk is dat de man nog heel wat te leren heeft.
Rubin kiest voor het oude concept van de mozaïekfilm. Je weet wel, verhaaltjes die op het eerste gezicht weinig of niks met elkaar te maken hebben, maar naarmate de film vordert toch één mooi geheel vormen. Het onderwerp is de digitale wereld waarin we leven en vooral hoe dat de kwaliteit van ons leven kan beïnvloeden. Rubin schetst drie verhaaltjes. Er is het schokkende relaas van een eenzame jongen die zich verdiept in de Facebook-wereld om daar zijn droommeisje te vinden, wel weet de tiener niet dat het om een nepprofiel gaat dat door de pestkop van de school is gecreëerd. Even intens is de cyberterreur die een jong gezin ondergaat wanneer een boef via één of ander Trojaans paard al hun privégeheimen ontfutselt waardoor de familie al hun kostbare bezittingen dreigt kwijt te spelen. Ten slotte is er nog een minderjarige jongen die zich prostitueert voor de webcam. De tiener laat zich overhalen door een journaliste om zijn verhaal te vertellen, doch raakt hij daardoor van de regen in de drup.
Met zo'n boeiende verhalen en een sterrencast om toch u tegen te zeggen (Jason Bateman , Frank Grillo , Hope Davis , Alexander Skarsgård en Andrea Riseborough) zou alles goed moeten gaan, toch is de film maar half geslaagd en dat ligt voornamelijk aan Rubin. Niet alleen beroept deze filmmaker zich net iets te veel op de meligheid waardoor het niveau van de ordinaire televisiefilm gevaarlijk dichtbij komt, ook geeft hij zijn personages weinig of geen karakter. Bovendien is het duidelijk dat Rubin zijn mosterd haalde bij films als 21 Grams of Oscarkanon Crash (de finale is bijna identiek).
Toegegeven, dat onze woorden misschien wat overdreven negatief klinken, want al bij al mag Disconnected er best wezen. Alleen zat er veel meer in deze prent, ergens een gemiste kans dus.
Didier BECU
31/10/2013
---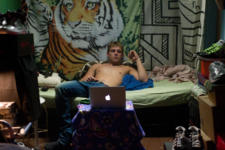 ---