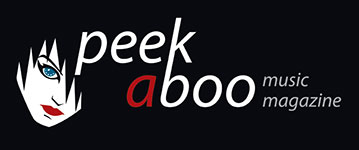 like this cult movies review
---
HERSCHELL GORDON LEWIS
Blood Feast
Movie
•
Cult movies
Cult
•
Horror
[63/100]

Dutch FilmWorks
20/12/2014, Didier BECU
---
In horror world director Herschell Gordon Lewis is an institution. Not because he is a genius (who is by the way ?), but simply because he was one of the pioneers in the slasher genre. Three years after Psycho Lewis (who earlier made soft porn films) wanted to go further and with the paltry sum of $ 25,000 he directed in nine days Bloodfeast. The film that lasts barely 70 minutes was a massive hit at the drive- in and had a box office from $ 4 million.
Anno 2014 the movie seems just to be an item in where the ketchup bottle is too eagerly used, but in 1963 this was still quite different. The audience was not prepared for a psychopath (Mal Arnold) that struck the skull of girls or sawed off their legs, because a madman needs those limbs for an Egyptian feast. The police officers Pete Thornton (Thomas Wood) and Frank (Scott H. Hall) have no idea where to look.
Just about everything is wrong inthis film. There is not only the rickety scenario that makes no sense, no one from the cast can act properly, although Mal Arnold looks pretty creepy. But is that bad? Of course not! We don't even care about the fact that the only condition the women had to fulfill was having a pretty body! The fact that the key role was given to a playmate (Connie Mason) says enough!
Bloodfeast has to be considered as unique piece in film history. The film is hardly exciting , but hilariously funny. When her daughter does not end up at the banquet, mother Dorothy Fremont sighs: Oh dear ! The guests will have to eat hamburgers for dinner tonight. Superb right? Despite the fact that Herschell Gordon Lewis was a pioneer in the horror genre, he was never really known , although he also made ​​that another classic : Two Thousand Maniacs ! In 2002 Lewis directed even a sequel : Blood Feast 2: All U Can Eat.
Didier BECU
20/12/2014
---
In het horrorwereldje is regisseur Herschell Gordon Lewis een instituut. Niet omdat hij een genie is (wie is dat trouwens wel?), maar gewoon omdat hij één van de pioniers was in het slashergenre. Drie jaar na Psycho vond Lewis die uit het softpornomilieu komt dat films best wel wat gortiger mochten worden en met het luttele bedrag van 25.000 dollar nam hij in negen dagen tijd Blood Feast op. De film die amper 70 minuten duurt werd in de drive-inbioscopen een gigantische hit en bracht uiteindelijk 4 miljoen dollar op.
Anno 2014 lijkt het niet meer dan een film waarin de ketchupfles net iets te gretig wordt gebruikt, maar in 1963 was dat toch heel wat anders. Het publiek was helemaal niet voorbereid op een psychopaat (Mal Arnold) die de schedel van meisjes insloeg of hun benen afzaagde omdat hij de ledematen nodig had voor een Egyptisch offerfeest. De agenten Pete Thornton (Thomas Wood) en Frank (Scott H. Hall) hebben geen idee waar te zoeken.
Zowat alles is fout aan deze film. Er is niet alleen het krakkemikkige scenario dat nergens op slaat, ook is er niemand van de cast die behoorlijk kan acteren, ofschoon Mal Arnold er vrij creepy uitziet. Maar vinden we dat erg? Natuurlijk niet! Nog minder storen we ons aan het feit dat de enige voorwaarde waaraan de vrouwen moesten voldoen was dat ze knap moesten zijn! Het feit dat de hoofdrol aan een playmate (Connie Mason) werd gegeven, zegt genoeg!
Blood Feast moet je vooral als een stukje filmgeschiedenis bekijken. De film is nauwelijks spannend, wel hilarisch grappig. Wanneer haar dochter net niet op het banket belandt, zucht Dorothy Fremont: Oh dear! The guests will have to eat hamburgers for dinner tonight. Schitterend toch? Ondanks het feit dat Herschell Gordon Lewis baanbrekend werk in het horrorgenre leverde, raakte hij nooit echt bekend, ofschoon hij ook die andere klassieker maakte: Two Thousand Maniacs! In 2002 draaide Lewis zelfs een sequel: Blood Feast 2: All U Can Eat.
Didier BECU
20/12/2014
---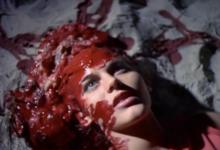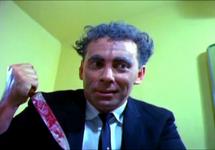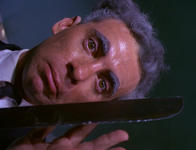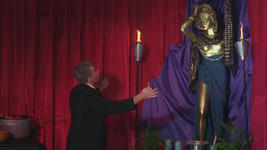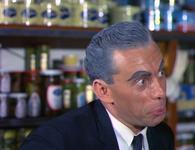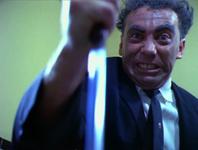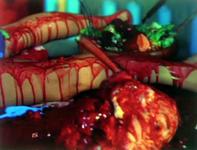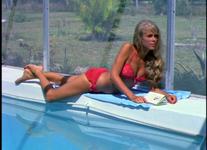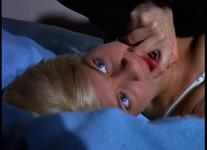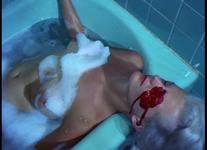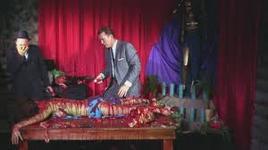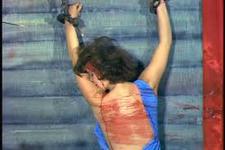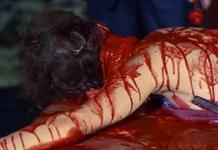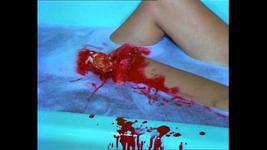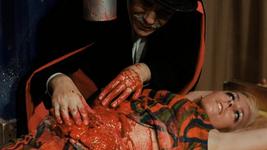 ---