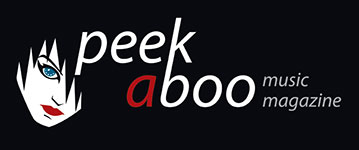 like this movie review
---
IAIN FORSYTH & JANE POLLARD
20.000 Days On Earth (FilmFest Ghent 2014)
Movie
Documentary
Filmfest Gent
23/10/2014, Didier BECU
---
Have you ever wondered how a day from Nick Cave looks like? This answer you can find in the documentary from Iain Forsyth and Jane Pollard that recently was awarded for its direction at the Sundance-festival. By now, Nick Cave has admitted in several interviews that the documentary is fictional and that everything has been put in scene. But still, you'll never be able to look in the soul of the prince of darkness as in 20,000 Days on Earth.
Everything starts at 7 o'clock in the morning in his house in Brighton when he wakes up next to his wife Susie. It seems like the 20.000th day that Cave is a visitor on planet earth will be a busy one as he's expected everywhere. We find him back at the sofa from the shrink at where he has deep conservations that everyone will start to think. According to Cave no one is happy when he looks in the mirror and everyone wants to be someone different. We see him spending time with band member Warren Ellis with whom he repeats songs and talks about the essence of rock, especially Nina Simone is a heroine. Another place at where's he wanted is the archive at where he looks back on the past. His time with The Boys Next Door, the hard life as a junk in Berlin, the people he worked with like Anita Lane or Mick Harvey. All these visits are made by the dandy in his Jaguar, during every ride he's joined on the back seat by people like actor Ray Winstone, Blixa Bargeld and of course his heroine Kylie Minogue.
97 minutes long you're in the company of a genius. Every word he says has a heavy weight and smells like pure reality, at least if you think about the sense of life. 20,000 Days on Earth is worth every word of its hype: this is a must. Sublime.
Didier BECU
23/10/2014
---
Heb je je ooit al afgevraagd hoe een dag van Nick Cave eruit ziet? Het antwoord daarop vind je in de documentaire van Iain Forsyth en Jane Pollard die dit jaar op Sundance voor zijn regie is bekroond, want de kijker kan meegluren in de 20.000ste dag dat de prins der duisternis op deze aarde rondloopt. Ondertussen heeft Nick Cave al in diverse interviews toegegeven dat het om een fictieve documentaire gaat en dat alles in scène zet is gezet. Maar toch, nog nooit eerder kon je zo diep in de ziel van Nick Cave doordringen als in de mokerslag die 20,000 Days on Earth is.
Alles begint om klokslag zeven wanneer hij in zijn huis in Brighton naast zijn vrouw Susie wakker wordt. Blijkbaar is de 20.000ste dag een zeer drukke, want Cave wordt overal verwacht. We vinden hem op de sofa bij de psychiater waar diepgaande gesprekken worden gevoerd. Iedereen wil iemand anders zijn, zegt Nick Cave, want niemand is gelukkig als hij zijn eigen ik in de spiegel ziet. Hij brengt een bezoek bij Warren Ellis om enkele nummers te repeteren en heeft het over de waarde van rock, vooral over Nina Simone. En in het archief (want ook daar wordt hij geacht te komen) blikt Cave terug op het verleden. De tijd met The Boys Next Door, het harde leven als junk in Berlijn, het werken met mensen als Anita Lane of Mick Harvey. Al deze bezoeken legt de dandy af met zijn Jaguar, en iedere keer duikt er iemand anders op in de achterbank: acteur Ray Winstone, Blixa Bargeld en natuurlijk zijn heldin Kylie Minogue.
97 minuten lang ben je in het gezelschap van een genie. Ieder woord weegt zwaar door en ruikt enorm veel naar waarheid die ieder mens ervaart als hij over de zin van dit bestaan nadenkt. 20,000 Days on Earth is zijn hype waard: dit is de rockdocumentaire die je moet hebben gezien. Subliem.
Didier BECU
23/10/2014
---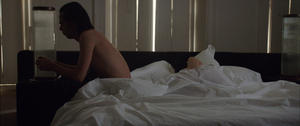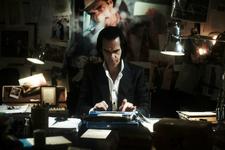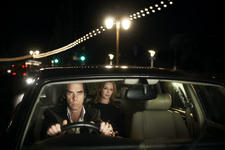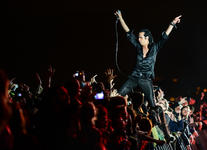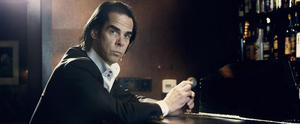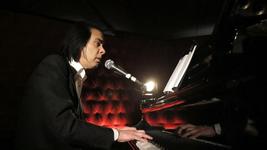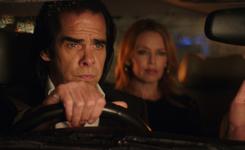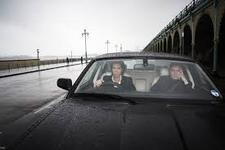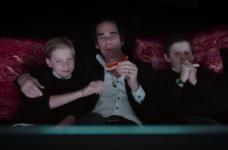 ---