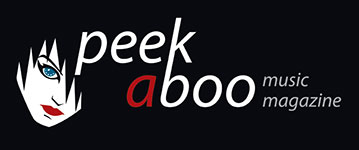 like this cult movies review
---
JACK HILL
Pit Stop
Movie
•
Cult movies
Action
[62/100]

Arrow
04/05/2014, Didier BECU
---
You might not know him, but Jack Hill is one of the most important persons of the B-movie history. Some of his works are Coffy, Foxy Brown, Spider Baby or The Swinging Cheerleaders. Car lovers also dig Hill as he made in 1969 Pit Stop, a movie that now has become cult. After Hill made three years earlier Mondo Keyhole, producer Roger Corman thought he had discovered the chicken with the golden egg as there seemed to be a market for movies about stockcar races. Hill wasn't keen at all, especially as he didn't like races. But look, now the movie has become a real classic although this is probably due to the fact that the motion picture featured Richard 'Dick' Davalos who played a minor role in the James Dean-classic East Of Eden. Music lovers might know him too as he's the one who's gracing the cover of Strangeways Here We Come by The Smiths.
The movie wasn't easy at all. First of all the makers had a problem with the title as they were planning to give the movie the name of The Winner. Impossible as at that time Universal made a race movie with Paul Newman named…. Winning. And there was Hill too… The director wanted to make a film about a race pilot who lost the race but producer Corman claimed that this was an insane idea. And so Pit Stop became a story about racer Rick Bowman (Richard 'Dick' Davalos) who wins, but sells his soul to achieve that….
The story is oh so simple, but in a way more than good enough for this type of movies. The winner gets the girl from his competitor and the lady fears for the life of her lover. That's it, but a good enough essence. Of course there are plenty of footages with cars too and Hill made them during real races!
Also remarkable is the appearance of Ellen Burstyn who came out of nowhere. We guess she's happy to made the decision as during the takes one man named Peter Bogdanovich came to the set and gave her the leading role for his newest project The Last Picture Show. Soon after, Burstyn became one of the most popular Hollywood diva's from the 70's.
This classic is now available in restored version (the original black and white version) on Blu-ray on Arrow. Added are interviews with Jack Hill and Roger Corman.
Didier BECU
04/05/2014
---
Jack Hill is zonder twijfel één van de belangrijkste B-filmiconen. Coffy, Foxy Brown, Spider Baby of The Swinging Cheerleaders: het is maar een kleine greep uit zijn omvangrijke filmografie. Bij de autofans is hij vooral geliefd voor Pit Stop, een film uit 1969. Nadat Hill drie jaar eerder Mondo Keyhole draaide, dacht producer Roger Corman dat hij hiermee de kip met het gouden ei had gevonden, want er bleek inderdaad een markt te zijn voor films over stockcar races. Hill zag dat aanvankelijk niet zitten, gewoonweg omdat hij niet van autoraces houdt, maar liet zich toch overhalen. De film raakte niet verder dan de drive-in, maar werd nadien een gigantische culthit. Wellicht zit daar ook de hoofdrol van Richard 'Dick' Davalos voor veel tussen die tien jaar eerder een klein rolletje in de James Dean-klassieker East Of Eden mocht spelen. De kop van Davalos is ook bij muziekfans bekend, want hij is de man die op de hoes van Strangeways Here We Come van The Smiths prijkt.
Het was zeker geen eenvoudige taak. Eerst en vooral was er die domme titel. Aanvankelijk wilde men de film The Winner dopen, maar omdat Universal op datzelfde moment een racefilm met Paul Newman draaide die Winning heette, besloot men om de titel maar te veranderen. Ook was Hill geen gemakkelijke jongen. Hij wilde immers een racefilm draaien over een kerel die de wedstrijd verliest. Corman vond dat evenwel een krankzinnig idee, en daarom werd het een film over een winnaar die zijn ziel aan de duivel verkoopt. Want Rick Bowman (Richard 'Dick' Davalos) doet inderdaad alles om te winnen wat geenszins zijn aartsrivaal Hawk Sidney (Sid Haig) zint.
Het verhaal is zo eenvoudig. De winnaar snoept het liefje af van zijn concurrent. Het nieuwe liefje is doodsbang dat haar minnaar zich in de vernieling zal rijden. En toch, ook al is het verhaal niet meer dan dat, heeft de cultprent een onweerstaanbare charme. Het is allemaal amateuristisch (alle raceopnames zijn gewoon beelden die Hill op echte circuits opnam), maar het is effectief.

In de film zie je trouwens ook de eerste stappen van Ellen Burstyn. Die zal wellicht meer dan tevreden zij dat zij meewerkte aan deze prent. Tijdens de opnames kwam ene Peter Bogdanovich op de set kijken en die was zo onder de indruk dat hij haar de hoofdrol gaf in The Last Picture Show. Nadien werd Burstyn één van de grootste Hollywooddiva's uit de jaren 70.
Deze klassieker is nu mooi gerestaureerd en op Blu-ray uitgegeven door Arrow. Je vindt er ook zeer leuke interviews met Jack Hill en Roger Corman op terug. Arrow koos voor de originele zwart-witfilm en dat is maar goed ook, want er bestaat ook een afgrijselijke ingekleurde versie.
Didier BECU
04/05/2014
---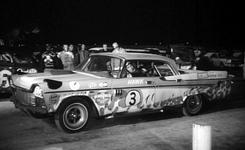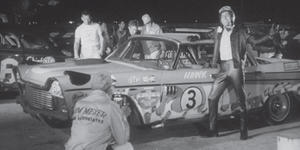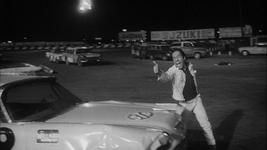 ---