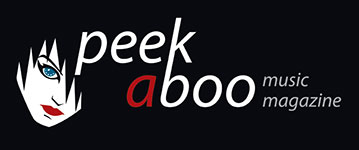 like this movie classics review
---
JACQUES DERAY
Le Marginal
Movie
•
Movie classics
Police
[78/100]

Studio Canal
30/07/2015, Didier BECU
---
It is strange to see how the two best French actors of the 60s (Alain Delon and Jean-Paul Belmondo) went for routine cop movies in the second part of their carrier. While Delon performed in deadly serious psychological police thrillers, the films of Belmondo came awfully close to those of Terrence Hill and Bud Spencer. since 1980
Bebel regaled his audience with this kind of films every year, often with good directors behind the camera (from Henri Verneuil to Claude Lelouch). In Le Marginal from 1983, it was Jacques Deray's turn, who made La Piscine with Romy Schneider and Un Papillon Sur L'Epaule with Lino Ventura. Masterpieces that gave critics an orgasm, but Deray forgot that for Le Marginal and gave the public what it wanted: a fighting Belmondo.
The story of cop Philippe Jordan (Belmondo) does hardly matter. All he wants is to arrest the drug baron Mecacci (Henry Silva). Because Jordan makes a mess in Marseille, his bosses let him return to Paris. No, you won't see a Belmondo who regulates the traffic at the Arc de Triomphe the next 80 minutes. In Paris he meets Freddy Le Chimiste (Michel Robin) who knows all about Mecacci. Just when Jordan is able to catch Mecacci, the crown witness is murdered.
Those who expect reality in a film, better not start watching Le Mariginal. 90 minutes long you see a Belmondo who is strutting across the screen like a real macho. He is grinning, he treats every woman like a piece of meat that would fit well into his bed and there are no police rules. Bebel never needs a search warrant, but has the right to bash the front door unsolicited. He also doesn't have to read the suspects their civil rights, he even may shoot them without mercy. Incredible, but effective! The kind of film that is too rarely made these days. You might say that the Luc Besson-productions play that role today, but it is different. The movie is perhaps a bit dated (the opening scene looks like a commercial for a TGV that is now on the scrap), but it all has a certain charm (certainly because of the haunting soundtrack by Ennio Morricone). The chase scene on the Boulevard Barbès is one of the most impressive that was ever made in French cinema.
Didier BECU
30/07/2015
---
Het blijft vreemd om te zien hoe de twee beste Franse acteurs uit de Jaren 60 (Alain Delon en Jean-Paul Belmondo) in hun latere carrière steevast voor routineuze flikkenfilms kozen. Voor Delon waren dat bloedserieuze psychologische politiethrillers, terwijl het v oor Belmondo eerder clowneske knokfilms waren die dicht in de buurt van Terrence Hill en Bud Spencer kwamen. Vanaf 1980 trakteerde Bebel ieder jaar zijn publiek op zo'n film, met vaak een ervaren rot achter de camera (van Henri Verneuil tot Claude Lelouch). In Le Marginal uit 1983 was dat Jacques Deray, die ooit La Piscine met Romy Schneider en Un Papillon Sur L'Epaule met Lino Ventura draaide. Meesterwerken die critici een orgasme bezorgden, maar voor Le Marginal vergat Deray dat allemaal en toonde wat het grote publiek wenste: een vechtende Belmondo.
Het verhaal over flik Philippe Jordan (Belmondo) doet nauwelijks iets ter zake. Het enige wat hij wil is drugbaron Mecacci (een akelige Henry Silva) in de boeien slagen. Omdat Jordan het in de havenstad Marseille net iets te bont heeft gemaakt, wordt hij door zijn bazen naar Parijs gestuurd. Wie dacht dat hij nadien 80 minuten Belmondo het verkeer aan de Arc de Triomphe liet regelen, heeft het bij het verkeerde eind. Hij ontmoet in de lichtstad Freddy Le Chimiste (Michel Robin) die alles over Mecacci weet. Net op het moment dat Jordan erin slaagt om Mecacci bijna te vatten, wordt de kroongetuige vermoord.
Wie enige realiteitszin in een film verwacht, begint maar beter niet aan Le Mariginal. Negentig minuten lang paradeert Belmondo als een macho over het scherm. Hij loopt te grijnzen, bekijkt iedere vrouw als een stuk vlees dat goed in zijn bed zou passen en van politieregels is geen sprake. Bebel heeft nooit een huiszoekingsbevel nodig, maar mag ongevraagd de voordeur inbeuken. Hij is ook niet verplicht om de verdachten hun rechten te lezen, maar mag ze zonder pardon neerschieten. Er volgt geen onderzoek, alleen is er een overste die met zijn handen in het haar zit. Ongelooflijk en toch effectief! Het soort film dat tegenwoordig te weinig wordt gemaakt. Je kan misschien wel zeggen dat vandaag de Luc Besson-producties daar voor zorgen, toch is het allemaal anders. De film is misschien wel een tikkeltje gedateerd (de openingsscène ziet eruit als een reclamespot voor een TGV die nu al op de schroothoop is weggeroest), maar toch heeft het allemaal een zekere charme (zeker door de beklijvende soundtrack van Ennio Morricone). De achtervolgingsscène op de Boulevard Barbès is één van de meest indrukwekkende die ooit in de Franse cinema is gemaakt.
Le Marginal is een sublieme flikkenfilm die geeft wat het publiek wil: geweld, seks, achtervolgingen en een lach. Een klassieker uit de jaren 80 om van te snoepen, ook al zullen sommigen er beslist van walgen!
Didier BECU
30/07/2015
---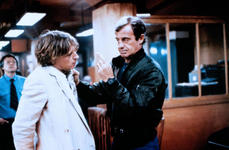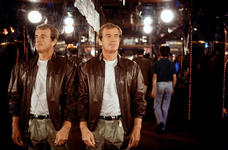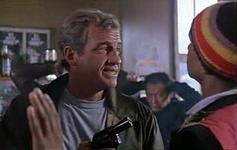 ---