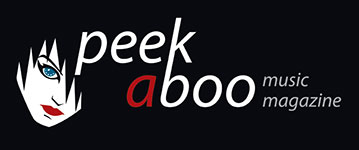 like this movie review
---
JAKE KASDAN
Sex Tape
Movie
Comedy
[48/100]

SONY SPHE
01/12/2014, Didier BECU
---
Director Jake Kasdan clearly has something with Cameron Diaz. Three years ago he directed Bad Teacher (a vehicle that was only good to let Diaz do some sexy poses)with the blonde actress, and now he does it again with Sex Tape. An exciting title, but we must disappoint the Diaz-fans by saying that apart from a translucent T-shirt, there's nothing else to see. There is even worse news: this film is another proof that the career of Cameron Diaz is further in decline.
At the beginning of their relationship, any occasion for Annie (Cameron Diaz) and Jay (Jason Segel) was good enough for having sex. The two fell in love with each other, but after a while the routine started. They try everything to relive the happy days (even sex on rollerblades!), but nothing seems to work. Then Annie has the idea to make a porn video, but only for personal use, of course. The two make a love ride of three (!) hours and put it on their PC. Don't ask us further explanation, but apparently Jason handed to everyone expensive interconnected I-pads for free and yes, all their friends (even Annie's boss, a very strange role for Rob Lowe) can see the porn movie. All they can do is delete the movie on the PC's of their friends
No, we are not drunk, but the scenario of Sex Tape is indeed weird, and totally unbelievable. Jake Kasdan himself probably won't care, because his only intention was to make a mischievous comedy, albeit one that is suitable for the whole family. The jokes are not very good and too polished. The acting is exactly what you expect it to be. Cameron Diaz is just Cameron Diaz, the actress who plays the same role for two decades now, and everyone seems to accept that! Jason Segel always has been a bit of a boring actor and that isthe case again in Sex Tape.
Anyway, in this genre you can find worse things and those who still want to see the broad grin of Diaz and only want some entertainment, will probably will like this lightweight. Those who have a different opinion, know that Sex Tape is worth nothing. Besides, for those who just can't get enough: Kasdan is working on a sequel of Bad Teacher.
The Blu-ray contains the following extras:
Capturing the Moment: Cameron and Jason talk about how it was to make this film, including some embarrassing moments while filming.
Meet Hank Rosenbaum: Hank (Rob Lowe) shows you his spacious residence which has lots of weird art objects.
Bloopers
Deleted & Extended Scenes
Line-O-Rama
Sex Tape is now out on Sony SPHE on both Blu-ray and DVD.
Didier BECU
01/12/2014
---
Regisseur Jake Kasdan heeft duidelijk iets met Cameron Diaz. Drie jaar geleden draaide hij met de blondine Bad Teacher (een vehikel dat enkel diende om Diaz in allerlei sexy poses op te voeren), en nu doet hij dat opnieuw met Sex Tape. Een opwindende titel, zo veel is zeker, maar de Cameron Diaz-fans moeten we meteen teleurstellen door te zeggen dat er op een doorschijnend T-shirt na niets te beleven valt. Er is zelfs nog slechter nieuws: deze film is het zoveelste bewijs dat de carrière van Cameron Diaz alsmaar meer aftakelt.
In het begin van hun relatie was elke gelegenheid voor Annie (Cameron Diaz) en Jay (Jason Segel) goed voor een stevig potje seks. De twee verliefden raakten maar niet op elkaar uitgekeken, maar na een tijdje deed sleur zijn intrede. Ze proberen alles uit om het vuur opnieuw wat aan te wakkeren (zelfs seks op rolschaatsten!), maar niets blijkt te lukken. Plotseling krijgt Annie het idee om een pornovideo te maken, maar dan wel eentje die alleen voor eigen gebruik is. De twee nemen een vrijpartij van drie uur op (tja, eerst gaat het niet en dan wordt het plots een marathon) en zetten die op hun pc. Vraag ons geen verdere uitleg, maar blijkbaar heeft Jay aan jan en allemaal peperdure I-pads uitgedeeld die met elkaar verbonden zijn. En jawel hoor, heel hun vriendenkring (zelfs Annies baas, trouwens een zeer vreemde rol van Rob Lowe) kan de pornofilm zien. Het enige wat ze nog kunnen doen is al de vrienden opzoeken en het filmpje op hun pc wissen.
Eigenlijk voel je al nattigheid (neen, niet dat!) bij het lezen van deze recensie, niet? Neen, we hebben niet te diep in het glas gekeken, maar het scenario van Sex Tape staat bol van de ongeloofwaardigheden. Jake Kasdan zelf zal daar waarschijnlijk niet van wakker liggen, want het was alleen maar zijn bedoeling om een ondeugende komedie te maken, eentje die weliswaar geschikt is voor het hele gezin. De grapjes zijn uiterst braaf, om niet te zeggen afgelikt. De acteerprestaties zijn precies wat je ervan verwacht. Cameron Diaz is gewoon Cameron Diaz, de actrice die al twee decennia lang hetzelfde typetje speelt en daar nog aardig mee wegkomt! Jason Segel is altijd een beetje een droogstoppel geweest en dat is in Sex Tape niet anders.
Maar goed, in dit genre vind je ook slechtere dingen en degenen die nog steeds niet uitgekeken zijn op de brede grijns van Diaz en gewoon van een film niet meer dan entertainment verwachten, zullen zich wellicht niet bekocht voelen met dit lichtgewicht. Zij die een andere mening hebben, weten dat ze Sex Tape links kunnen laten liggen. Trouwens, voor wie er maar niet genoeg van kan krijgen: Kasdan is bezig aan een sequel van Bad Teacher.
Op de Blu-ray vind je als extra's

Capturing the Moment: Cameron en Jason praten over hoe het was om deze film te maken, inclusief enkele gênante momenten tijdens de opnames (nou ja, ook hier gaat het er zeer netjes aan toe hoor).
Meet Hank Rosenbaum: Hank (Rob Lowe) toont je zijn riante woonst met daarin heel wat bizarre kunstvoorwerpen.
Bloopers
Deleted & Extended Scenes
Line-O-Rama
Sex Tape is nu uit op Sony SPHE, zowel op Blu-ray als dvd.
Didier BECU
01/12/2014
---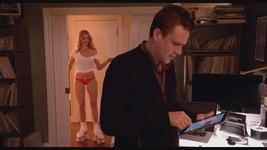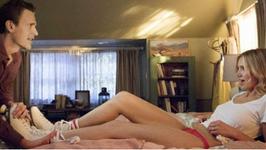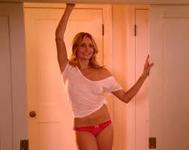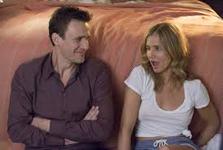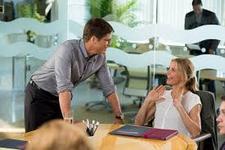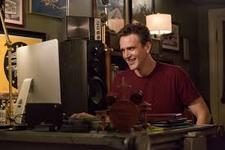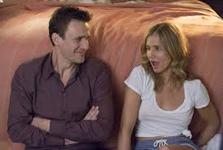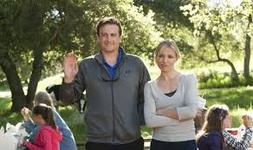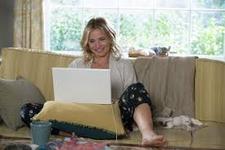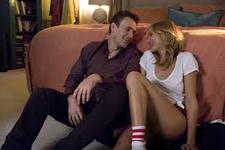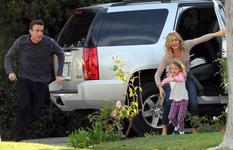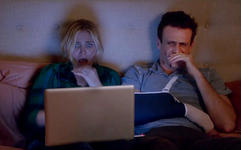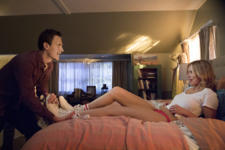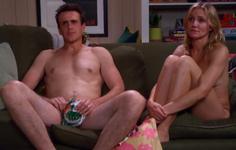 ---