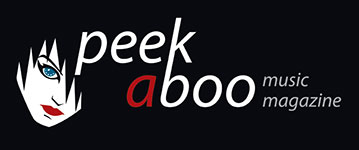 like this documentary review
---
JAN BEDDEGENOODTS
Thank God It's Friday
Movie
•
Documentary
Documentary
[80/100]

Dalton Distribution
08/10/2014, William LIÉNARD
---
Every Friday afternoon the inhabitants of the small Palestinian village of Nabih Saleh organize a protest march against the occupation of their land and the confiscation of the only water source in the area by the nearby Israeli colony of Halamish, founded in 1976 and inhabited by some 200 Jews. For the Palestinians this is the land of their ancestors, for the newcomers this is the land that God promised their ancestors 2000 years ago.
Thank God it's Friday is a documentary about Nabih Saleh and Halamish, made over a period of two years. Life of both communities was filmed, actions of the Israeli army were documented and reactions of both sides incorporated in this film. The result is an interesting report of the political and social situation on the West Bank today, where two completely different worlds meet, but no one ever tries to make contract with the other side or feels the need to study and understand the position of the enemy. Most intriguing is an interview with two Israeli youngsters while in the background Israeli soldiers try to prevent that Palestinian protesters to march towards Halamisch. They march every Friday, says the boy. We don't know why, says the girl, we are used to it and we try not to see it; meanwhile we take a swim, and she points at the luxurious sports complex, protected by a high fence against attacks from the Palestinian neighbours. I want to live here when I am grown up, says the boy, it's quite here and far from the hustle and bustle of Jerusalem. Me to, says the girl, but you can see the doubt in their eyes. Is this the future they want? A few hundred meters down the road some Arab kids are looking at the white houses and the green surroundings of the Jewish colony. I can't walk in that direction without being hold back by the soldiers, a little boy with dark eyes says. I would like to play with them, says the little girl beside him, but won't they shoot at me?
Months later 50 interested villagers show up in the community centre of Nabeh Saleh to watch the documentary of the Flemish director. One mother cries at the images of her son, killed by Israeli gunfire while her daughter is not allowed to approach the body of her wounded brother. Afterwards, everybody congratulates the filmmakers. The documentary reflects the reality of the conflict. In Halamish only four or five women are prepared to look at the documentary. So there is no hope, says a young and disillusioned young woman afterwards. And the cameraman: Will there ever be a solution to the problem? An older woman who's parents left Belgium for Israel after the Holocaust looks up at him: no, she says, no…
Thank God it's Friday is an interesting documentary about the impossibility of cultures to live together on the same territory. We Flemish know all about it. Director Jan Beddegenoodts takes no sides and gives no personal comment. Instead, he invites the audience to draw its own conclusions.
William LIÉNARD
08/10/2014
---
Elke vrijdag organiseren de Palestijnse inwoners van het dorpje Nabih Saleh een protestmars tegen de bezetting van hun landbouwgronden en de confiscatie van hun waterbron door de nabijgelegen Israëlische kolonie Halamish, die er in 1976 is gesticht en waar ondertussen meer dan 200 joodse burgers wonen. Het is een conflict zonder uitzicht op vrede, want de Arabieren voelen zich het slachtoffer van een situatie die door het Israëlische leger in stand wordt gehouden en de joden van Halamish zijn ervan overtuigd dat de Bezette Jordaanoever hun toebehoort, want 2000 jaar geleden zijn hun voorouders er door de Romeinen verdreven, maar het blijft het land dat hun door God is beloofd. Het probleem vindt z'n oorsprong in de stichting van de staat Israël in 1948, maar het mag duidelijk zijn dat er hier meer aan de hand is dan een ruzie over onrechtmatig onteigende grond of recente ontwikkelingen waardoor een deel van de plaatselijke bevolking tekort wordt gedaan en beroofd van z'n fundamentele rechten, want er zijn de religieuze en culturele verschillen die naar de huidige stand van zaken onoverbrugbaar zijn en die zich met het voortschrijden van de tijd alleen maar lijken te verdiepen.
In het begin van de documentaire zien we hoe de makers van Thank God It's Friday hun documentaire aan de bewoners van het Arabische dorp en de joodse nederzetting tonen. Twee jaar lang hebben ze aan de film gewerkt, het leven in de beide gemeenschappen gefilmd, confrontaties met het Israëlische leger op tape vastgelegd, met de Arabische inwoners gepraat en geluisterd naar het standpunt van hun (ongewenste) joodse buren. Het resultaat is een fijnmazig portret van het dagelijkse leven in Nabih Saleh en Halamish, waarin het meteen opvalt dat er sprake is van twee werelden die geen enkele moeite doen om met elkaar in dialoog te treden, maar evenzeer van onbegrip over elkaars situatie en levensomstandigheden. Meest intrigerende onderdeel is beslist het dubbelinterview met twee tieners uit Halamish, precies op het moment dat in de achtergrond het Israëlische leger de protestmars van de Arabische buren in de richting van de joodse nederzetting probeert te verhinderen. Elke vrijdag doen ze dat, zegt de jongen. Wij weten niet waarom, reageert het meisje, we zijn het gewoon en we hechten er geen belang meer aan, ondertussen amuseren wij ons in het zwembad, en ze wijst in de richting van het luxecomplex dat door de bewoners van Halamish is opgetrokken om de kinderen en de tieners van de nederzetting een alternatief te bieden voor de verveling, want wat dat betreft lijken de twee dorpen op elkaar: er gebeurt meestal niets. Ondertussen worden er enkele honderden meters verderop stenen gegooid naar jeeps van jonge Israëlische soldaten en vliegen er traangasgranaten in de andere richting om de herrie de kop in te drukken. Daarbij vallen er uiteraard slachtoffers, in de voorbije twee jaar minstens twee, met dodelijke afloop en telkens aan Palestijnse kant. Maar ook aan joodse kant is er wel eens een tiener in een hinderlaag gelopen en omgekomen. Beide zijden hebben bloed aan de handen…
Het interview met de beide tieners is daarmee niet afgelopen, want even later – terwijl de herrie in de achtergrond onverminderd doorgaat – blijkt dat ze wel degelijk beseffen wat er aan de hand is en dat ze het graag anders zouden zien, want met de bijna voortdurend aanwezigheid van Israëlische soldaten en de hoge hekken om hen te beschermen tegen mogelijk gevaar, is Halamish uiteindelijk toch een beetje een gevangenis en een risicogebied. Ik wil hier later komen wonen, zegt de jongen, het is hier zo rustig ver weg van de drukte van de stad. Ik ook, reageert het meisje, maar als het even stil wordt, zie je de twijfel in hun jonge ogen. Is dat de toekomst die ze voor ogen hebben? Een paar honderd meter verderop staan drie Arabische kinderen van een jaar of 7 naar de witte huizen en de groene omgeving van de joodse nederzetting te kijken. Ik kan er niet naartoe zonder opgepakt te worden, zegt een van de jongetjes. Ik zou wel met ze willen spelen, reageert het jongere meisje, maar zullen ze niet schieten? En op een nabijgelegen helling steken ondertussen iets oudere jongetjes autobanden in brand die ze dan naar beneden laten rollen, in de richting van de legerjeeps die op de hoofdweg patrouilleren. Het conflict op de Bezette Jordaanoever is er een van iedereen en elke dag, uitzichtloos en ontmoedigend.
De presentatie van Thank God It's Friday lokt aan Palestijnse kant een vijftigtal geïnteresseerde kijkers. Ze verzamelen in een donker lokaaltje en kijken er geboeid naar het werkstuk van de Vlamingen. Een moeder pinkt een traan weg als ze de beelden ziet waarop haar oudste zoon door een Israëlische kogel wordt getroffen en haar oudste dochter hysterisch wordt als soldaten haar verbieden om dichterbij te komen. De ambulanciers kunnen geen hulp meer bieden, de jonge Arabier in aan het hoofd en in het gezicht getroffen. Mede te zijner nagedachtenis zijn de inwoners van Nabih Saleh bereid om elke vrijdag hun leven op het spel te zetten. Maar bovenop de dagelijkse ellende komen de pesterijen aan de grens met Israël: de urenlange wachttijden tussen Israël naar Ramallah en omgekeerd, de onmogelijkheid om te reizen (de inwoners van de Bezette Jordaanoever hebben geen paspoort) en de algemene onvrijheid. Een goed Engels sprekende jonge Palestijnse beklaagt er zich over dat ze haar vader al zes jaar niet meer heeft gezien, want die verblijft sinds de grens tussen Israël en Gaza hermetisch is gesloten in Hamas-gebied en reizen tussen Gaza en de Bezette Gebieden is onmogelijk. We kunnen nergens naartoe, zegt ze, en omdat we geen paspoort hebben kunnen we ook niet naar het buitenland. In Halamish kijken niet meer dan een viertal mensen naar de documentaire, toevallig allemaal vrouwen. Maar terwijl de documentaire in Nabih Saleh op veel bijval kon rekenen, is men in Halamish veel minder euforisch. Er is dus geen hoop, reageert de jonge Israëlische die het camerateam in het begin van de documentaire een rondleiding gaf in de nederzetting. Ze kijkt onthutst en ontgoocheld, een schril contrast met haar aanvankelijke onbezorgde manier van doen. Komt er een oplossing?, vraagt de cameraman aan een oudere vrouw wier ouders na de Holocaust van België naar Israël zijn verhuisd en die zich een beetje de stichtster van Halamish voelt. Nee, schudt ze kort, nee.
Twee jaar heeft regisseur Jan Beddegenoodts de mensen in Nabih Saleh en Halamish gevolgd en het resultaat is een zeer sterk dubbelportret dat de geïnteresseerde kijker beslist niet onbezwaard laat, want mocht de communautaire strijd tussen Franstaligen en Vlamingen in eigen land u bij momenten al een ontwarbaar en ontmoedigend kluwen lijken, dan is die niets in vergelijkingen met de problemen waarmee Palestijnen (de kolonisten noemen ze Jordaniërs omdat de Bezette Jordaanoever vroeger Jordaans grondgebied was) en Israëli's worden geconfronteerd in wat voor de enen het Beloofde Land is en voor de anderen de eeuwenoude grond waarop hun voorouders hebben gezwoegd en hun kinderen grootgebracht. Het sterke punt van deze documentaire is het feit dat de maker geen standpunt inneemt. Wat hij toont kan uw mening in de ene of andere richting beïnvloeden, maar hij biedt de kijker het materiaal alleen aan, hij geeft geen commentaar. Dat doen de vertegenwoordigers van beide partijen wél; aan u als kijker om conclusies te trekken.
Thank God it's Friday
Jan Beddegenoodts
Documentaire/Documentary
Belgium, 2013
50 min. – 1.78.1 Pal – Arab/Hebrew/English DDS 2.0
Ondertitels/Subtitles: Nederlands, English
Extra: Documentary The Taste of Freedom (45 min.)
William LIÉNARD
08/10/2014
---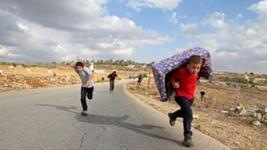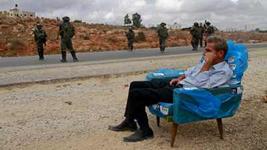 ---