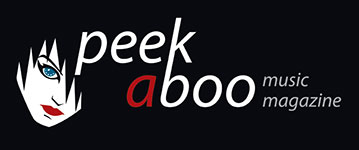 like this movie review
---
JASON REITMAN
Labor Day
Movie
Drama
[83/100]

Universal Pictures
17/08/2014, Didier BECU
---
Let's not beat about the bush: along with Sofia Coppola I definitely think that Jason Reitman is the most talented director you'll find today in America. This talent has not been translated in box office-numbers as apart from Juno, other great works like Up In The Air or Young Adult were ignored. It's a real shame that the same happened with the excellent Labor Day. But it's not because a movie fails in the theatres that there might be no resurrection on the DVD-market, not?
Just like in his former movies, Reitman portrays in Labor Day some strong characters that are misunderstood by our society and lose all their chances. Adele (Kate Winslet) is such an example. She's the kind of housewife every man would dream about, but because she had one miscarriage after the other she's abandoned by her husband. She's left alone with her kid Henry (Gatlin Griffith). The young son really needs a dad, just like the mother is longing for a hug. That happens, but from a strange direction. When prisoner Frank (Josh Brolin) escapes from prison he forces Adele to take him in their house. The Stockholm-syndrome works very fast as in no time the two are lying in each other's arms.
Another romantic movie? Well, yes and no, because Reitman adds a strong dose of tension. Will the new family get their chance or will the neighborhood betray them? Reitman is the kind of cinematographer who can purge everything out of his actors and with Kate Winslet and Josh Brolin on board it's an easy thing. Even if lots of things are happening in the movie, the director has used a very slow tempo. By this approach, every look and move becomes important and the Terence Malick-universe is never that far away, even if Reitman has a very own style.
On the Blu-ray you can find the usual audio commentary and deleted scenes, plus the 30 minutes long Making Of Labor Day in where the whole crew tell you why this drama is so important. Promo talk indeed, but not one word from it is a lie. So yes, the newest Reitman is another must have for your collection!
Labor Day is out on Universal on both DVD and Blu-ray.
Didier BECU
17/08/2014
---
Laten we maar meteen met de deur in huis vallen: ik wind er geen doekjes om door te stellen dat Jason Reitman de meest getalenteerde cineast is die je dezer dagen in Amerika aantreft. Niet dat zijn talent in Europa de kassa's meteen heeft doen rinkelen, want op Juno na stierven al zijn andere werkjes (Up In The Air of Young Adult) een veel te vroege dood. Dat was jammer genoeg niet anders met het geweldige Labor Day. Maar kijk, het is niet omdat een film in de bios niet werkt dat hij geen tweede kans op de dvd-markt verdient, niet?
Net zoals in zijn vorige films schetst Reitman in Labor Day opnieuw het relaas van sterke persoonlijkheden die door de maatschappijen verkeerd zijn begrepen en daardoor zo alle kansen verliezen. Adele (Kate Winslet) is er zo een. Een man kan zich geen betere huisvrouw bedenken, maar omdat het arme wicht de ene miskraam na de andere heeft gehad wordt zij door haar man in de steek gelaten. Zij blijft alleen met haar jonge zoon Henry (Gatlin Griffith) achter. De kerel heeft nood aan een vader en de moeder aan een knuffel van een sterke man. Dat gebeurt, maar uit een hoek die geen mens wil. De ontsnapte gevangene Frank (Josh Brolin) dwingt Adele om hem mee naar huis te nemen. Het bekende Stockholm-syndroom werkt sterker dan ooit, want na een dag liggen de twee al in elkaars armen.
Weeral zo'n romantische film? Nou ja en neen, omdat Reitman er tevens een flinke dosis spanning bijgooit. Maakt het nieuwe gezin kans op een toekomst of worden ze door de buurt verraden? Bovendien is Reitman een cineast die alles uit zijn acteurs kan halen en met zowel Kate Winslet als Josh Brolin aan boord is dat voor hem maar een fluitje van een cent. Ofschoon er zeer veel gebeurt in de film, legt Reitman zich een uiterst traag tempo op waardoor iedere blik of handeling belangrijk wordt. En tja, daardoor is het Terence Malick-universum nooit veraf, ofschoon Reitman echt wel over een eigen stijl beschikt.
Op de Blu-ray vind je naast de gebruikelijke audiocommentaar en wat weggelaten scènes ook nog een half uur durende Making Of Labor Day-terug waarin iedereen zijn zegje doet waarom dit drama zo'n voltreffer is. Promopraatjes dus, maar het is niet eens gelogen want de nieuwe Reitman is wederom een must have voor de collectie!
Labor Day is nu uit op Universal, zowel op dvd als Blu-ray.
Didier BECU
17/08/2014
---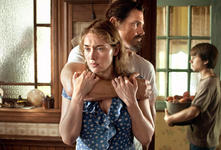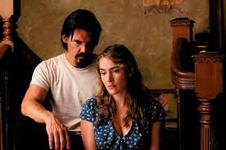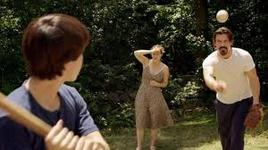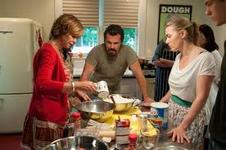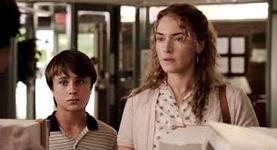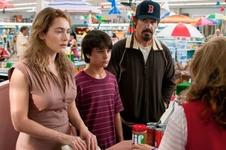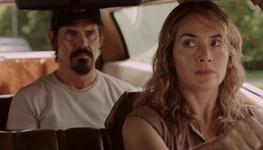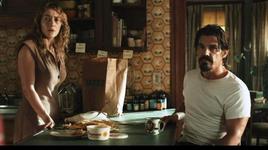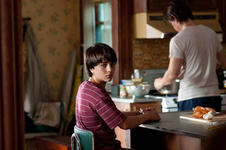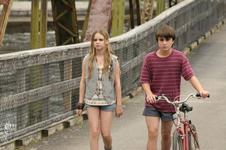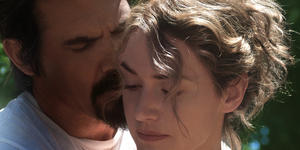 ---