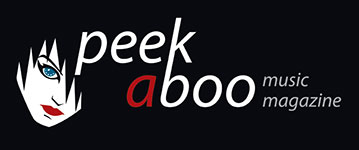 like this concert review
---
JOHANN SEBASTIAN BACH
St. John Passion BWV 245 (Koor & Orkest Collegium Vocale Gent o.l.v. Ph.Herreweghe, Antwerpen, deSingel, 1/04/2015)
Concert
Classical
[100/100]

03/04/2015, William LIÉNARD
---
The St. John Passion ranks among the great works of JS Bach. He wrote the music (lyrics by John, Ch. 18 and 19) in less than three months and performed the nearly two-hour work in the Niclolaï church in Leipzig on Good Friday (April 7, 1724). The Passion begins with the arrest of Jesus and ends with his funeral. There are different versions of the work, because Bach has adapted the compositions in later years, depending on the quality and capabilities of the choir, the singers and the musicians. For the execution of the passion in 1725, he replaced the opening chorus by a choral arrangement, perhaps because of the criticism about the (too) exuberant music of the passage, and in later versions (1728 and 1749) he even omitted some arias, because he could not find the suitable singers. At the end of his life, he started a whole new version, which he did not finish.
Philippe Herreweghe has a preference for the first version of the St John Passion. He has put the composition on CD in 1988 for Harmonia Mundi (HMC 901,264.65) with Collegium Vocale Gent and the Orchestre de la Chapelle Royale (Paris), and that version is still one of the best in the genre because of the delicate balance between the interests of the text, the the religious serenity of the work and the preservation of its melodic strength. When attending a performance of the St John Passion, one knows that Herreweghe does not need to see the score in order to achieve the desired result, because he knows every detail and he knows when the wind instruments (very important in this composition) should sound emphatically.
The Choir and Orchestra Collegium Vocale Gent is among the top in the world and with an expert as conductor Philippe Herreweghe, the result is never less than excellent. And that also applies to this version at deSingel in Antwerp, where the St. John Passion was performed in one go (with a little break after the first part for adjusting the strings). The violins did a nice job. They sounded sensitive and vulnerable and then violent and turbulent, with deep tones of the cellos and double bass. The organist has a hellish job in the St John Passion, because he/she alone is responsible for the musical support during the recitatives. The performance of the organ was accurately and precise from start to finish. The lute (from the Arabic al lud) and the wind instruments provided nice accents.
Besides the choir, the evangelist is the protagonist in the St John Passion, because he is the narrator, the one who draws the outlines of the drama with minimal musical accompaniment (here: the organ), who acts as a sort of moderator between the various parties (Jesus, the Pharisees, the people, the Apostles, Romans, etc.) and who propels the dramatic progress. The English tenor Thomas Hobbs showed a strong, emotional and very involved evangelist. The German baritone Tobias Berndt took the role of Jesus on his behalf, a sober figure, a man of few words, but aware of his role and willing to bear the consequences. An impressive achievement. Grace Davidson (soprano), Damien Guillon (countertenor) and tenor Robin Tritschler completed their mission in an exemplary manner, but the Dutch bass Peter Kooij made the biggest impression as Pilate.
The Choir and Orchestra Collegium Vocale, conducted by Philippe Herreweghe, received a well-deserved ovation from the audience.
William LIÉNARD
03/04/2015
---
De Johannes Passion behoort tot de grote werken van J.S. Bach. Hij schreef de muziek (op tekst van Johannes, hst. 18 en 19) in minder dan drie maanden en liet het bijna 2 uur durende werk uitvoeren in de Niclolaïkerk in Leipzig op Goede Vrijdag (7 april 1724). De Passie begint met de gevangenneming van Jezus en eindigt met z'n begrafenis. Van het werk bestaan verschillende versies, want Bach paste de composities in latere jaren aan in functie van de kwaliteit en de mogelijkheden van het koor, de zangers en de muzikanten. Zo verving hij voor de uitvoering in 1725 het beginkoor door een koraalbewerking, wellicht omdat er kritiek was geleverd op de (te) uitbundige muziek van de passage, en in latere versies (1728 en 1749) sneuvelden zelfs aria's omdat hij niet kon beschikken over zangers die de muziekstukken aankonden. Tegen het einde van z'n leven begon hij nog aan een heel nieuwe versie, maar die heeft hij niet af kunnen maken.
Van Philippe Herreweghe is bekend dat hij een voorkeur heeft voor de eerste versie van de Johannes Passie. Hij nam ze in 1988 op voor Harmonia Mundi (HMC 901264.65) met het Collegium Vocale, Gent en het Orchestre de la Chapelle Royale, Paris, en die uitvoering behoort nog steeds tot de allerbeste in het genre wegens het delicate evenwicht dat erin wordt nagestreefd tussen het belang van de tekst, het respect voor de religieuze sereniteit en het behoud van de melodische kracht van de compositie. Wie een uitvoering van de Johannes Passie bijwoont, die weet dat Herreweghe de partituur eigenlijk niet nodig heeft om het gewenste resultaat te bereiken, want hij kent elke detail van de compositie, elk moment waarop de windinstrumenten (heel belangrijk in deze compositie) een tandje bij moeten steken, elke passage uit de recitatieven die nadruk behoeft om de dramatische voortgang te accentueren.
Het Koor en Orkest Collegium Vocale Gent behoort tot de top in de wereld en met een kenner als Philippe Herreweghe als dirigent, is het resultaat nooit minder dan uitstekend. En dat geldt ook voor deze uitvoering in deSingel in Antwerpen, waar de compositie in één ruk (met een kleine onderbreking na het eerste deel om de snaarinstrumenten bij te stellen) werd uitgevoerd. De violen leverden prachtig werk, gevoelig en fragiel en dan weer heftig en onstuimig, met diepe tonen van de celli en de contrabas. De organist staat in de Johannes Passie voor een helse taak, want hij/zij is vaak de enige die de uitgebreide recitatieven muzikaal ondersteunt en tijdens deze uitvoering was het orgelspel altijd accuraat en zeer precies. De luit (naar het Arabische al lud) en de windinstrumenten zorgden bovendien voor prachtige accenten en de dirigent liet ze ook vaak nadrukkelijk aan bod komen.
De evangelist is naast het koor het belangrijkste personage in de Johannes Passie, want hij is de verteller, degene die met een minimale muzikale ondersteuning (hier: het orgel) en op een parlando-achtige manier de contouren van het drama situeert, die als een soort moderator optreedt tussen de verschillende partijen (Jezus, de Farizeeën, het volk, de apostelen, de Romeinen, etc.) en op die manier de dramatische voortgang stuwt. Voor die moeilijke rol was een beroep gedaan op de Engelse tenor Thomas Hobbs, die een sterke, emotionele en zeer betrokken evangelist opvoerde die de aandacht quasi moeiteloos wist vast te houden. De Duitse bariton Tobias Berndt nam de rol van Jezus voor z'n rekening, een figuur die in de Johannes Passie een veel kleinere rol speelt dan bijv. in de Mattheus Passie, want in het evangelie van Johannes is Jezus veel meer de man die de missie van z'n vader uitvoert dan de
redenaar uit het evangelie van Mattheus. Tobias Berndt zette dan ook een veel soberdere Jezus-figuur neer, een man van weinig woorden, maar die zich bewust is van z'n rol en die bereidt is om de consequenties erbij te nemen. Een indrukwekkende prestatie. Grace Davidson (sopraan), Damien Guillon (contratenor) en tenor Robin Tritschler kweten zich op voorbeeldige manier van hun opdracht, maar het was vooral de Nederlandse bas Peter Kooij die indruk maakte als Pilatus.
Koor en Orkest Collegium Vocale Gent, o.l.v. dirigent Philippe Herreweghe kreeg na afloop zeer terecht een staande ovatie van het publiek.
William LIÉNARD
03/04/2015
---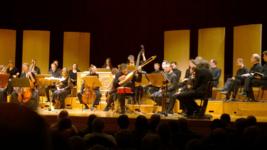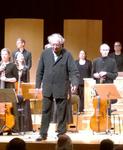 ---