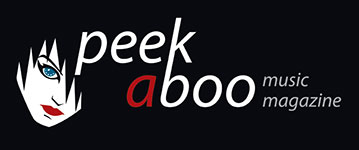 like this movie classics review
---
JOHN BADHAM
Wargames
Movie
•
Movie classics
Action
[71/100]

MGM
14/11/2014, Didier BECU
---
Personally, I always had a soft spot for John Badham. He's not the perfect name you would add to a list of most important directors because he made ​​a lot of nice movies. Perhaps the (sublime) Saturday Night Fever was his peak, but he also made a lot of great action and science fiction movies such as Blue Thunder, Point Of No Return ( Bridget Fonda) , the hilarious The Hard Way and of course WarGames.
Although it has to be said that thirty years later this parody of the Cold War is dated. WarGames has a sublime 80's-atmosphere, but the technology is hopelessly outdated. The main role is in fact played by a computer. In 1983 the internet was still sheer science fiction and everyone thought it was a miracle that you could type a few words on a screen. We have not even mentioned the gigantic computers or the floppies that looked like vinyl. Even the story, written by Lawrence Lasker and Walter F. Parkes, is rather laughable.
David Lightman ( Matthew Broderick ) is a clever pupil who likes to play jokes with his teachers. To impress his girlfriend Jennifer Mack ( Ally Sheedy ), he steals her computer password to distort her points for biology. He can also play games with his computer. Because a game of chess is ordinary, David picks up the Global Thermonuclear War-game, or in other words: a virtual nuclear war. David plays the Russians and wants to nuke Las Vegas. He does not know that his computer is monitored by NORAD (the center that keeps a close eye on whether the enemy throws missiles on America). The soldiers notice that Moscow has fired rockets and they raise the alarm. They do not know that it is a teenager who amusing himself with his computer.
This story was in 1983 a very big blockbuster. Rightly so, because back then this film was hip, now only the performances of Matthew Broderick and Ally Sheedy remain intact. The rest looks pretty silly. There have been many attempts to make a reboot of this old hit, but so far that are only plans.
The teenager's dream of a movie fan smashed to pieces? A little bit, yes.
Didier BECU
14/11/2014
---
Persoonlijk heb ik altijd een boontje gehad voor John Badham. Niet meteen een naam die je zou toevoegen aan een lijstje van belangrijke regisseurs, toch heeft hij heel wat leuke dingen gemaakt. Wellicht is de (sublieme) discohit Saturday Night Fever zijn hoogtepunt, maar hij maakte ook heel wat leuke actie- en sciencefictionprenten zoals Blue Thunder, Point Of No Return (met Bridget Fonda), de dolkomische The Hard Way en natuurlijk ook WarGames uit 1983.
Alhoewel, dachten we, want dertig jaar na datum is deze film, die een soort van parodie op de Koude Oorlog is, gedateerd en blijft er uiteindelijk alleen melancholie over. WarGames baadt wel in een heerlijk eightiessfeertje, toch is de technologie hopeloos verouderd. De hoofdrol wordt immers gespeeld door een computer. In 1983 was internet nog je reinste sciencefiction en vond iedereen het een waar wonder dat je een paar woordjes op een scherm kon typen. We hebben het nog niet eens gehad over de gigantische computers of de floppy's die er als vinylplaten uitzagen. Bovendien is het verhaal dat door Lawrence Lasker en Walter F. Parkes is geschreven zo van de pot gerukt dat deze veredelde jeugdfilm eerder lachwekkend is.
Het verhaal is ondertussen meer dan bekend. David Lightman (Matthew Broderick) is een pientere leerling die met plezier zijn leraars te kakken zet. Om zijn vriendinnetje Jennifer Mack (Ally Sheedy) te imponeren steelt hij het paswoord om zo haar punten voor biologie te kunnen vervalsen. Op zijn computer kan hij natuurlijk ook spelletjes spelen. Omdat een potje schaken nogal droogjes is, pikt David er het spel Global Thermonuclear War uit, of gewoon virtueel nucleair oorlogje spelen. David kiest voor de Russen en wil Las Vegas platgooien. Wel weet David niet dat zijn computer rechtstreeks in contact staat met de NORAD (een centrum dat nauwlettend in het oog houdt of de vijand geen raketten op Amerika afstuurt). De militairen merken dat er vanuit Moskou raketten zijn afgevuurd en slaan alarm, zij weten niet dat het om een tiener gaat die zich met zijn computer amuseert.
Dit flauwe verhaal werd in 1983 een ontzettend grote kaskraker. Weliswaar terecht, want toen leek deze film hip te zijn voor zijn tijd; nu blijven alleen de vertolkingen van Matthew Broderick en Ally Sheedy overeind. De rest ziet er eigenlijk vrij onnozel uit. Er zijn al heel wat pogingen gedaan om een reboot van deze oude hit te maken, maar voorlopig bleef het bij plannen.
Een tienerdroom van een filmfan die aan diggelen is geslagen? Een beetje wel.
Didier BECU
14/11/2014
---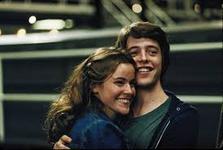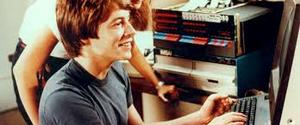 ---