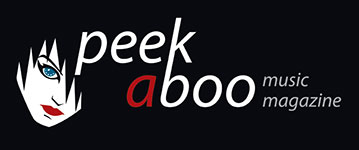 like this cult movies review
---
JOHN CARPENTER
Big trouble in Little China
Movie
•
Cult movies
Adventure
[75/100]

Arrow
27/12/2013, Didier BECU
---
In 1985 Hollywood still believed in John Carpenter. The Thing was a huge succes (even if it wasn't a typical remake), but everything changed when Big Trouble In Little China was released. The legendary filmmaker was so dissapointed that he decided to never work again with a big studio. And yet, everything seemed so good in the beginning when he got the absurd script that was written by Gary Goldman and David Z. Weinstein. Carpenter loved the weird story, but he made a sort of American kungfu-movie from it. This was not what the producers expected as 20th Century Fox hadb more a new Indiana Jones in mind. The movie was a financial disaster and it was only later through its videorelease that Big Trouble In Little China got a second chance.

By now everybody is aware of the fact that Big Trouble In Little China is not the best movie by Carpenter, but it's definitely his most funny one. Jack Burton (Kurt Russell) is a truck driver without rules, even drinking behind the wheel is allowed. According to Carpenter Burton is not a hero, he's just an idiot. One day the driver has to free two girls with green eyes (Kim Cattrall and Suzee Pai) who are captured by the evil David Lo Pan (James Hong), an old wizard who is master of Chinatown.

Big Trouble In Little China is definitely an 80's-movie with some scenes that are dated. A fine example is the monster that looks like some overstuffed Chewbacca. Of course this silliness is also the charm of it all. Kurt Russell is brilliant as the macho hero. It was definitely a role he needed back then. Some knew him as Snake Plissken, but for a lot of Americans he was Elvis as he once played the King in a movie titled (well) Elvis. Some say that this was one of the worst castings in filmhistory ever. Anyway, in the end Russell didn't became the new Harrison Ford. At contrary! Some nutcake decided that the filmposter became a drawing. Kurt Russell was totally unrecognizable and so no one knew who was playing the leading role. Russell still thinks that this was all part of sabotage. Carpenter had indeed some very hard issues to deal with. Some producers claimed that Big Trouble In Little China was far too funny. There was even talk to cut them all out, and Carpenter also had been approached by some men telling him that he should never forget that he was directing a film with white people. Carpenter raised his middle finger and continued to give the movie his own very personal twist.

The truth however is that Big Trouble in Little China isn't a good movie. It just looks too much as bad comic, but as a cult movie he gets the highest scores. The decors are laughable, but at the same time sublime as well...just think of Flash Gordon. The special effects probably couldn't be more silly, but they're hilarious too. The acting is great, especially Russell and even Sex & The City-star Kim Cattrall does a good job.
In some atreas you can find Big Trouble In Little China on Blu-ray by 20th Century Fox, but this version from Arrow is the real treat for every fan. For instance there is a huge amount of excellent interviews with Carpenter, Russell, Dean Cundey (the cinematographer who later worked on movies like Back To The Future, Apollo 13 and Jurassic Park), producer Larry J. Franco and stuntco-ordinatorJeff Imada. There's also an audio commentary, deleted scenes, vintage promospots, trailers, tv-spots and an isolated soundtrack.

Perhaps Big Trouble In Little China is not big cinema, and the movie certainly doesn't reach the usual Carpenter-level, but it's an excellent melancholic and hilarious trip in the past. Fans from the movie absolutely must own the Arrow-version.
Didier BECU
27/12/2013
---
In 1985 geloofden Hollywoodbonzen nog volop in John Carpenter. Met The Thing had hij immers bewezen dat je ondanks een eigenzinnige manier van werken toch nog heel wat geld in het laatje kon brengen. Met Big Trouble In Little China liep het evenwel volledig mis. Het was zelf zo erg gesteld dat nadien Carpenter besloot om in de toekomst niet meer voor een grote studio te willen werken. Carpenter kreeg een waanzinnig absurd scenario van Gary Goldman en David Z. Weinstein in handen gestopt. De cineast hield wel van het verhaal, toch deed hij er (opnieuw) zijn eigen ding mee. Het was de bedoeling van 20th Century Fox om een blockbuster de wereld in te sturen die in het verlengde lag van Indiana Jones, helaas voor hun maakte Carpenter er een eigentijdse kungfufilm van wat de studiobazen razend maakte. De film flopte, tot op het moment dat de videomarkt de prent een tweede kans bood.

Ondertussen is iedereen er het roerend over eens dat Big Trouble In Little China zeker niet de beste Carpenter-film is, wel is het zonder twijfel zijn leukste. Jack Burton (Kurt Russell) is een vrachtwagenchauffeur zonder regels, zelfs drank achter het stuur moet kunnen! Volgens Carpenter is Burton helemaal geen held, gewoon een onnozele idioot. Samen met zijn gokvriend Wang Chi (Dennis Dun) moet de trucker twee meisjes met groene ogen (Kim Cattrall en Suzee Pai) uit de klauwen halen van de boosaardige David Lo Pan (James Hong), een stokoude tovenaar die de heersende meester van Chinatown is.

Big Trouble In Little China is een prent met een ongelooflijk hoog eightiesgehalte. Anno 2013 ziet alles er een beetje belachelijk gedateerd uit (zo lijkt het monster net iets te veel op een slechte versie van Chewbacca), maar tevens is dat net de charme van de film. Kurt Russell is ideaal gecast. Hij kon zo'n rol overigens best gebruiken, want ook al stond hij een beetje bekend als outlaw Snake Plissken, was hij bij het grote publiek toch vooral berucht voor zijn omstreden rol als Elvis Presley in Elvis (volgens sommige kwatongen de slechtste casting ooit!) Russell werd evenwel geen nieuwe Harrison Ford. Zijn hoofd haalde zelfs niet eens de affiche, want één of andere gek besloot dat het beter was om een slechte tekening van hem te maken. De stakkerd leek er niet eens op waardoor het merendeel van de bioscoopgangers niet wist wie de hoofdrol vertolkte. Russell is er nog steeds van overtuigd dat het om pure sabotage ging. Men vond namelijk dat Carpenter er een veel te humoristische film van had gemaakt. De filmmaker werd trouwens door een paar producenten meerdere malen op de vingers getikt omdat hij niet mocht vergeten dat Big Trouble In Little China een blanke film was. Carpenter gebruikte zijn middelvinger als antwoord en maakte rustig zijn eigen martialartsfilm.

De waarheid is dat Big Trouble in Little China geen goede film is, daarvoor oogt hij net iets te veel als een slecht stripverhaal. Qua cultgehalte kan hij wel tellen. De decors zijn even lachwekkend (maar tegelijkertijd even subliem) als die uit bijv.Flash Gordon. De special effects ogen ronduit onnozel, en dus ook hilarisch. De vertolkingen zijn zonder meer geslaagd. Russell is ideaal gecast voor dat soort klussen en zelfs Sex & The City-ster Kim Cattrall komt er zonder kleerscheuren vanaf!

In onze contreien is Big Trouble In Little China uitgebracht door Fox, maar de echte fan haalt beter de Britse versie van Arrow in huis. Dit schijfje staat immers bol van extra's die je op de Fox-uitgave niet vindt. Zo heb je bijv. een collage van anderhalf uur interviews met: Carpenter, Russell, Dean Cundey (de Carpenter-cinematograaf die eveneens Back To The Future, Apollo 13 en Jurassic Park verantwoordelijk was), producer Larry J. Franco en stuntcoördinator Jeff Imada. Vaak zijn zo'n gesprekken eerder slaapwekkend, maar deze conversaties zijn uiterst onderhoudend! Verder heb je een audiocommentaar, massa's verwijderde scènes, de originele promospots, talrijke trailers en tv-spots. Soundtrackliefhebbers kunnen via een apart spoor de volledige filmscore beluisteren. Kortom, wederom extra's om u tegen te zeggen.

Big Trouble In Little China is misschien wel geen grote cinema, en haalt zeker niet het niveau van wat we van John Carpenter gewend zijn, toch is het een fantastische, melancholische duik in het verleden. Fans van de film die de Blu-ray willen kopen, kiezen beter de majestueuze versie op Arrow.
Didier BECU
27/12/2013
---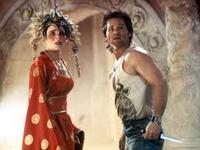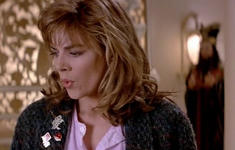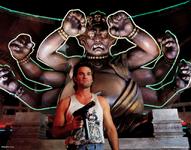 ---