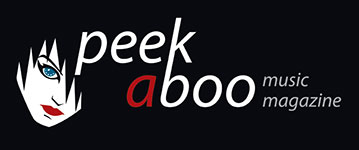 like this concert review
---
JOHN COFFEY
Kortrijk, De Kreun (13/02/2016)
Concert
17/02/2016, Manu L DASH
---
The Utrecht based band John Coffey created a real party in De Kreun (venue in Kortrijk, Belgium-ed.). The name of the band refers to the imposing main character from the movie The Green Mile.

The punk rock quintet was stuck in a traffic jam for hours (welcome in Belgium!), and arrived just in time to play the gig. This band consists of David Achter De Molen (vocals), Alfred Luttikhuizen (guitar), Carsten Brunsveld (drums), Christoffer van Teijlingen (guitar) and Richard Luttikhuizen (bass).

It was clear that a lot of fans showed up. The lyrics were sung enthusiastically by the excited public. The band pulled out all the stops and soon the first crowd surfers appeared.

Strong songs and a thrilling gig ensure that this Dutch band is at its best in small or medium sized venues. The gig at De Kreun was quite enjoyable for those who love harder music.
This review also appeared on Luminous Dash.
Manu L DASH
17/02/2016
---
De Utrechtse band John Coffey zorgde in De Kreun voor een vet feestje. De groepsnaam is een verwijzing naar het imposante hoofdpersonage uit de film The Green Mile.
Nadat het energetische punkrockvijftal uren in een zenuwslopende file zat (welkom in België!), kwam het gelukkig toch nog net op tijd in Kortrijk aan. Deze band bestaat uit David Achter de Molen (zang), Alfred van Luttikhuizen (gitaar), Carsten Brunsveld (drums), Christoffer van Teijlingen (gitaar) en Richard van Luttikhuizen (bass).
Al gauw werd duidelijk dat er heel wat fans in de zaal waren. De teksten werden letterlijk meegebruld en het publiek had er duidelijk zin in. Maar ook de band ging helemaal in de show op en zette zijn beste beentje voor. De eerste crowdsurfers lieten dan ook niet lang op zich wachten.
Sterke nummers en een zinderende performance zorgden ervoor dat deze Nederlandse band goed tot zijn recht komt in kleine tot middelgrote zaaltjes. Het optreden in De Kreun was dan ook best te pruimen voor diegenen die houden van wat hardere muziek.
Deze review kan je ook op Luminous Dash lezen.
Manu L DASH
17/02/2016
---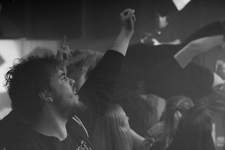 ---