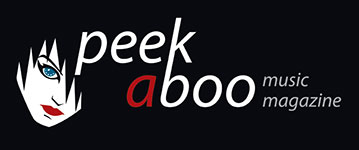 like this movie review
---
JOHN ERICK DOWDLE
As Above, So Below
Movie
Horror
[42/100]

Universal Pictures
08/12/2014, Didier BECU
---
Because in the 19th century Paris did not know what to do with the many corpses, they put the dead bodies deep underground. Parisians were happy that the useless bones were gone, and decades later the catacombs became the most macabre tourist attraction throughout the whole world. Over a distance of 1,700 meters, you can walk along countless skulls and bones. An ideal location to make a horror film, John Erick Dowdle must have thought. The filmmaker received the support of Universal Pictures for his project. The poster looks very promising, but what you will eventually see is a little disappointing. Not because it's bad, just because it could have been so much more.
As Above, So Below is another found footage film, a genre that often is being used by directors who have to contend with a small budget. The young archaeologist Scarlet Marlowe ( Perdita Weeks ) discovers in Iran that the Philosopher's Stone that can turn metal into gold, but also gives eternal life, is hidden in the catacombs of Paris. Along with some volunteers she goes underground: the beginning of a chilling adventure.
As Above, So Below rarely bores, the makers have indeed added terrifying images that will prevent you from falling asleep. The scenario however is too thin and the anything but interesting characters are not performed that well. But we admit it, in this genre you'll find worse. John Erick Dowdle wants to do it all in a good way, but he has to deal with budgetary constraints. You'll forget the picture within a week, but those who are addicted to horror movies can give it a try.
As Above, So Below is out on DVD and Blu-ray by Universal Pictures.
Technical data:
Running time : 93 minutes
Picture: 1.85: 1 - 1080p
Audio : English DTS-HD Master Audio 7.1 and French Dolby Digital 5.1
Subtitles: English for the hearing impaired, French, Dutch
Extras:
UV - UltraViolet
Inside As Above, So Below
Didier BECU
08/12/2014
---
Omdat men in de 19e eeuw in Parijs geen blijf meer wist met de vele lijken, stopte men de dode lichamen gewoon diep onder de grond. De Parijzenaren waren blij dat ze van de beenderen af waren, en decennia later werden de catacomben de meest macabere toeristenattractie van het land. Over een traject van 1700 meter kun je langs talloze schedels en botten lopen. Een ideale locatie om er een horrorfilm op te nemen, moet John Erick Dowdle hebben gedacht. Deze filmmaker, die voorheen enkele bibberprenten op zijn cv bijschreef, kreeg meteen de steun van Universal Pictures. De affiche oogt veelbelovend, maar wat je uiteindelijk te zien krijgt is een kleine ontgoocheling. Niet omdat het slecht is, gewoon omdat er zo veel meer in zat.
As Above, So Below is wederom een found footage film, een genre dat zo graag wordt gebruikt door regisseurs die met een klein budget te kampen hebben. De jonge archeologe Scarlet Marlowe (Perdita Weeks) heeft in Iran ontdekt dat de Steen der Wijzen, waarmee je van metaal goud kan maken, maar die vooral het eeuwig leven schenkt, verborgen zit in de catacomben van Parijs. Samen met enkele vrijwilligers daalt ze diep onder de grond af: het begin van een huiveringwekkend avontuur.
As Above, So Below verveelt zelden, de makers hebben er immers voor gezorgd dat er regelmatig schrikwekkende beelden opduiken die voorkomen dat je in slaap sukkelt. Erger is het gesteld met het krakkemikkige scenario en de allesbehalve interessante personages die bovendien op een vrij belabberde wijze worden vertolkt. Maar we geven het toe, in dit genre bestaat slechter. Je merkt wel dat John Erick Dowdle het allemaal goed bedoelt, te vaak zie je evenwel de budgettaire beperkingen waarmee hij had af te rekenen. Wellicht ben je de prent binnen een week vergeten, maar wie verslaafd is aan griezelfilms kan het toch proberen. Je zal ongetwijfeld huiveren, maar ook verschillende keren hetd hoofd schudden van ongeloof.
As Above, So Below is uit op dvd en Blu-ray via Universal Pictures.
Technische gegevens:
Speelduur: 93 minuten
Beeld: 1.85:1 – 1080p
Geluid: Engels DTS-HD Master Audio 7.1 en Frans Dolby Digital 5.1
Ondertiteling: Engels voor doven en slechthorenden, Frans, Nederlands
Extra's:
UV – UltraViolet
Inside As Above, So Below
Didier BECU
08/12/2014
---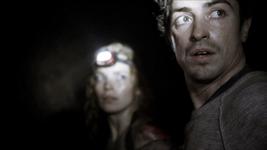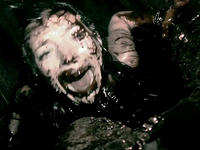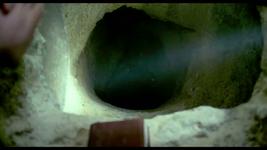 ---