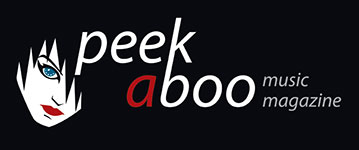 like this movie review
---
JONATHAN ENGLISH
Ironclad: Battle For Blood
Movie
Historical
[53/100]

Dutch FilmWorks
13/08/2014, Didier BECU
---
There's no need to be longer ashamed if you're keen on knights as due to the huge success of Games Of Thrones the Middle Ages are completely back. It's a bit of a dangerous trend either as everything with knights is considered to sell, I mean makers think that if it's a tiny bit similar with George R. R. Martin's world then the public will follow. That's probably what producers had in mind when they started to create a sequel to the (fine but in a way nice) movie from 2011 that features Paul Giamatti. In the second round there's a smaller cast (almost all Serbians!), a tinier budget and lesser magic.


In 1220 there's still no peace among the Scots and the British. Especially the gang from Maddog (Phdag Bjelac) is a feared one. When he enters the castle of Rochester, a mission in where his son gets killed, the cruel leader shouts for revenge and claims that the inhabitants of the castle will bleed. There's no longer protection from Lord Gilbert De Vesci (David Rintoul) who lost his arm. Therefore he sends his son Hubert (Tom Rhys Harries) to nephew Guy de Lusignan (Tom Austen) for help. He agrees, but will only do it for money, along with four mercenaries.


A very thin story and perhaps too thin to impress the film fan during 90 minutes. In a way you can state that the movie is a long collection of fights as apart from one long battle there's nothing more to see. The acting is mediocre, even if the makers are proud to have a name like Michelle Fairley included. She's indeed Catelyn Stark from Game of Thrones or if you prefer the adventures from Jack Bauer: Margot from 24.


Ironclad 2: Battle for Blood is in the first place a visual feast. Shame though that the directing has been made by Jonathan English as he wants to make everything far too hip. It's really annoying if you use a trembling handshaking camera to shoot battles as so the interest fades away. But good, for those who are interested in fighting knights and beautiful ladies probably will have their fun. If you're not, you better avoid.


Ironclad 2: Battle for Blood is out on DVD and Blu-ray on Dutch FilmWorks.
Didier BECU
13/08/2014
---
Je hoeft je niet langer te schamen over je collectie van De Rode Ridder, want sinds Games Of Thrones de televisiewereld veroverde zijn stoere ridderverhalen weer helemaal in. Een trend die zowel aantrekkelijk als gevaarlijk is, gewoonweg omdat zowat alles onder het mom van "als het maar een beetje op de verhalen van George R. R. Martin lijkt zal het wel verkopen" wordt uitgebracht. Dat zullen wellicht ook de producers van deze tweede Ironclad-film hebben gedacht toen die besloten om een staartje aan de oorspronkelijke (vrij behoorlijke) prent uit 2011 met Paul Giamatti te bouwen. Deze keer weliswaar met een veel minder bekende cast (die trouwens voor een groot deel uit Serviërs bestaat!), een kleiner budget en vooral minder magie.
In 1220 is er nog steeds geen vrede tussen de Schotten en de Britten. Vooral de bende van de wrede Maddog (Phdag Bjelac) wordt gevreesd. Wanneer hij het kasteel van Rochester aanvalt en hierbij zijn zoon wordt gedood, zweert de krijger dat de bevolking van de burcht zal bloeden voor hun daden. De eigenaar van het kasteel, Gilbert De Vesci (David Rintoul) verliest tijdens een gevecht een arm en stuurt daarom zijn zoon Hubert (Tom Rhys Harries) naar zijn neef Guy de Lusignan (Tom Austen) om hulp. Die ziet dat wel zitten, maar alleen tegen betaling. Samen met een vier huurlingen probeert Guy het kasteel opnieuw in handen te krijgen.
Een flinterdun verhaaltje dus. En helaas zelfs een beetje te dun om de kijker 90 minuten aan de buis te kluisteren, want meer dan een aaneenschakeling van bloederige gevechten krijg je uiteindelijk niet te zien. De acteurs zijn niet bepaald hoogvliegers in hun vak, ook al pronken de makers maar al te graag met de naam van Michelle Fairley (inderdaad Catelyn Stark uit Game of Thrones of indien je meer voor de avonturen van Jack Bauer te vinden bent, Margot uit 24).
Ironclad 2: Battle for Blood is vooral in een visueel festijn waar liefhebbers van het genre gelukkig mee zullen zijn, alleen jammer dat de regie in de handen van Jonathan English werd gegooid. Deze regisseur die ook het vorige luik draaide wil alles veel te hip maken. Tijdens de gevechten denkt hij dat het snugger is om met de camera bevende bewegingen te maken, de waarheid is dat het de aandacht alleen maar afleidt. Maar goed, wie dol is op vechtende ridders, mooie jonkvrouwen en vooral zijn eisen niet te hoog stelt zal zich wel anderhalf uur vermaken met Ironclad 2: Battle for Blood. Indien dat niet het geval is, loop je er best met een boog omheen.
Ironclad 2: Battle for Blood is nu uit op dvd en Blu-ray op Dutch FilmWorks.
Didier BECU
13/08/2014
---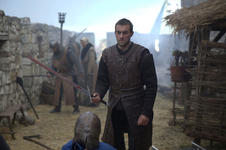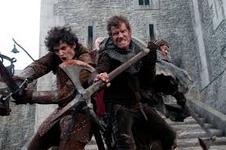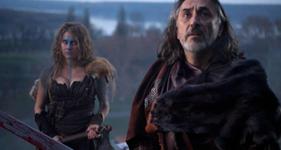 ---