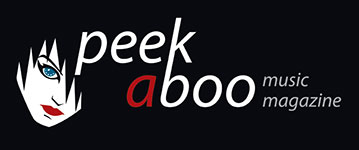 like this movie review
---
JONATHAN LIEBESMAN
Teenage Mutant Ninja Turtles
Movie
Action
•
Comic
[15/100]

Universal Pictures
15/02/2015, Didier BECU
---
Personally I 'm not a child of the 90's more an old child of the 80's), and so I have little in common with the Teenage Mutant Ninja Turtles. Not that the child in me is gone, because my old man's heart still melt for a bear from Peru that accidentally ends up in London and I can even understand why a madman with a red cape wants to save the world. But four mutant turtles, who are trained by a rat as ninjas ? No, I can't get that. And my brains also can't understand why Michael Bay felt the need to breathe new life into these four pesky reptiles. Anyway, what benefits the words of this boy ? The film was in the US such a huge success that green light is given for a sequel.
Whether I will spend again 100 minutes of my life to this nonsense is another thing because Teenage Mutant Ninja Turtles is everything cinema should not be. Bay only was producer and given the direction to Jonathan Liebesman (Wrath of the Titans and Battle Los Angeles). Not that you notice that, as even the robot samurai simply looks like a Transformer. The directing is typical Bay. Everything has to be spectacular, the entire decor has to be destroyed and the camera shakes and trembles that you get seasick without seeing a drop of water! The story is to put it infantile: four turtles (Leonardo Donatello, Raphael and Michelangelo ) have to rescue the world from a baddie (a ludicrous William Fichtner ). Because a film can't be without a lovely lady, Megan is added as a journalist April O'Neil, although her ​​character is totally useless. And then there's that horrible soundtrack. The turtles are from the 90's and so they grew up with dated , silly hip hop. No, everything you ever thought about Michael Bay is once again emphasized here , he is indeed the Putin of cinema, and just like the Russian there is no one who can stop him.
Teenage Mutant Ninja Turtles is released on Universal Pictures , both on DVD and Blu-ray.
Didier BECU
15/02/2015
---
Zelf ben ik geen kind van de jaren 90 (eerder een oud kind van de jaren 80) heb dus maar weinig gemeen met de Teenage Mutant Ninja Turtles. Niet dat het kind uit mij is verdwenen, want mijn oude mannenhart smelt nog steeds voor een beertje uit Peru dat per abuis in Londen terechtkomt of kan ik ook begrijpen hoe een gek met een rode cape die de wereld wil redden zich moet voelen. Maar vier gemuteerde schildpadden die door een rat als ninja's worden opgeleid? Neen, dat ging mijn verstand te boven. En mijn hersenen kunnen er nog minder bij waarom Michael Bay het nodig vond om deze vier irritante reptielen nieuw leven in te blazen. Maar goed, wat baten de woorden van deze jongen? De film werd in de VS een gigantisch succes en zoals dat wel vaker gaat in Hollywood is er ondertussen groen licht gegeven voor een vervolg.
Of we ons een tweede keer zullen laten vangen om 100 minuten van ons leven aan deze onzin te spenderen is maar de vraag, want Teenage Mutant Ninja Turtles is alles wat cinema niet moet zijn. Bay speelde wel producent, maar gaf de regie door aan Jonathan Liebesman (Wrath of the Titans en Battle Los Angeles). Niet dat je daar veel van merkt, zo lijkt de robotsamoerai waartegen de schildpadden moeten vechten verdraaid veel op een Transformer. Ook de regie is typisch Bay. Alles moet spectaculair zijn, het hele decor moet kapot worden geslagen en de camera schudt en beeft zodanig dat je er zeeziek van wordt (en dat zonder een druppel water te zien!). Het verhaal is op zijn zachtst uitgedrukt infantiel: vier schildpadden (Leonardo Donatello, Raphael en Michelangelo) moeten de wereld van een schurk (een potsierlijke William Fichtner) redden. Omdat een film niet zonder een mooie dame kan, heeft men Megan Fox er als journaliste April O'Neil bijgesleurd, ofschoon haar personage volstrekt overbodig is. En dan is er nog die afgrijselijke soundtrack. Het zijn schildpadden uit de jaren 90 en dus zijn ze opgegroeid met gedateerde, onnozele hiphop. Neen, alles wat je ooit dacht over Michael Bay wordt hier nog maar eens onderstreept, hij is zo waar de Poetin van de cinema en net zoals de Rus is er geen mens die hem kan stoppen.
Teenage Mutant Ninja Turtles is uitgebracht op Universal Pictures, dit zowel op dvd als Blu-ray.
Didier BECU
15/02/2015
---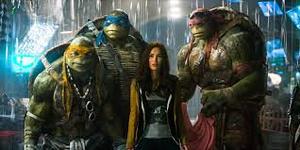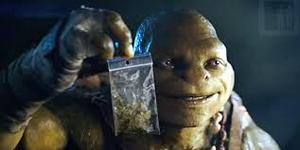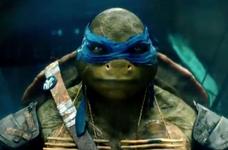 ---