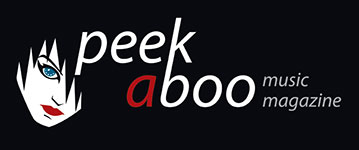 like this cult movies review
---
JONATHAN YUDIS
Pervert!
Movie
•
Cult movies
Cult
•
Erotic
•
Sexploitation
[60/100]

Neo Publishing
11/12/2014, Didier BECU
---
At times we want to talk about pulp movies on our pages. You know, titles that are bad, but nevertheless are included in movie lists that every cult enthusiast cherishes. No worries, if you haven't seen Pervert!, you haven't missed anything, but it is a title that you often find in cult collections.
Why? Well, first of all there is lead actress Mary Carey, a name that brave souls never heard before, but if you know that she appeared in Big Titties 2, Busty Dildo Lovers 4 or Asses In The Air 4, then you know in which category you can find her! Director Jonathan Yudis finds his inspiration in the work of cult director Russ Meyer, the famous director of sexploitationfilms, who only gave roles to women with large breasts. The ranch that is used as a location, is the same as in Faster, Pussycat! Kill! Kill!, Meyers best known film.
Yudis mixes horror with mischievous, sexy ladies and although it's made with the best intentions, Pervert! bores after half an hour. The main reason is that the horror becomes slapstick. Stop reading if you do not want to know the main attraction of this movie, but it is all about a murderous penis. Exactly, and you thought you had seen everything!
Pervert! has its funny moments, but also its embarrassing ones. A lot of people will not find it all senseless, but then again a lot of people find cult senseless, so...
In Europe you can find Pervert! on both Neo Publishing (France) and Arrow Video (the UK).
Didier BECU
11/12/2014
---
Geregeld willen wij het op onze pagina's over foute films hebben. Je weet wel, titels waarvan je weet dat ze slecht zijn, maar die desondanks in lijstjes staan van troep die iedere cultliefhebber moet hebben gezien. Troost je, wie Pervert! niet heeft gezien mist niks, wel is het zo'n titel die je vaak in cultcollecties aantreft.
Waarom? Wel, vooreerst is er hoofdrolspeelster Mary Carey. Het is een naam die brave zielen wellicht niks zegt, maar als je weet dat haar bekendste films Big Titties 2, Busty Dildo Lovers 4 of Asses In The Air 4 zijn, dan weet je meteen in welke categorie je haar moet zoeken! Het grote voorbeeld van regisseur Jonathan Yudis is de cultregisseur Russ Meyer, de bekende regisseur van sexploitationfilms, die alleen maar rollen gaf aan vrouwen met grote borsten. De boerderij waar deze film zich afspeelt is trouwens die van Faster, Pussycat! Kill! Kill!: Meyers bekendste film.
Yudis mengt horror met ondeugende, wulpse dames en alhoewel het allemaal goed bedoeldiq, gaat Pervert! na een halfuurtje toch vervelen. De voornaamste reden is dat de horror gewoon slapstick wordt. Stop met lezen als je de spoiler niet wil weten, maar het gaat om een losgeslagen moorddadige penis. Juist, en jij die dacht dat je alles had gezien!
Pervert! heeft zijn grappige momenten, maar ook zijn gênante. Heel wat mensen zullen er niks aan vinden, maar anderzijds vinden heel wat mensen niks aan alles wat cult is, dus…
In Europa vind je Pervert! zowel op Neo Publishing (Frankrijk) als op Arrow (de U.K.).
Didier BECU
11/12/2014
---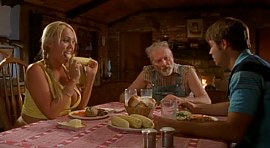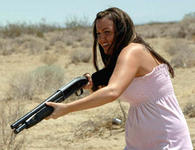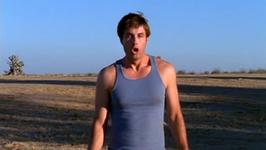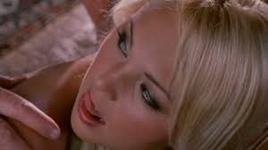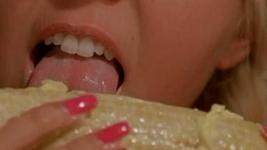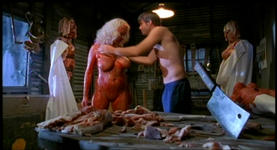 ---