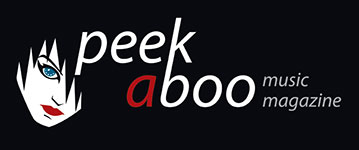 like this cult movies review
---
JORG BUTTGEREIT
Nekromantik
Movie
•
Cult movies
Cult
•
Experimental
•
Horror
[62/100]

Arrow
25/01/2015, Didier BECU
---
In the cult genre Nekromantik of Jörg Buttgereit is possibly one of the most discussed films. It was banned in several countries and only shown in theatres at rare occasions. One of the few screenings took place at London's Scala during the Shock Around The Clock Festival (the forerunner of Fright Fest). Everyone who does something in the cult world, would like you to believe that he or she was there, but that's probably hogwash. The truth is that a lot of people simply left the room, because Nekromantik is not only experimentally, it is also utterly repulsive.
Buttgereit does not understand why people see Nekromantik as a movie. It is an incoherent experiment that took two years to make and that looks like experimental films by industrial groups such as SPK or Throbbing Gristle. A joke that got out of hand. After the London screening the film got all kinds of reviews in fanzines (for the younger readers: magazines made by fans with the help of a photocopier) and the demand increased. There was no real distributor, and consequently the film appeared on the market as a bootleg, often as a copy of a copy, and the younger the generation, the lesser the quality. With the use of digital techniques, Jörg Buttgereit restored the film almost frame by frame (of course to the extent that thas is possible), and the result is now released on Arrow Video.
The German filmmaker states that a film like Nekromantik can't be made today ​​ That is right, and that is a good thing for animal welfare! The most infamous scene is without doubt the one in which a man kills a rabbit. Anything must be possible in film, at least that's what we think, the bloodier the better, but animals can never be sacrificed in the name of art. In an interview Buttgereit defended himself by saying that he saved the lives of other rabbits, because who wants to eat a rabbit after seeing such a scene? Indeed, a short-sighted, stupid argument to which no sensible person can add anything.
But Nekromantik is also notorious for other elements. The title speaks for itself, this is about necrophilia. Rob Schmadtke (Daktari Lorenz) is such a guy and he has a job that allows him to enjoy his perversions. He works at Joe 's Street Cleaning Agency, a company that specializes in the removal of physical remnants after a traffic accident. If one day he brings a dead body home, his girlfriend Betty (Beatrice Manowski) is extremely happy.
The film was made with a tiny budget and there is hardly a scenario. No problem though, anyone who can take a beating (well let us say, a strike) will not get bored with this film. The film has been clearly made to shock the audience, and it does. Is it a good movie? That depends to your standards. We dare claim it is (despite the animal cruelty). But who are we?
Didier BECU
25/01/2015
---
In het cultgenre is Nekromantik van Jörg Buttgereit wellicht één van de meest besproken films die in diverse landen werd verbannen en nauwelijks vertoond in de theaterzalen. Een van de weinige screenings gebeurde in de Londense Scala tijdens het Shock Around The Clock-festival (voorloper van FrightFest). Iedereen die iets betekent in het cultwereldje wil je wellicht graag doen geloven dat hij of zij erbij was, maar dat is wellicht larie. De waarheid is dat heel wat mensen de zaal verlieten, want Nekromantik is niet alleen experimenteel, maar ook volslagen weerzinwekkend.
Zelf Buttgereit begrijpt nog altijd niet hoe mensen Nekromantik als een film kunnen zien. Het is een onsamenhangend experiment waaraan hij twee jaar heeft gewerkt en die in de lijn ligt van de films die industriële groepen als SPK of Throbbing Gristle tijdens hun shows projecteerden. Een uit de hand gelopen grap die zonder dat Jörg Buttgereit hetzelf kon vermoeden een cultklassieker werd. Na de screening kreeg de film allerlei reviews in fanzines (voor de jongere lezers: dat zijn tijdschriftjes die fans in eigen beheer uitgeven, met de hulp van een fotokopieermachine!) en steeg de vraag naar de film. Er was geen echte distributeur en daarom verscheen Nekromantik als bootleg op de markt. Vaak waren het kopieën van kopieën waardoor de kwaliteit zo slecht werd dat niemand nog zag waarover de film ging. Met behulp van de digitale technieken heeft Jörg Buttgereit de film bijna frame per frame gerestaureerd (in de mate dat dat mogelijk is) en het resultaat is nu uitgebracht op Arrow Video.
Volgens de Duitse filmmaker zou een film als Nekromantik vandaag niet meer gemaakt kunnen worden. Dat is juist, en voor het dierenwelzijn is dat maar goed ook! De meest beruchte scène is zonder twijfel die waarin een man een dwergkonijn vilt. Alles moet kunnen in film, dat denken we toch, hoe bloederig hoe beter, maar dierenleed kan nooit worden verantwoord in naam van de kunst. In een interview verdedigt Buttgereit zich net iets te gemakkelijk door te grappen dat hij het leven van andere konijnen heeft gered, want wie wil er na het zien van zo'n scène nog een konijn oppeuzelen? Inderdaad, een kortzichtig, stom argument waaraan geen zinnig mens iets kan toevoegen.
Maar goed, Nekromantik is ook om andere redenen berucht. Het onderwerp spreekt voor zich, dat gaat over necrofilie. Rob Schmadtke (Daktari Lorenz) is zo'n kerel en hij heeft een job die hem in staat stelt om z'n perversiteiten bot te vieren. Hij werkt bij Joe's Streetcleaning Agency, een bedrijfje dat zich heeft gespecialiseerd in het wegschrappen van lichamelijke resten die op de weg zijn blijven liggen na een verkeersongelukl. Als hij op een dag een volledig lijk meebrengt, is zijn vriendinnetje Betty (Beatrice Manowski) in de wolken.
De film is niet alleen met een piepklein budget gedraaid, ook van een scenario is er nauwelijks sprake. Geen nood, wie tegen een stootje kan (nou ja, zeg maar stoot) zal zich geen seconde vervelen bij deze film die er niet eens (op de kledij en haartooi na) gedateerd uitziet. De film is duidelijk gemaakt om het publiek te choqueren en dat doet hij ook. Is het een goede film? Dat hangt ervan af wat je maatstaven zijn. Wij durven (ondanks de dikke foei voor het dierenleed) beweren van wel. Maar wie zijn wij?
Didier BECU
25/01/2015
---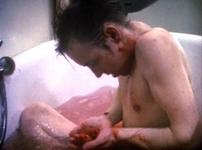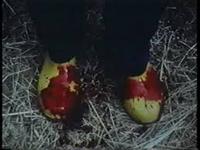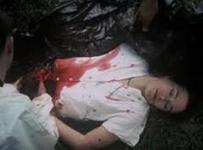 ---