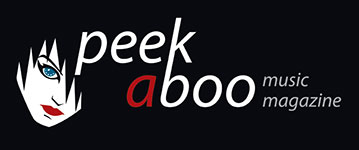 like this movie review
---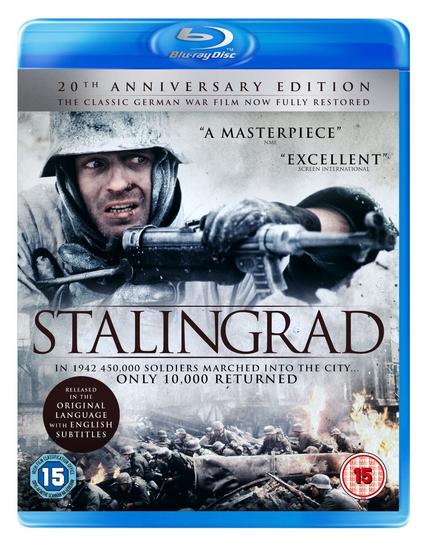 JOSEPH VILSMAIER
Stalingrad
Movie
War Movie
[79/100]

Arrow
13/12/2014, Didier BECU
---
Sometimes life makes strange antics, especcially for a movie lover. About fifteen years ago I was searching in shops in London hoping to find Stalingrad. The sellers knew of the existence of this war picture, but according to someone of the now defunct Tower Records this movie would never be out in England. Wrong, because even though it took several years, the ultimate version (restored and on Blu -ray) is now only available in England on Arrow Films.
Why is Stalingrad so special ? Just because it is the best war film, along with Das Boot. Just for that! Just as Wolfgang Petersen did with his submarine epic, Joseph Vilsmaier shows in Stalingrad that there are no heroes in war, only horror. Who is good or bad depends on which side you're on, everyone is looking for a way out and sometimes they forget the human values.
The first ten minutes of the more than two hour spectacle start with a cheerful tone. The German soldiers, led by Fritz Reiter ( Dominique Horwitz ), are sunbathing on the Italian Riviera. They have just returned from the Battle of El Alamein and the sound of weapons seems far away. Just an illusion. The Lebensraum which Hitler promised his people includes Russia, one of the cities to conquer is Stalingrad. The soldiers are still thinking that all battles can be fought in blitzkrieg style and expect little resistance, but the Russian city is a very different story. There the face not only the unbearable cold, but also the brutality of Russian soldiers (and of course vice versa) that has no bounds.
Stalingrad is a strange movie. The scenario is written in an almost amateurish way, with weak dialogues and a somewhat incoherent story, but you forget that pretty soon, because Vilsmaier shows the atrocities in such a real way, it often seems as if you are watching a documentary.
Stalingrad is now out on Arrow Video, and perhaps the best war movie that you 've never seen.
Didier BECU
13/12/2014
---
Soms maakt het leven rare bokkensprongen, ook dat van een filmliefhebber. Zo'n vijftien jaar geleden schuimde ik alle winkels in Londen af op zoek naar Stalingrad. Men wist wel van het bestaan van deze oorlogsfilm af, maar volgens de verkoper van het ondertussen opgedoekte Tower Records zou die nooit in Engeland verschijnen. Fout dus, want ook al duurde het ettelijke jaren, de ultieme versie (gerestaureerd en op Blu-ray) is vanaf nu alleen in Engeland te vinden, op Arrow Films.
Waarom Stalingrad zo speciaal is? Gewoon omdat hij samen met Das Boot de allerbeste oorlogsfilm is. Gewoon daarom! Net zoals Wolfgang Petersen dat met zijn duikbootepos deed, toont Joseph Vilsmaier in Stalingrad dat er in een oorlog geen helden zijn, alleen gruwel. Wie nu goed of slecht is, dat hangt af van aan welke kant je staat, iedereen zoekt een weg uit de ellende en ze vergeten allemaal wel eens de menselijke waarden.
De eerste tien minuten van dit meer dan twee uur durend spektakel beginnen nochtans op een vrolijke toon. De Duitse soldaten die onder leiding staan van Fritz Reiter (Dominique Horwitz) liggen te zonnen aan de Italiaanse Rivièra. Ze zijn net terug van de Slag van El Alamein en van wapengekletter is er geen sprake meer. Alleen is het slechts schijn. In de Lebensraum die Hitler zijn volk beloofde zat ook Rusland, één van de te veroveren steden was Stalingrad. De militairen zijn nog volop in de roes van het succes van de blitzkrieg en verwachten weinig weerstand, maar in de Russische stad wacht hun een heel ander verhaal. Er is niet alleen de onverdraaglijke kou, ook de wreedheid van de Russische soldaten (en natuurlijk ook omgekeerd) kent geen grenzen.
Stalingrad is eigenlijk een vreemde film. Je snapt wel dat het scenario (bijna amateuristisch) in een vliegensvlug tempo is geschreven (geen sterke dialogen en een onsamenhangend verhaal), maar dat euvels vergeet je vrij vlug. Doordat Vilsmaier de kijker met de neus zo dicht op de wreedheden drukt, lijkt het vaak alsof je een documentaire bekijkt.
Stalingrad is nu uit op Arrow Video, en wellicht de beste oorlogsfilm die je nog nooit hebt gezien.
Didier BECU
13/12/2014
---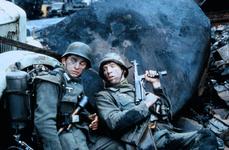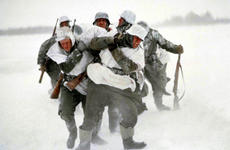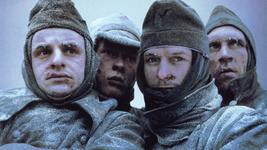 ---