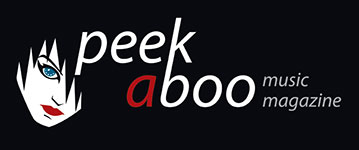 like this movie review
---
JOSHUA MICHAEL STERN
Jobs
Movie
Biography
[65/100]

Entertainment One
03/01/2014, Didier BECU
---
There are things I will never understand. The list is far too long to mention, but take just for example the filmversion of the biography from Apple-chief Steve Jobs. Don't get me wrong, I usually start puking when I hear the name of Ashton Kutcher. Perhaps it's just because he shared his bed with 80's-Babe Demi Moore, but then again he's not exactly the best actor either. Having said that, his performance as Steve Jobs is not immaculate, but not bad either! And you certainly can't say he hasn't tried to give it all as for excample he ate just like Jobs only fruit which resulted in him landingup in a hospital! And what about that other movie? OK, it's true that The Social Network about that other genius (Mark Zuckerberg) is indeed better. But once again, Jobs isn't that bad. It's even a good movie, even for those who don't know the difference between hard- or software.
The sole thing we really regret is that the directing is done by Joshua Michael Stern. This man really avoids any challenge. There are so many things you can say about Jobs: his impossible character, the fact that he never acknowledged the existence of his own daughter, his relation with Bill Gates, Pixar…. Stern mentions this, but it's only a footnote, he rather pays attention to his boring hippietime. Luckily enough there are some positive things to tell as well. For instance the excellent roles: Matthew Modine as a shrewd commercial boy, Josh Gad as Steve Wozniak (Jobs right hand) and as said before, surprisingly enough Kutcher himself, even if he stays one of the worst actors in Hollywood.
Maybe in the end Jobs deserves better than this, but still we keep on saying that you better give this movie a chance. You even can see Kutcher in a decent role!
Jobs is out on DVD and Blu-ray on Entertainment One.
Didier BECU
03/01/2014
---
Sommige dingen zal een mens wellicht nooit begrijpen. Het lijstje is jammer genoeg veel te lang om op te sommen, neem nou gewoon bijv. de verfilming van de biografie van Apple-baas Steve Jobs. Neen, ik geef het ruiterlijk toe dat ik naar het kotszakje grijp als ik de naam Ashton Kutcher hoor vallen. We zullen het hem wellicht nooit vergeven dat hij het bed mocht delen met 80's-Babe Demi Moore, maar zijn vertolking van (zeg maar) de uitvinder van de moderne computer is bijna vlekkeloos. Hij deed zelfs zo erg zijn best dat hij net als de echte Jobs alleen maar fruit wou eten waardoor Kutcher pardoes in het ziekenhuis belandde. En wat die andere film betreft... Wel neen, The Social Network over dat ander informaticagenie (Mark Zuckerberg) is heel wat beter. Toch mag ook Jobs er best wezen, zelfs al ken je het onderscheid niet tussen hard- of software.
Het is jammer dat de regie in de handen van Joshua Michael Stern terecht kwam, want de maker van het Kevin Costner-vehikel Swing Vote schuwt elke uitdaging. Over de man Jobs valt er immers zo veel te vertellen: zijn onmogelijke karakter, het feit dat hij zijn bloedeigen dochter niet wilde erkennen, zijn verzuurde relatie met concurrent Bill Gates, Pixar…. Op het laatste na vermeldt Stern dat wel allemaal eventjes terloops, maar hij gaat er nooit dieper op in. Gelukkig zijn er wel de knappe rollen: Matthew Modine als gehaaide reclamejongen, J.K. Simmons als onwrikbare manager, Josh Gad als Steve Wozniak (de rechterhand van Jobs) en verrassend genoeg Kutcher zelf, ook al blijft hij toch één van de zwakste acteurs die in de straten van Hollywood rondloopt.
Ofschoon Stern veel te lang stilstaat bij de hippieperiode van Jobs, is deze biografie interessant voor de leek die weinig of niets over dit icoon afweet. Misschien verdient de uitvinder van de I-pod uiteindelijk heel wat beter dan deze film, toch kun je Jobs gerust een kans gunnen. Al was het maar om Kutcher eindelijk eens iets goeds te zien doen!
Jobs is zowel op dvd als Blu-ray uit, en dit door Entertainment One.
Didier BECU
03/01/2014
---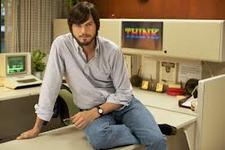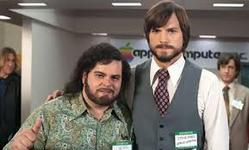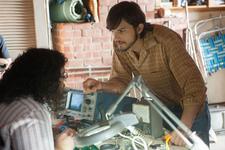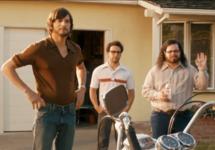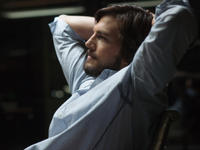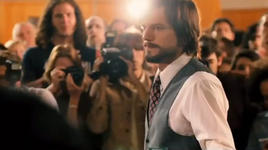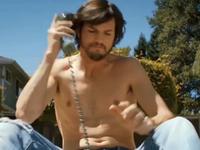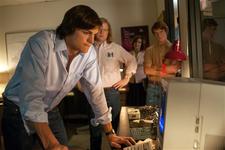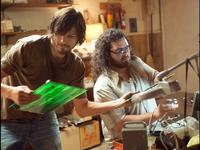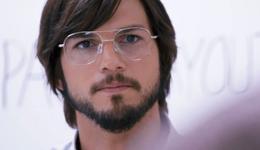 ---