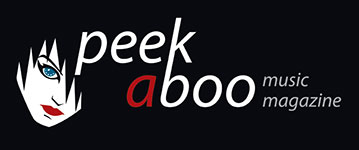 like this concert review
---
K-X-P (+ WHISPERING SONS)
Opwijk, JH Nijdrop (13/04/2016)
Concert
09/12/2016, Benny CALUWE
---
Usually, a music fan goes to a concert to see the main act and he hopes to discover a nice supporting act. Yesterday it was the other way around. I visited the Nijdrop venue to see Whispering Sons, but the to me totally unknown main act K-X-P turned out to be a discovery as well.
I already was convinced by the debut album Endless Party, but now Whispering Sons has convinced me on stage as well. The nice thing about the Endless Party LP is the free bonus CD with three tracks from the first demo on top of the six Endless Party tracks. These songs aren't indispensable. They can't compete with those on the actual release, but it's interesting to hear how much progress the young band made. And Whispering Sons keeps on growing. The new songs they played serve as evidence.
The Limburg-based band opened the set with Shadow and Midlife, indeed the opening tracks of the debut album. I heard a confident band right from the start. This is how the party ends, Fenne sang in Midlife, but this party just started. Both the band and the public were ready to give it all!
I can't shake them off, Fenne Kuppens sang in Performance. She was actually trying to shake of her demons. I like the way she moves, as if she's the female reincarnation of Ian Curtis. Nice to see how this young frontwoman is fully absorbed by the lyrics and the music. Such an intense performance.
Break On Through (The Other Side), indeed the song of The Doors, is fully adapted by Whispering Sons. Then two new tracks followed. White Noise and Strange Identities both sound promising. I am already looking forward to a future release and I'm sure I'm not the only one, judging the spectators' reactions
Whispering Sons closed the set with Wall (with those delightfully melodic guitar lines) and the intense Insights. Fantastic to see how much self-confidence these modest youngsters have once they are on stage. Stunning!
The Finish main act K-X-P turned out to be a quite surprising band. Hidden behind their monkshood and lots of smoke, the three musicians played a sort of krautrock. Many spectators moved along on the eclectic electronic rock music which was very rythmic. After all the Helsinki trio consists of 2 drummers.
K-X-P conquered the public with its unique sound. Sometimes sinister, but often inviting, sometimes dreamy, but mostly danceable, psychedelic, even hypnotic. The guitar was varied too. Straight forward rock, post rock, old school hard rock. Very groovy. As soon as the gig was finished, I ran to the merchandising stand as I wanted their album for my CD collection.
Benny CALUWE
09/12/2016
---
Doorgaans gaat een muziekfan naar de hoofdact kijken en hoopt hij in het voorprogramma een leuke band te ontdekken. Gisteren was het echter de omgekeerde wereld. Ik begaf mij op pad om Whispering Sons te zien en de hoofdact, het mij volkomen onbekende K-X-P, bleek een heuse ontdekking te zijn.
De winnaars van Humo's Rock Rally hadden mij in de huiskamer al overtuigd met hun Endless Party en dat deden ze nu ook op de bühne. Het leuke aan de inmiddels uitverkochte Endless Party-lp was de gratis cd met als bonus de 3 tracks van hun eerste demo. Die zijn niet onmisbaar en een pak minder dan die op de eigenlijke release, maar het is interessant om te horen hoe deze jonge band er met rasse schreden op vooruit is gegaan. En Whispering Sons blijft gestaag groeien. Dat maakten de nieuwe songs die ze gisteren brachtten overduidelijk.
De Limburgers begonnen de set met Shadow en Midlife, de openingstracks van hun debuutalbum. Van bij de aanvang hoorde ik een zelfverzekerde band. This is how the party ends, klonk het tijdens Midlife, maar dit feestje was nog maar net begonnen. Zowel de band alsde toeschouwers hadden er zin in.
I can't shake them off, zong Fenne Kuppens tijdens (het nieuwe) Performance. Terwijl ze daadwerkelijk haar demonen van haar trachtte af te schudden. Ze bewoog alsof ze de vrouwelijke incarnatie van Ian Curtis is. Leuk om zien hoe de jonge frontvrouw opging in de teksten en de muziek. Wat een intense performance.
Na Break On Through (The Other Side), inderdaad die song van The Doors die Whispering Sons compleet naar zijn hand zet, volgden nog twee nieuwe tracks. White Noise en Strange Identities klonken beide veelbelovend met het oog op een toekomstige release. Ik kijk er reikhalzend naar uit en ik zal lang niet de enige zijn, afgaande op de reacties van het publiek.
Whispering Sons sloot zijn set af met Wall (heerlijk toch hoe die melodische gitaarlijntjes zich om de ritmesectie heen kronkelen) en het intense Insights. Fantastisch om te zien met wat een zelfvertrouwen de naast het podium nochtans ingetogen en bescheiden jongeren, staan te spelen. Opzienbarend.
De Finse hoofdact K-X-P bleek een zeer verrassende band te zijn. Gehuld in monnikskappen en nevel werd een soort krautrock gebracht. Vele toeschouwers bewogen mee op de eclectische elekronische rock, die zeer ritmisch is. Het drietal uit Helsinki bestaat immers uit 2 drummers.
K-X-P kreeg veel bijval met zijn uniek geluid. Soms sinister, maar vaak uitnodigend, soms dromerig, maar vaak dansbaar, psychedelisch, soms zelf hypnotisch. Ook het gitaarspel is gevarieerd. Van recht toe recht aan tot post-rock over oldschool hardrock. Zeer groovy. Zeer geslaagd. Meteen na het optreden begaf ondergetekende zich naar de merchandisingstand. Deze K-X-P zou ik hoe dan ook in huis hebben!
Benny CALUWE
09/12/2016
---