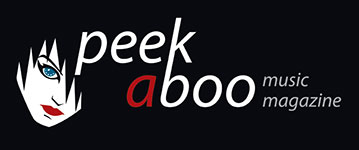 like this concert review
---
KIRLIAN CAMERA, ABSOLUTE BODY CONTROL, DER PRAGER HANDGRIFF, IC 434 & HERMAXISS
live at JC The Klinker, Aarschot, 8/3/2014, Belgium
Concert
Cold EBM
•
Dark Wave
•
EBM
•
Electro Rock
•
Electropunk
•
Harsh
•
IDM (Intelligent Dance Music)
[90/100]

09/03/2014, Filip VAN MUYLEM
---
It's great to come back to Aarschot, for sure because there is a large parking plot and a great venue! This time I saw a lot of known face and had more than enough nice chats! Sadly enough it was - apparently - also time to say goodbye to IC434 (but one never knows for sure at least there is one last gig in Liège, 12/4).
Hermaxiss was the opening band. Noizy -Sid took the first song on his conto and would do after that all the backings. The show was heating us all up, the beats got pumped up & already a few people started to dance. They worked out a great horror/freak show, including: sharp knives and cutting themselves until blood runs out, dusted figures, fireworks, a dead skull (Shakespeare, you know), a syringe with a disgusting liquid in it (injecting it whilst performing), painted figure's and in the end a big bad wolf! I saw them a while ago during The Eurorock pre-selections (as jury member or was it that year as journalist?) and can say that the evolution since then is simply amazing! I very much loved the songs they played (First There was a God', Scarified You', Brainrape' & 'Here I am'). The 2 new songs are nicely beat driven ('I see your Dead' and 'Living Hell, another World'). Nice ending! Just when I was wandering how they would do the cleanup of all the mess... they simply removed the carpet...
IC 434 started with great beats, high tempo and a well worked out sound. Love the techno vibe and modern sound! It's clear that Geert is in great shape (great voice, great podium acting, great and powerful drive and a big smile)! Old and newer songs are very much appreciated. The room starts to boil! Temperature rises to a top! The train started on time and all got on board and didn't miss the party of their life! The dance floor was one moving mass! It was simply great propaganda for Belgium music! IC434 fans deserved an encore and got it! Even after that one they wanted more, but that was it... Game over...
I must say, I was never a fan of Der Prager Handgriff and will never be (as the voice is a bit too much of the same and at some point it reminds me of VNV nation from almost 15 years ago, where I was laughing together with Joachim Claeys and the Diary of Dreams people with them when we all thought they played twice the same song, that was in Brugge, BTW). But the fans loved it and the party went on, so all my respect goes to both. The music was good & the venue started more and more to feel like a sauna. The fans gave all they had! But for me IC434 should have played now... I had seen enough dancing and people having fun to believe in their powers. A big highlight for a lot of people was their last song 'Deutschland?'

Absolute Body Control is for as far as I can remember my first gig (but ok, I have seen so many bands, that I sometimes even forget that I booked a certain band a while ago). It's great to see 2 superheroes of our scene on stage, performing at their best! The crowd absolutely loved it! I must say that the music is softer than The Klinik and for sure softer than Dive, but Dirk Ivens will always be himself and do his usual work out on stage and moves. The sauna effect started to affect some people, but the show went on! I loved the little duet with The Savage singing on 'Is there an exit' (he was originally the 3rd member), however to me it somehow looked more as if a fan was singing along, sorry to say that. I loved the show, just as all the fans. They also played a new song that was very much loved by the audience (but hey, they loved it all). After the 2 encores there where only dead people left! Simply great & I'll see if I can see them more next time and get closer to their music! Again a Belgium pearl!
I absolutely loved the latest cd of Kirlian Camera, so it's almost natural to come and see them back on stage. They started a bit later than forseen, due to some technical problems. From the start we got the great songs 'Heavens', 'Black August', 'Dark Matter', 'Dead Zone in the sky'... I saw that Angelo was suffering from a cold, as a throat spray was placed on his synth, but that didn't affect his gameplay! The crowd loved it! Elena Alice Fossi was in great shape and not only showed off her beautiful body, but also her great singing (however there where some technical troubles at some point, but they where solved, in the end: there was no sound in the monitors upfront and some troubles with the sound of the guitarplayer) and acting. She fired up the volcano and made it burst out! She was simply too hot for this venue! More than one guy was captivated by her beauty, while the rest was captivated by the whole package deal! The sound was very electronic and during one song I even had a 'DJ Regi' feeling, the hands went up in the air and the enthusiasm of the crowd was simply amazing! Angelo sung 'The Desert Inside' and made more people happy! Other great songs followed: 'Eclipse', K-Pax', 'Confortably Numb', 'Size Zero', 'Blue Room' and as last one the soft ballad 'Odyssey Europa'.
Off course the crowd wanted encores and got them actually! If I got it good they got 'Edges' and 'Heldenplatz' before coming back again and closing with 'Hymn' or was it 'In the endless Rain'? Does it matter? We all got knocked out, KO!
WOW, more words are not needed! I was hoping for a duet with Dirk Ivens ('Obsession'), but we didn't get it, but does it matter if you get a great show as this one? I don't think so.
Filip VAN MUYLEM
09/03/2014
---
---