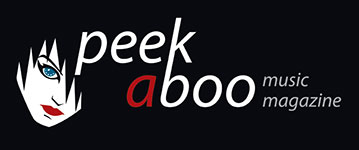 like this concert review
---
KISS THE ANUS OF A BLACK CAT/THE BLACK HEART REBELLION
Brussels, AB (10/11/2015)
Concert
12/11/2015, Jeremy Thomas
---
Autumn Falls time here at the AB, so it's more of a double-bill, and tonight, we have some of the darkest stuff that Ghent has to offer.

First up, The Black Heart Rebellion are - err - challenging, to say the least. A cleaner, folkier sound than the last time I saw them, but still that unmistakeable trademark of gloom and intensity. Frenzied attacks from homemade percussion, nightmarescapes from E-bowed guitars, songs of pure nihilism, and minimalistic drones sucking you into their obscure universe. Too black for metal, not cheery enough for goth, I got the impression that they'd conquered and confused the audience in equal measure.
To say Pieter is in good voice tonight would be an understatement, but he's also joined by a girl for several songs, including the particularly sing-along Violent Love. The variety of the songs shows phenomenal musicianship, and the quality of the AB soundsystem doesn't let them down.
They have confirmed their place as one of the most important bands in Belgium tonight, and have plenty of goodies for the discerning fan.

Kiss the anus of a black cat are one of those bands I'd heard a lot about, but had never seen yet.
Again, the sound is awesome and the singers voice is phenomenal, the performance is intense and the musicianship is immaculate, but I can't help but feel that they could do with a few choruses in the set. This is a new configuration for the new album, with a lot more electronic sound. And whilst it's very cleverly put together, I very much think that the overreliance on repeating chord patterns or sequences is barely enough to get over the lack of decent songwriting. Maybe that's a bit harsh, but it just wasn't challenging enough to suck me in to their trip.
As ever at these events, the quality of the audience means that there are several familiar faces prepared to share an opinion, and the concensus is that the previous material and instrumentation was even more intense and even more awesome.
I'm sure someone will tell me I should have gone to see Father John Misty downstairs instead, but I like people who bare their soul and expose the darkest of emotions onstage. It pleases me. And I am certainly not disappointed.
Jeremy Thomas
12/11/2015
---
Het Autumn Falls-parcours daalt de komende weken zowat in elke Belgische zaal neer, en in de AB kregen we een dubbeloptreden met de donkerste klanken die Gent heeft te bieden.

De eerste band op de affiche was The Black Heart Rebellion en tja…het minste wat je er van kan zeggen is dat ze heel speciaal zijn. Tegenwoordig klinken ze heel wat geraffineerder dan toen ik ze eerder aan het werk zag, alhoewel somberheid en intensiteit nog steeds hun handelsmerk blijft.
De geluiden die ze produceren met hun vaak zelfgemaakte percussie-instrumenten zijn simpelweg waanzinnig, terwijl de klanken uit de E-bow rechtstreeks uit een nachtmerrie komen. De tracks stralen puur nihilisme uit, en de minimalistische drones zuigen je mee naar een duister universum. The Black Heart Rebellion zijn misschien net iets te zwart voor een metalpubliek, en goth kun je ze ook al niet noemen, toch slaagden zij er moeiteloos in om het publiek zowel te veroveren als te verwarren. Zeggen dat Pieter een goede stem had deze avond zou gewoon een understatement zijn, en nu ook kreeg hij op bepaalde nummers de vocale steun van Annelies Van Dinter van Echo Beatty. De verscheidenheid van de nummers toonde het fenomenale muzikale vakmanschap van The Black Heart Rebellion. Vanavond bewees de band dat ze hun plaatsje als één van de belangrijkste bands in België van dit moment hebben veroverd!
Ik had al vaak iets gehoord over Kiss The Anus Of A Black Cat, maar hun nog nooit gezien. Eerlijk blijft eerlijk, de stem blijft fenomenaal, er wordt een intense prestatie geleverd en de muziek is onberispelijk, maar toch had ik nood aan wat meer refreinen. Hun nieuwste plaat heeft een meer elektronisch geluid. Het zit allemaal goed in elkaar, maar alles hangt net iets te veel af van akkoorden die zichzelf blijven herhalen. Ik weet dat ik streng klink, maar hun trip kon mij net niet genoeg boeien. Zoals altijd, zal iedereen wel een eigen mening hebben en die zullen zonder twijfel verdeeld zijn, maar wellicht vond iedereen de vorige act toch iets meer intenser. Maar neen hoor, teleurgesteld ben ik zeker niet, ik hou er nog altijd van om mensen op een podium te zien die hun ziel bloot geven en de donkerste emoties met een publiek willen delen.
Jeremy Thomas
12/11/2015
---