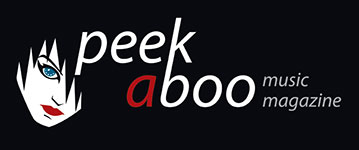 like this cd review
---
KISS THE ANUS OF A BLACK CAT
To Live Vicariously
Music
•
CD
Zeal Records
13/11/2015, Didier BECU
---
With a band name like Kiss The Anus Of A Black Cat, Stef Irritant, Kwinten Mordijck, Matthias Debusschere and Jonathan Callens already are in the spotlight for a while. During five albums no one has succeeded to stick a label on this musical group from Ghent, and that's probably because of their varied sound carpet. Sometimes you could hear a term like experimental or drone, while others just said it was "difficult music". The sixth album, which is released in association with 9000 Records, is a godsend for those who want to pigeonhole the band. In a press release, the band stated that the sixth album would be a farewell to the drone folk and that the new tracks would have a lot in common with 80s acts such as Fad Gadget or Throbbing Gristle.
That's the case on To Live Vicariously, even though many listeners still will have doubts in which musical category these centipedes belong after hearing this strange trip.

The four have turned everything upside down from the 80s and along with producer Koen Gisen they created a very personal style. The influences are somewhat easy to recognize, but the quartet made songs that feel like jet-black bedroom pop with a destructive side. And admit it, that makes sense for a band that records a quirky cover of Nico's Evening Of Light, not?

Although the band still likes to experiment, it is not ashamed to come up with melancholic 80s beats. Semantics could have been on an old tape by Absolute Body Control. Walls And Ways To Hide is infectious, weird pop that makes you think you're on a carrousel, and has some pop elements of early Soft Cell. The 80s continue to rule this great album, the drums on Drone For Conan sound as dark as those of Laurence Tolhurst on Pornography. No, we do not exaggerate! To Live Vicarriously is a genius album with a high 80s dose. Take it from the shelves, listen and we bet you fall in love?
Didier BECU
13/11/2015
---
Met een groepsnaam als Kiss The Anus Of A Black Cat lopen Stef Irritant, Kwinten Mordijck, Matthias Debusschere en Jonathan Callens al een tijdje in de kijker. Al vijf albums lang is niemand erin geslaagd om, wellicht wegens het gevarieerde klankentapijt, een muzikaal etiket op deze Gentse groep te kleven. Je hoorde wel eens een term als experimenteel of drone vallen, terwijl sommigen het gewoon op "moeilijke muziek" hielden. De zesde plaat, die in samenwerking met 9000 Records is uitgebracht, zal ongetwijfeld voor een verademing bij de hokjeduwers zorgen. In een persbericht liet de band weten dat op hun zesde plaat de dronefolk vaarwel wordt gezegd en dat de nieuwe nummers raakpunten met 80s-acts zoals Fad Gadget of Throbbing Gristle hebben.

Dat is ook het geval op To Live Vicariously, ook al zal menig luisteraar na deze vreemde trip nog twijfelen in welke muzikale categorie deze duizendpoten alsnog moeten worden geplaatst.

De vier hebben immers alles uit de jaren 80 overhoop gehaald en er onder leiding van producer Koen Gisen een eigen(zinnig) brouwsel van gemaakt. De invloeden zijn enigszins herkenbaar, maar het viertal heeft een eigen (steengoed) geluid dat aanvoelt als gitzwarte bedroompop met een destructief kantje. En geef toe, voor een band die een eigenzinnige cover van Nico's Evening Of Light opneemt is dat een vlag die de lading dekt.

Alhoewel de band het experimenteren nog lang niet vergeten is, schamen hij er zich niet voor om met melancholische 80s-beats voor de dag te komen. Semantics had op een oude tape van Absolute Body Control kunnen staan en de aanstekelijke pop van Walls And Ways To Hide lijkt op een dolgedraaide kermismolen die popelementen van Soft Cell bevat. De jaren 80 blijven dit zalige plaatje regeren, de drums op Drone For Conan klinken even donker als die van Laurence Tolhurst op Pornography. Neen, we overdrijven helemaal niet! To Live Vicarriously is heerlijk eigenwijs, en met een hoog eightiesgehalte. Uit de winkelrekken halen, beluisteren en wedden dat je verliefd wordt?
Didier BECU
13/11/2015
---