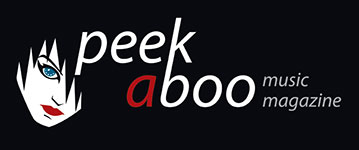 like this concert review
---
KORINTHIANS, NEL & JP, NONA PROBLEMO
@Charlatan Ghent - 25 mei 2023
Concert
18/06/2023, Jurgen BRAECKEVELT
---
Jurgen BRAECKEVELT
18/06/2023
---
Een wat warmere lenteavond deed menig student en inwoner van Gent vertoeven op terrasjes. Een gezellige drukte in de stad, hier en daar wat ontsierd door in zichzelf wijfelende dronkaard. Onder de toren van Sint-Jacobs in de alom gekende Charlatan, stelde Korinthians hun nieuwe plaat voor. Opwarmen daarvoor mocht het Leuvense Nona Problemo en Nel & JP.
Het uit 4 millenials bestaande Nona Problemo speelt drampop, en wat ze zelf doopten tot ecowave. Enfin, als je zingt over psychedelische katten, fietsen waarmee je door de tijd kan reizen en cybors die zich laven aan ander robotgeweld op Tinder, dan weet je dat er een gezonde hoek af is. Daar zijn we niet tegen, wel integendeel. Hun muziek was pakkend, het optreden goed, een charismatische frontman en een bassist die de snaren heel stevig liet trillen. In tegenstelling tot de gitariste die vrij statisch haar Squier hanteerde. Muzikaal divers. Van punky songs, tot psychedelische uithalen, naar weer heel intiem. Ze doen het schijnbaar moeiteloos. En live dik ok. Check ze eens op hun bandcamp.
Niet echt gepland op voorhand, maar toch een gesmaakt intermezzo was de mini-set van Nel en JP. Onze Nederlandstalige Anne Clark. Nel Mertens declameert toch wel vrij stevige poëzie en wordt door JP Brabander (o.a. ook het vroegere Delavega en nu ook actief binnen This Can Hurt) muzikaal ondersteund. Live hanteert hij de basgitaar, geruggesteund door gitaarwerk, af en toe stevige beats en geregeld wat samples en noise die de woordenvloed van Nel voorstuwt. Ondanks het feit dat het duo nog maar vrij recent samen aan de slag ging, brulden een aantal mensen in het publiek hun twee singles Huidhonger en Zelfbeeld van Denaldie al stevig mee. Ze brachten een korte set van 5 songs die toch wel het publiek boeide.
Dan de Genste postpunkers van Korinthians. Hun nieuwtse 9 songs tellende A Major Walk werd voor het eerst live gebracht. Hun vorige plaat dateerde van net voor corona, waardoor er het publiek mee platwalsen onmogelijk was. Dan maar een nieuwe plaat gemaakt tijdens de pandemie. En die plaat had ik op voorhand al even rustig beluisterd. Klonk veelbelovend. Een combinatie van postpunk, shoegaze, flarden psychedelischer aandoend geraas. Benieuwd of ze er dit live zo ook konden inlepelen. De Charlatan was vrij goed gevuld toen het viertal aantrad. Het concert zelf was minder beklijvend dan de songs op het album. Ja, ze spelen stevig en strak. Ja, het plaatje klopt. Ja, songs al The Whimper, Whake Me Up en een knaller als Mount staan er. Het had een geweldig concert geweest, ware het niet dat de geluidsman een aantal knoppen dermate in het rood duwde en zo een aantal songs nekte. Zolang het rustiger passages betrof was het dik ok. Maar als de synths en de zalige shoegaze gitaren elkaar bekampten, dan werd het één vormeloze wall of sound. De synths waren zo scherp dat een nachtje oorsuizen mijn deel werd. Bij momenten was Mattias' stem niet meer te horen, en de paar gitaarsolo's verdwenen in het niets. Jammer. Iets wat ik persoonlijk regelmatiig betreur: bands die zo luid willen spelen (of de geluidsman die dat bepaalt) dat het de songs nekt. Het had niet langer moeten duren of ik was voor het einde vertrokken. Voor alle duidelijkheid: dit doet géén afbreuk aan de kwaliteit van de band, die er live echt staat, met goede, strakke songs. (review van het album: zie elders op Peek-A-Boo).
Jurgen BRAECKEVELT
18/06/2023
---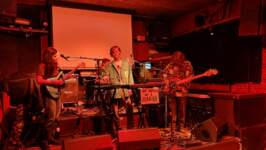 ---